We all know that mowing is key to a healthy, lush looking lawn. But did you know there are some common mowing mistakes that can actually harm your lawn?
Even if you've been mowing for years, there are still some techniques that can improve your lawn care game.
If you want your lawn to be the envy of the neighbourhood then you need to avoid these common lawn mowing mistakes:
You don't know your lawn type
Every lawn variety has its own unique characteristics — including mowing requirements. Some lawngrasses such as Kikuyu or Couch grass will require more frequent mowing than others due to their aggressive growth habits.
If you have instant turf, then mowing frequency will be different again depending on the type of instant turf it is and whether it has been recently laid.
Lastly, depending on your location and climate, your grass will need to be mowed more or less frequently based on whether it's a cool season or warm season grass.
Cutting grass too short
Always adjust your mowing height prior to mowing your lawn. Cutting your lawn too short can result in scalding, leaving the grass vulnerable to insects and disease. Mowing too short can also make it harder for grass to self-repair and produce thick, healthy growth.
As a general rule of thumb, you should cut your grass no shorter than 3 inches or about ⅓ of the leaf height at any given time.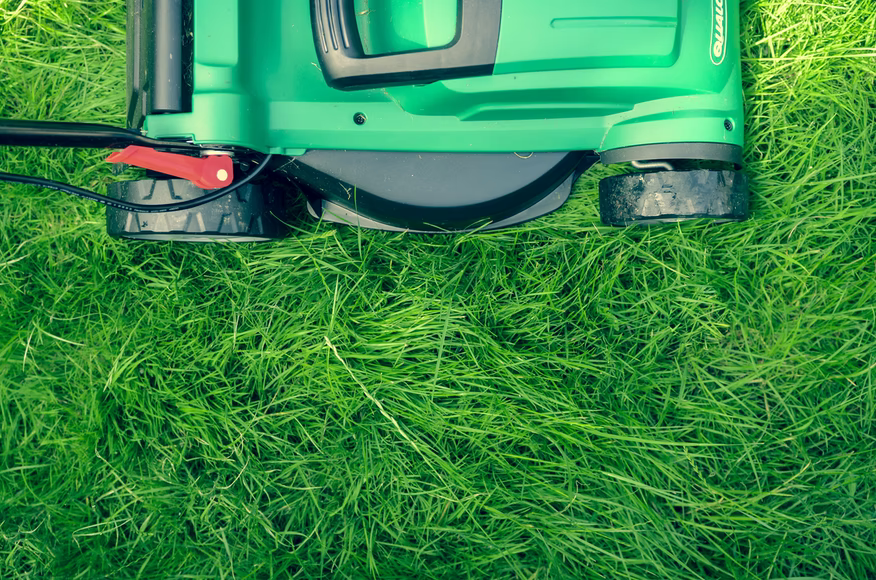 Not keeping mower blades sharp
How long ago has it been since you sharpened your mower blades?
Many of us make the mistake of taking to the lawn mower with dull blades. This can be harmful to your lawn for a couple of reasons:
Mowing with dull blades tears the grass blades rather than slicing them. This causes bruised, damaged leaves that can wither and become brown and limp. It also inhibits healthy growth.
Mowing with dull blades creates an uneven lawn. It's unsightly and can make your turf more vulnerable to bare patches.
Pro tip: Sharpen your mower blades as part of your regular tool maintenance to keep your lawn healthy and looking good.
Mowing too often
You would think that mowing your lawn often will result in healthy grass! Sure, it's important to mow your lawn regularly if you want to keep your yard looking tidy while promoting lush growth. However, mowing too often can reverse all your good work and leave your lawn vulnerable to weeds, insects, disease and dry out.
While some grasses will need more mowing than others, it's best to leave your grass to grow a little taller in between mows. Doing so will reduce stress on the grass and enable it to smother weeds, grow thicker and reduce water evaporation for healthier, stronger grass blades.
..Or not mowing enough
Letting your grass grow in between mows is good practice, but once you're knee-deep in grass then it's definitely time to bust out the lawn mower!
Not mowing enough isn't just unsightly and impractical, but it can make your lawn a breeding ground for insects, rodents, fungi and weeds.
If you don't cut your grass, you may also find that your lawn goes to seed and grows back even more wildly. You will then end up with a tangled lawn of mixed grass types and weeds – making mowing an extra challenge.
Always mowing in the same direction
Mowing can easily become routine and repetitive. When mowing, you may not even notice that you tend to take the same path almost every time! But changing up your mowing direction can give you a better looking lawn in an instant.
Try mowing in different directions every time (front to back, back to front, horizontal, etc.) to avoid making ruts or irregular slopes on your lawn surface. Changing mowing directions will also reduce soil compaction, encourage grass blades to stand upright, and give your lawn an attractive manicured look.
Not removing thatch
It might be an extra chore, but raking away any thatch and debris such as leaves and grass clippings will prep your lawn and make it easier for your grass to receive the proper sunlight, water and aeration it needs.
So next time you roll the mower out, do a quick inspection of your lawn and remove any thatch build-up prior to mowing.
Mowing wet grass
It has been raining, but it's your only day off when you can finally mow the lawn! We know the feeling – but try to resist the temptation! Mowing your lawn when it's wet increases rut damage and makes it more likely for the grass to be pulled out and suffer root damage.
Wet grass doesn't cut as easily, either. So you're more likely to tear the leaf blades rather than cleanly slice it.
Next time it rains, pop your feet up and relax. Your lawn will survive a couple of days without being cut, and you'll save yourself from getting all wet and muddy too!
Mowing too quickly
Mowing the lawn is not a race! Slow down, and take it easy.
Why shouldn't you mow your lawn too quickly? Well, you're unlikely to get an even clean cut by doing so. There's nothing wrong with running the mower at full speed but if you want to inspire lawn envy among your neighbours, then take the time to ensure an all over, uniform cut. After all, you don't want your lawn looking messier than it was before you mowed it!
Using the wrong type of lawn mower
Finally, one major lawn mistake you could be making is using the wrong mower.
Depending on your lawn type and the size of your lot, you may be making your job a lot harder than it should be by using a push mower when you need a ride-on or a ride-on when your yard only requires a push mower.
On the other hand, if you want to achieve that bowling green/football field lawn stripe, then you need the right mower to do it. For example, lawn striping is best achieved with a cylinder mower.
Before you buy a lawn mower, you've got to get the right one for the job. Consider your lawn type, terrain, size of your yard and the type of aesthetic you wish to achieve.
Mowing can be a highly individual task, depending on the lawn type you have and the conditions of where you live. This list will give you a rough guide on how to make the most of your mowing by avoiding common mistakes. Hopefully, it will help you in getting the lawn you always wanted!
Another important tip – be thoughtful of your neighbours. If you are living in suburbia, then always follow your local council's mowing curfew times. While you might want to kick-start your day mowing the lawn, your neighbours might appreciate silence in the morning for some extra shut eye! Lastly, have fun and approach your lawn care with enthusiasm. Your lawn will reward you with beautiful grass perfect for playing on, entertaining, and appreciating!