No home improvement project is more noticeable than exterior painting. While undertaking the task of painting your home might seem daunting, it comes with many perks.
With the right budget and tools, you can not only revive, transform and beautify the look of your home but also go the extra mile in protecting it.
With all that said, whether you have decided to attempt this project on your own accord or taken the liberty to hire the experts, here are some ground rules you need to follow to make sure that you gain the best return on your investment.
Don't skip the necessary prep steps
Like the adage "preparation prevents poor performance", the same rule applies when you're painting your home.
In rushing through to get the job done, you might end up with a more boorish outlook than a stunningly painted home.
To make sure that your paint adheres well and lasts longer, ensure that you're applying it on surfaces that have been properly scraped and cleaned before the application process.
If your existing trims and sidings are wearing off, make sure to properly sand and smooth off any rough and coarse surfaces.
This will ensure that you get a finish that elevates the look of your sanctuary and leaves it to be the envy of the town.
Don't cut corners
Your home deserves the best and that should include investing in top-quality products and tools.
Not only will this ensure that you get a professional finish when you're done, but also make your job much easier.
Getting the best products leaves you stress-free and saves you from any future dents in your wallet.
Whether it's priming, caulking, or even painting, quality products, and tools make all the difference and give you that final chic and polish look you aim for.
Opt for multiple coats wherever necessary
Apply a primer for a better result, but do not be stingy with the number of coats you're applying on your exterior walls. It isn't just about the looks that matter when it comes to exterior painting but also the durability.
By applying more coats, you ensure that all your surfaces get proper coverage and any minuscule flaws are covered. Further, it'll give you a more uniform and presentable look that will leave everyone amazed!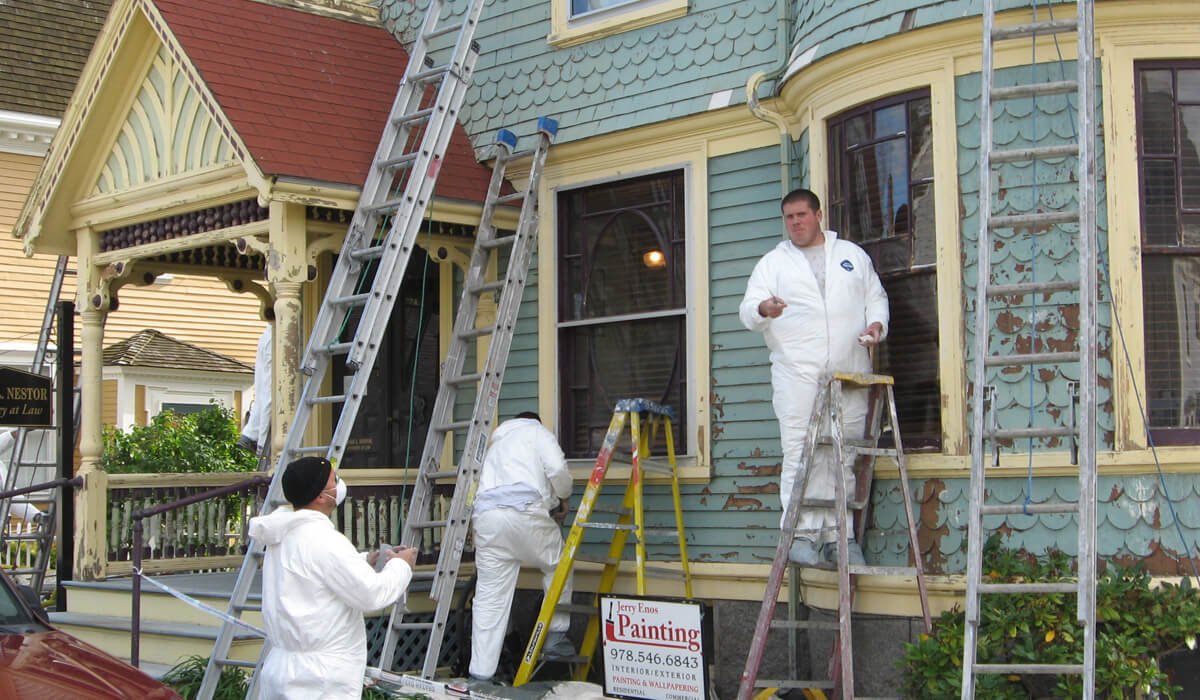 Paint during the right weather conditions
Not to be a downer with the temperature warning, but checking on your local weather forecasts is key to ensuring you get the job done right.
Drastic changes in the weather can mess with the painting process you have going on.
If the climate is too humid and windy it can cause your paint to form bubbles or be riddled with debris. If temperatures reach a searing level, it can cause the paint to dry off too quickly, which will eventually lead to the formation of mud cracks in the wall or interfere with the curing process.
Cover up and protect
You might be surprised at the distance paint splatter can travel.
To avoid unnecessary paint marks from tainting your decks, shrubs, gardens, plantings, patios, and walkways, make sure to mask and cover all your valuables and areas that you don't want paint on.
This will also help you avoid those big clean-up problems later on!
Set aside realistic expectations
If you have limited experience in exterior painting, it's best practice to acknowledge the magnitude of the task at hand and take the necessary time to get all your steps right.
While being ambitious may start you off with an adrenaline rush, ignoring the possible flaws and setbacks that may occur along the way can put a pin in feeling motivated and up to the task, and can even cause you to make silly errors.
Don't kid yourself when it comes to painting your whole home if you're short on time and skills, as it can be a definite backbreaker and prove to be tedious.
The research will save you
If you have decided to hire professionals for the job, make sure to do your background check before signing the dotted line.
This will include verifying that they're fully insured and licensed, as well as running reference checks to make sure you hire your money's worth.
When it comes to hiring the pros, don't be afraid to inquire about their process and see that you're satisfied with the lengths they take to guarantee that your home gets that brand-spanking-new look when they are done with the job.
If time is at your disposal, drive-by other projects they've worked on in the past to get a better idea of what you can expect. Also, look at what online reviews say to see if the team you get is the best in the business!
When it comes to exterior painting—simplicity is everything!
The real trick here in achieving your dream look for your home is not to overdo the work. There is beauty in simplicity and that holds when painting your home.
If you want to keep your work looking effortless and improve your curb appeal, check out some residential exterior painting styles!
Good luck!