If you ever decide to have your kitchen renovated, you have to consider some essential factors like what do you want your kitchen to look like? Are you looking for a modern kitchen design or a classic one? Deciding upon this is crucial so that you can create a kitchen design that perfectly fits your preference. Even if contemporary designs are trendy nowadays, there are still some things about classic kitchen designs that don't fade away. Since traditional and modern kitchen designs are popular today, you may be muddled between which one to choose.
In this article, we will discuss some key differences between modern and classic kitchen designs. So if you are getting your kitchen renovated soon, this article is here to help you make a decision. If you want to learn more about kitchen design elements, make sure you visit this page before coming to any final decisions. We promise it is going to help you design your dream kitchen.
Classic vs Modern Kitchen Design
Classic or traditional kitchen designs have their own unique appeal to homeowners. But so do modern kitchen designs. As such, it is natural for you to be stringent between both of them when deciding upon which theme is best to go for. Refer to the difference below to learn how they fare against each other. Let's get started.
What Is A Traditional Kitchen?
Traditional kitchens are built to stand the test of time. They are also well-established and vintage-looking that have lasted for years on end. Now, thankfully, these kitchen designs are coming back because of the pale decorative colors, open shelving, and durable countertops.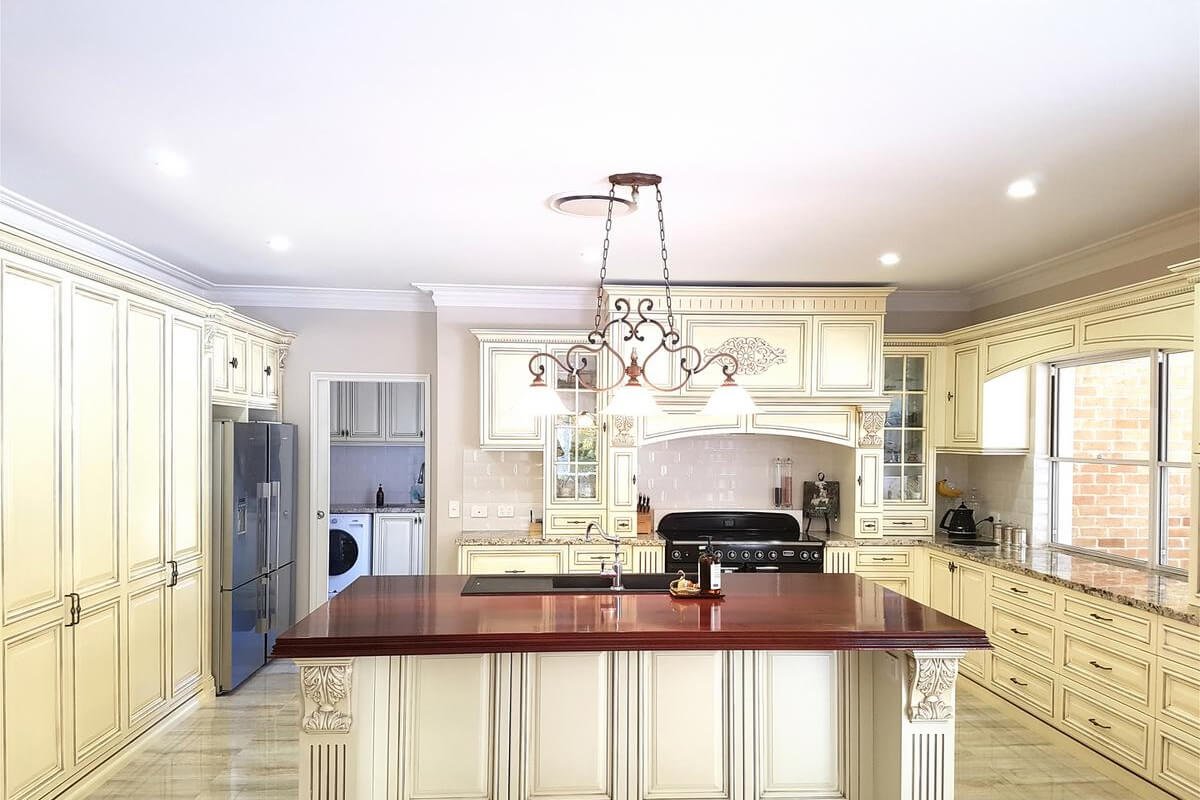 What Is A Modern Kitchen Design?
A modern kitchen design is contrary to the traditional kitchen design. It offers bold and sleek designs with contrasts over patterns. It is also all about built-in smart appliances and innovation that has never been seen before. So, if you're torn between a modern kitchen design and a classic one, you need to engage in thorough research.
1.   Shapes
If you have ever seen a classic kitchen in person, you will notice that they generally use rounder organic shapes to create a warm, aesthetically pleasing traditional, and inviting atmosphere. That is why classic kitchen designs are more social and help make room for enough interaction. They are also great for when you want to have family gatherings and host dinner parties. Modern kitchen designs are slightly different from classic kitchens. These kitchen designs move towards the opposite route, indicating sharp edges, straight lines, and apparent angles. These designs are bold, straightforward, and cleaner. Also, the clear and sleek finishes are a treat to the eye.
2.   Material
Classic kitchen designs naturally rely on natural materials. Some of them are marble, maple, oak, pine, and cherry. As a result, they tend to be more natural, sophisticated, and long-lasting. On the contrary, modern kitchen designs rely more on recent materials that are gaining constant popularity. Stainless steel and glass are some of them. Modern kitchen designs also use more durable quartz countertops, competent functioning and come in various colors and patterns. So you know which one to count on.
3.   Shelving And Cabinet
Classic designs were all about open shelves and cabinet panels that you could find in any traditional household. These designs allowed individuals to flaunt their kitchen aesthetics and make the environment look more appealing. Thankfully, these designs are making a massive comeback and making us all drool over them from time to time. Also, classic designs are aimed at a more visual appeal than having potential storage efficiency. On the contrary, modern kitchens are all about avoiding paneling and open shelving. Instead of using them, they focus on design efficiency without compromising on aesthetics.
4.   Colors And Patterns
We have already discussed how classic kitchens are all about organic shapes. In most cases, traditional kitchen designs were also focusing on cozy and floral patterns. Earthy colors tones that represented natural bounty were also a part of it. But modern kitchen designs are very different. They are more minimalistic with subtle patterns. However, you will be more likely to observe modern kitchen designs reflecting bold colors and contrasts over practices in many cases. However, it would be fair to say that both classic and contemporary kitchen colors and patterns are doing the rounds for their beauty, aesthetics, and functionality.
The traditional kitchen also featured wooden finishes. But this is not available in modern kitchen designs. Instead, cream and gray hues were some of the most popular standard kitchen colors. So you may want to select a kitchen design accordingly.
5.   Appliances
In a traditional kitchen design, you are more likely to find freestanding appliances. But a modern kitchen primarily concentrates on built-in appliances. Unlike conventional kitchen appliances with essential features and benefits to offer, modern appliances promote high usability value and the use of convenience. These are also space savers, easy to maintain, and provide a tidal look. So, in a modern kitchen, you are more likely to observe smart functioning appliances that ease your experience like never before.
Choosing The Right Kitchen Design
It would be unfair to select one between classic and modern kitchen designs because both of them are entirely different from one another. So, when you wish to design your kitchen in a specific way, it is essential to consider your reliability. Do you need access to many different appliances in your kitchen? Are you looking for open shelf designs? Do you want a minimalistic design or bold patterns in your kitchen? Considering these critical questions will help you develop an exacting solution that you can choose to decide whether a classic or a modern kitchen design is more favorable to you.
When you're choosing between a classic or a modern kitchen design, don't forget to consider the budget. You can also check out Caesarstone's website at the earliest to get a fair idea about both these kitchen designs and which one is more suitable for you. Now, you need not compromise on your style and taste when deciding to renovate your kitchen.