Are you remodeling your basement recently, or just thinking about it? Maybe you've just moved to a new home and are looking for some easy tips for your next renovation.  Either way, residential remodeling should never be taken lightly. 
This list of five tips will assure your basement remodel goes smoothly. 
Consult a Professional.
The first step in any remodel is to consult professionals. Whether you're doing a roof renovation or basement remodel, you should scour the internet for the best contractor near you.
You need to make certain you are capable of handling the renovation, and if not, outsourcing to some professionals. Regardless, it's always smart to check with a professional regarding final details, intricate work, or infrastructure (ie. plumbing pipes, electrical wires, etc). 
Keep it safe, and save yourself the trouble and hassle of doing the project wrong or messing up even worse by consulting with a professional before starting
Read Up On Local Laws.
Before you go hacksawing anything apart, you need to make sure you are within your legal rights. Zoning laws and building laws can quickly put an end to any dreamed-up renovations. One of the professionals you contact should be someone who knows the permit and building laws in your area.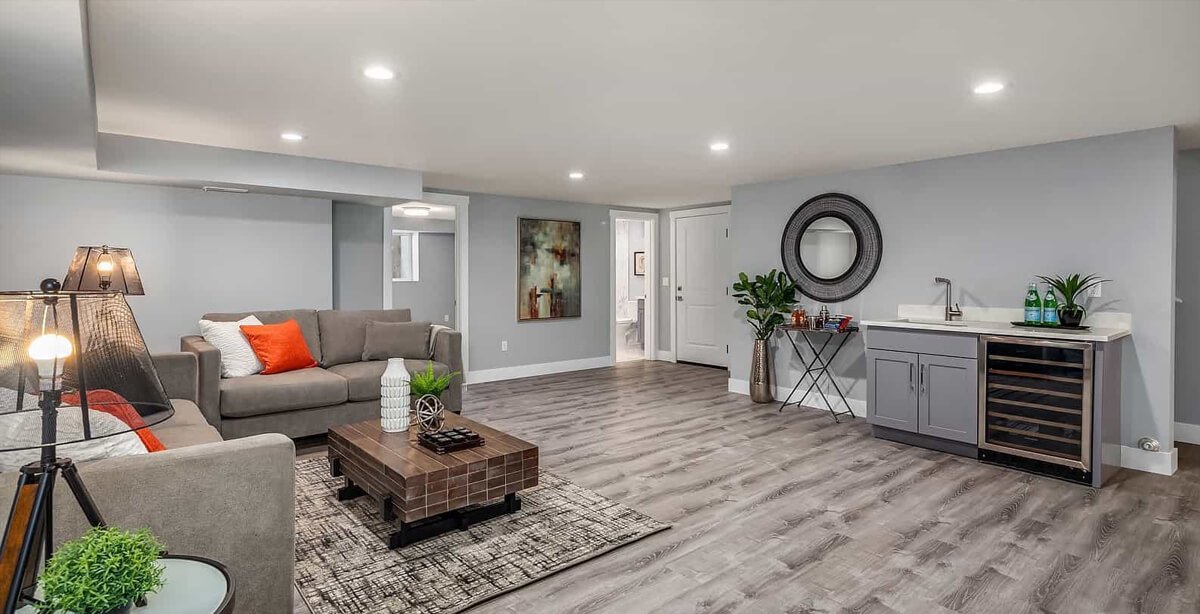 Set a Solid Budget.
Budgeting is one of the most important things to consider, whenever discussing real estate. Too often do people set a budget and have it wiped clean by one small detail that was overlooked. Maybe you set a budget on the materials and work but did not realize the building permits would set you back too much. 
This is why budgeting is so important. It's also important to plan for the unexpected. Say you accidentally hit a pipe while renovating and flood your entire basement. If you budget correctly, this doesn't have to be the worst thing in the world.
Inspect The Foundation.
Before you start building anything in the basement or remodeling your basement, make sure there are no holes or cracks in the foundation, and keep in mind if you are on a concrete slab, that you can not build directly on top of it. You are going to want to seal the entire foundation before doing any work. It is much easier to fix a foundation when you can see it, than in a finished basement! 
Don't Forget Drainage!
Do not forget to have a good drainage system installed. This is one of the few things that do not come to mind right away, but you'll thank yourself for later. Setting this up now, while you are doing work, can save you quite a bit of money and time in the future.
Before you begin, include professionals in your planning, get the required permits and set a real solid budget with room for wiggle room. Inspecting the foundation and handling drainage will save you time and energy in the future. When you feel like you are ready to start renovating, don't forget these five tips for basement remodels.
Conclusion
Basement remodeling is never an easy task.  However, with some time and patience and by following these simple tips and tricks you can complete your basement remodeling project easily and successfully.  Good luck with your project and enjoy!