Herringbone Flooring can be easily recognised. And how's that? The planks in a herringbone flooring are cut ion a particular manner. Each plank of wood is cut in rectangles and staggered later. This is done in such a way so that one end of the plank meets another and forms a broken zigzag.
This pattern was used in the Roman times, all through the Middle Ages, in the interiors. But this got its much deserved popularity and was replicated using wooden floors much later in the 16th Century.
Using Herringbone Wood Floors in Modern Homes
While carpeting was a popular option after World War II and continued till the 1990s, wooden flooring with a more natural finish, is the most common choice at present.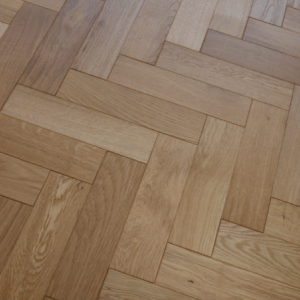 Things to know before installing a Herringbone Engineered Flooring
One can choose the angle and width of the Herringbone planks. While a wide Herringbone pattern can impact your modern spaces, the thinner ones work great for industrial or shabby chic spaces.
Originally, patterned floors were installed in larger spaces, but can also be used in smaller areas for added depth.
Mixing colours or patterns can also be an option for Herringbone Engineered flooring, which can range from subtle shades to eye popping colour mixes.
Why is herringbone Engineered Flooring a great choice for modern homes and offices?
Here are a few pointers about the benefits of Herringbone flooring.
After installing the floor, the end result gives a luxurious look and unique texture to your space.
The Oak Herringbone Flooring will give the floors of your house a more spacious appearance.
The herringbone pattern makes strong hardwood floors as the pattern absorbs high compression and provides stability in structure.
Depending on the room and requirement, the designs of the flooring can be customised. It can either be made subtle or commanding.
All you need to know to know about Herringbone Flooring
Herringbone wood flooring or fishbone flooring has been a popular parquet option for centuries. Besides having the stability and solidness of wood floors, the resistance to moisture and hard-wearing factor of parquetry, Herringbone Engineered Flooring is greatly popular for its unique look and is fit to be installed almost to every place of your house or office. Herringbone pattern can actually create a style statement of your house or office space.
When it comes to fitting the herringbone flooring, many people still think to enjoy the flawless herringbone parquet pattern, you might feel a hole in your pocket because you have to hire a professional to do the installation job for you. Go for this if you are very particular and picky about the things you do or the things in and around your house.
However, you can also go for the easy-to-install herringbone flooring patterns. There is hardly anything else that is easier to install. The boards, of your choice, are made available in a click-to fit manner.
Engineered floors also offer amazing flexibility when they are required to be installed and where moisture is an issue. These flooring also works for the areas over a heating system, or a mezzanine flooring that cannot be levelled or for cases when you need to install a flooring atop an already existing one.
Where will the Herringbone Wooden Flooring fit the best?
Though this is matter of personal taste, choices, requirements and preferences, here are a couple of idea, which will help you consider the Herringbone engineered flooring option.
People often tend to think that this flooring option is suitable for bigger areas and these make a place look smaller because of their busy patterns, but that is not exactly the truth. The pattern of herringbone is a classic one and universal, it can fit anywhere and can complement any space, home space, studio or office.
No matter what your style, the herringbone would look amazing. Either it will match the classical design of your space or give a stylish twist with its jazzy patterns. The final appearance and look though depend a lot on the colour and textures chosen. But anything you choose will not look outrageous. It will either create a traditional, classy look, or a trendy, modern one.