Is your boat in need of a good cleaning either before it goes into storage or after it comes out? We can help.
There's a right way and a wrong way to clean your boat. If you cut corners to try and get it done quickly, you're leaving your boat susceptible to long-term issues that could end up being very expensive. Take the meticulous route, however, and your boat will serve you well for many summers to come.
In this post, we're going to give you the dos and don'ts of boat cleaning. Keep reading and you'll be fully prepared for your next boating adventure, whether it's next weekend or next spring.
DO: Get Your Supplies In Order
You're going to need the right cleaning supplies for your boat. You'll want to get biodegradable, marine-approved cleaning detergent, which can safely clean your boat and give it a protective layer that you can trust. There are also really useful spray-on restorers that can brighten the colors of your boat's exterior which have gotten dull over time in the water.
In addition, you'll need to bring a hose, a manual bilge pump, a wash mitt, stiff and soft bristle brushes, buffing balls for your drill, and protective gear.
DON'T: Use the Wrong Cleaners
If you think that you can take your regular household cleaning agents, the ones based in bleach and ammonia, and use them on your boat, you're sorely mistaken. These things won't serve to protect that boat and will likely damage the coating gel, as well as the upholstery over time. Green, eco-friendly cleaners are the way to go.
Remember that your boat is made up of numerous different materials for the interior and exterior, so you'll need to invest in different cleaners in order to make them last. A boat soap or hull polish will be necessary to clean the marine buildup, while a metal polish will work for the chrome and stainless steel parts.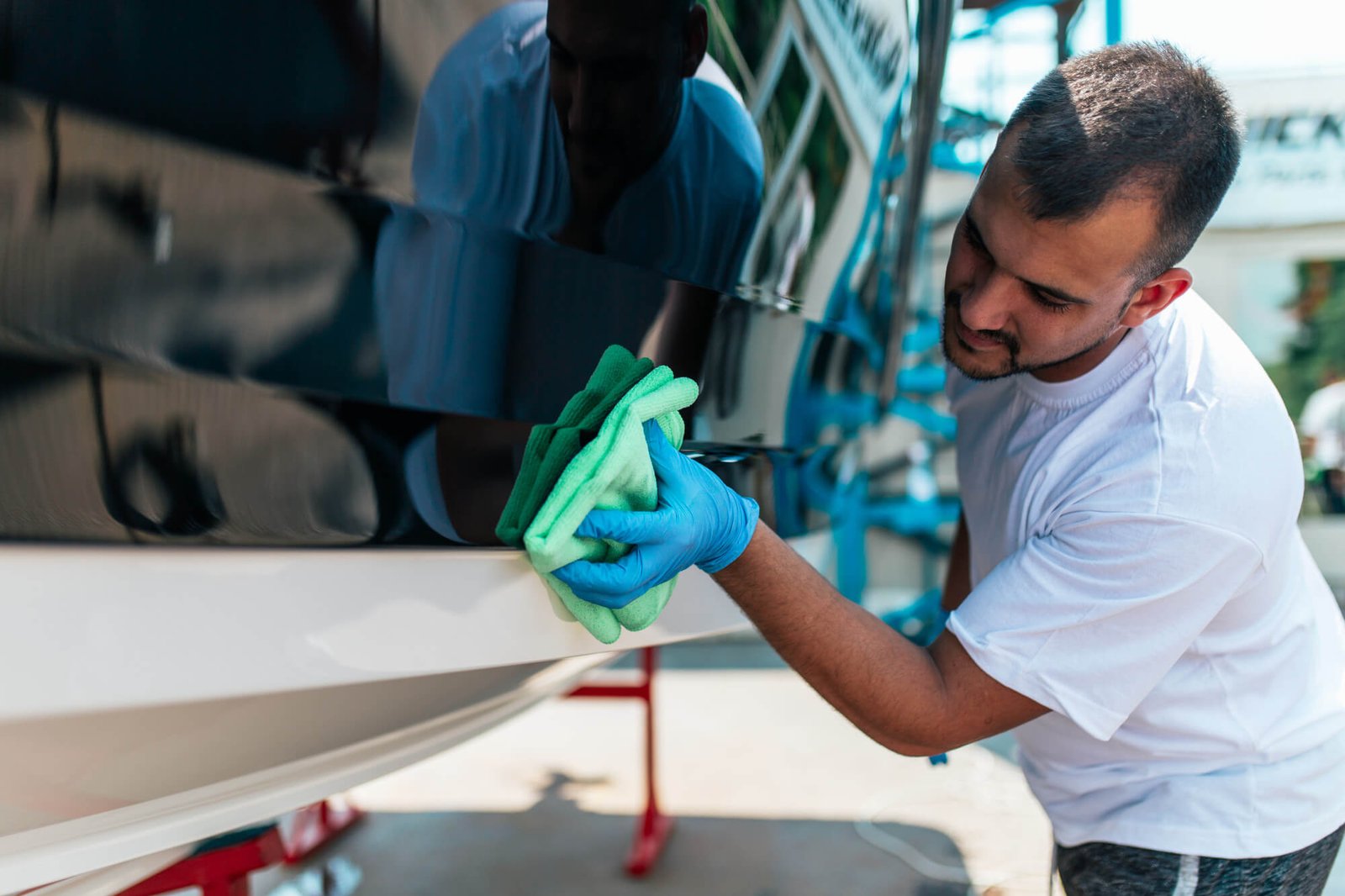 DO: Rinse the Boat First
When you pull the boat out of the water, it's going to be covered in mud, dirt, and debris. You can't start applying your soaps and polishes until after these things are cleaned off, so be prepared to rinse the entire boat from top to bottom.
Of course, make sure all loose items are removed and all the doors and hatches are closed, then start spraying on a gentle setting. A hard spray or spraying too close could damage the protective gelcoat, especially if its a few years old.
Once you've rinsed the entire boat, you can scrub and buff to your heart's content.
DON'T: Let It Air Dry
Once you've pulled the boat out of the water to get ready for a clean, you might first let it air dry. Believe it or not, this is a big mistake that could be doing a number on the gelcoat of your boat. Next time you take it out the water, take notice of all of the white specks on its surface; these won't do any long-term damage, but they make your boat look much dirtier.
Always wipe the boat down with a microfiber cloth after you pull it from the water. It'll get rid of moisture buildup and make the boat easier to clean.
Boat Cleaning 101
Now that you know some of the dos and don'ts of boat cleaning, you can keep your boat looking great for longer. There are few joys greater than owning a boat and even though you have to take the time to clean it regularly, doing it correctly will ensure you have the shiniest boat on the water.
If you liked this post, come back again for more vacation and travel tips.