Universal Serial Bus, or USB as popularly known, is an integral part of most gadgets we use nowadays. Your mobile phone, TV, camera, laptop, desktop, or gaming console, everything has a USB port or two. USB connectors are available in various types and sizes these days that they are suited for industrial use.
Hi-speed USB
Although USBs have been around for some time now, they have evolved a lot over the years. The speed and capacity have vastly improved. Also, more and more devices are going for standardised USB ports these days. It means that almost all the gadgets of recent times have the latest USB port that facilitates better speed and ease of use.
As a result, the Hi-speed USBs are preferred for industrial data-collection systems with faster speeds than the ones available over LANs. Just as ethernet has conquered the industrial world, USB is also on the verge of doing so.
USB for industrial use
Industrial use needs every product to be more effective and less costly. However, when it comes to changes in technology, the industry is usually slow to pick up and adapt to the change. The more common and familiar a technology becomes, the easier it gets industry acceptance. Since USB has been around for a long time now and the technology is not changing every other day like some other gadgets, the industry seems to look favourably at USBs.
One of the main features that endeared the USB to its users, both individual and industrial, is the ease of use backed with solid performance. USB is a plug-and-play device that needs no additional installation or training for use. You plug the correct USB into the right system and start working straight away. It is as simple as that. It is no wonder that most industries preferred USB for their next data-acquisition system over any other type of bus.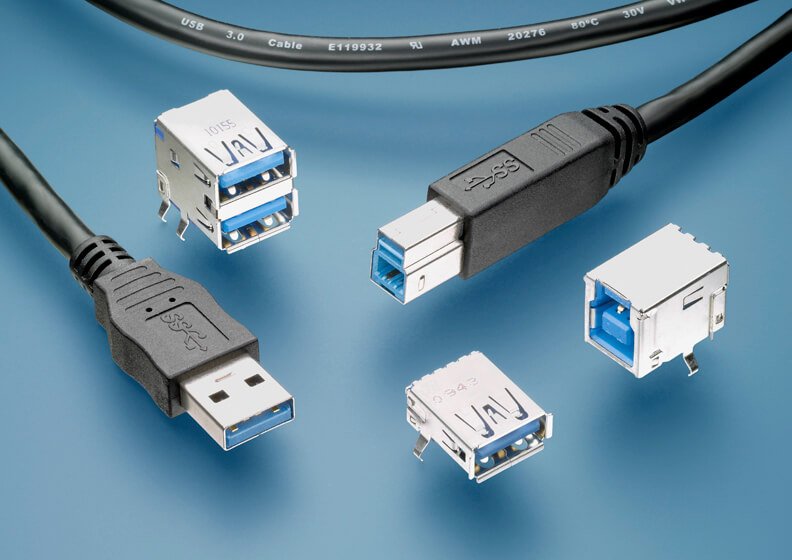 Plug and play
USB's plug-and-play capability puts it apart from all other peripheral connection tools. When you connect the connector to the USB port, the electrical circuit is complete and the change in signal lines is detected by the system. Every USB device has a descriptor that provides the host computer with the information necessary to set it and to install the right driver.
Once the driver is installed the device is up and running, with no extra effort from the user. To remove, just unplug the USB from the device and it will automatically disable the port and removes it from the device manager listing.
Another important feature of USB is its capacity to power some devices from the bus. The bus interface consists of a power supply and ground lines offering 5 V at up to 500 mA to USB peripherals. The power comes from either the computer or the power supply of the USB hub, and the bus-powered devices do not need an external power source.
However, it means that USB lacks isolation. It could cause ground-loop currents that lead to inaccurate measurement devices and electrical surges. Industrial USB devices have solved this problem by building isolation to protect from transient and non-transient electrical surges or by using isolated hubs.
USB is suitable for industrial use because of its bandwidth, reliability, and endurance along with plug and play capabilities. Click here to choose from a wider range of USB connectors at affordable prices.