After a significant hiatus due to the pandemic, the event industry of the United Arab Emirates is returning to its normal operations. People who were confined to their homes and virtual events for a long time are now excited about the physical events. Although the danger is not completely gone, there is an extreme need to follow the safety protocols.
After the virtual events, the socially distanced events are the new norm. Proper planning and organization are required to make the socially distanced events successful. The décor, which used to be the highlight of the event, can suffer in the socially distanced events if you do not pay proper attention to it. You can experiment with changing standards to make it successful. To simplify this process, you can hire an event management agency to help you plan and decorate your event.
Explore this article in detail to learn about a few socially distanced event decor ideas that you can easily include in your next physical event.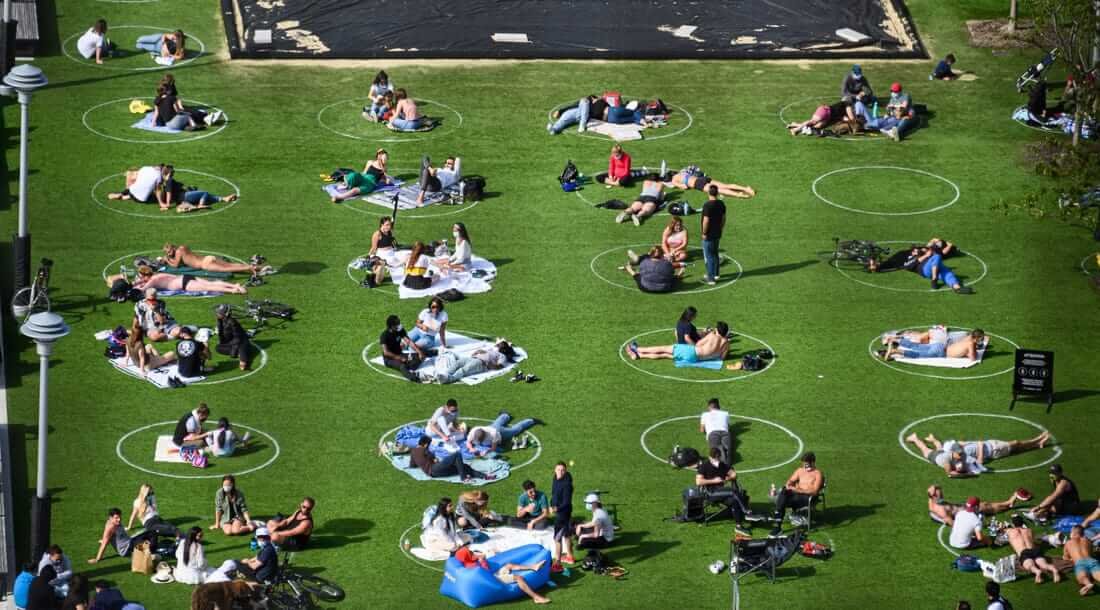 Top 8 Decor Ideas to Implement in Your Socially Distanced Events
Décor of any event is the first thing that attracts the attention of the attendees and instantly elevates their mood. If you do not put much effort into decorating your venue, you will have to put more effort into other things to keep the attendees engaged and entertained. On the other hand, in the case of socially distanced events, décor can provide a pleasant substitute for distancing cards.
Here are the top décor ideas you can implement in your socially distanced events.
1.    Customized Velvet Ropes
Velvet ropes are often used in corporate events, gala dinners, networking events, trade shows, and award shows to showcase the off-limit space. You can creatively use this prop to promote social distancing in your events. The solution is customized velvet ropes that help the attendees maintain a safe distance of six feet.
2.    Varied Sized Tables
One of the most common décor ideas you can implement in your next socially distanced event is the varied sized tables. By including such tables, paying more attention to floor planning and organization is crucial to enjoy a symmetry or pleasant design. The organizers often get event companies in Abu Dhabi on board to manage the table arrangement and general event décor.
3.    Bumper Tables
If your event includes people for old age groups or children, adding bumper tables in the décor will instantly lift the mood. Children and old people are masters in the art of finding happiness in the littlest things. It will not only help them maintain the social distance and stay safe but also enjoy the unique setup. So, incorporate this decor idea in your next socially distanced event to please everyone.
4.    Plexi Dividers
Plexi dividers are the new highlight of the post-pandemic era. These are essential props you can use as a décor in your socially distanced events. These can be safely incorporated into the networking events. On the other hand, if you are inviting guest speakers to your events, you can use Plexi dividers on the stage to create a safe barrier among the speakers and ensure to add an aesthetic touch.
5.    Greenery
Using greenery as an event décor is not a new concept. The new thing in this to use greenery as a means of maintaining six feet distance among the attendees of your event. You can use the bigger plants or prop tress to add a green touch to your event while ensuring distance. Just make sure they are fixed carefully so they do not cause harm to the attendees.
6.    Customized Pillows
Adding customized pillows to your event décor is definitely a unique idea. If your event includes the theater-style seating arrangement, customized pillows can provide the direction about which seats can be used and which ones need to be left empty. You can promote your brand through these pillows, too, by printing your message creatively.
7.    Sponsored Masks
Masks have now become an essential part of the life of human beings, though some of them do not like wearing them. Instead of using the masks as décor, you can use them to educate and aware the attendees. You can also use huge props of masks to create a distance among the attendees and help them understand the safety requirements.
8.    Shielded Food Stations
Lastly, the most crucial event décor idea, which is essential for socially distanced events, is the shielded food stations. You can add more fun and excitement by doing graffiti on the shields. It would be much tempting if it is related to food. You can hire event companies in Abu Dhabi and let the design experts play with your décor and make it more enticing for the attendees.
Utilize the décor ideas to make your event interesting!
The first thing people notice while entering an event is the décor of the venue. You cannot afford to disappoint your attendees at the first step. So, get in touch with the professional event planners to give the necessary attention to your décor and ensure a perfect event organization that stays fresh in the memory of attendees.