Austin Richard Post is also popularly known as Post Malone. He is an American rapper, singer, songwriter, and producer.
Personal Details
Stage Name: Post Malone
Full Name: Austin Richard Post
Gender: Male
Birthday: July 4, 1995
Place of Origin: Syracuse, New York, U.S.
Age: 25
Height: 6 ft
Nationality: American
Sexual Orientation: Straight Male
Status: Single
Spouse: None
Profession: Rapper, singer, songwriter, and producer
Total Net Worth: $30 million
Personal Life
Austin Richard Post was born in Syracuse, New York on July 4, 1995. Post was raised by his father, Rich Post, and his stepmother, Jodie. The Post family then transferred to Grapevine, Texas when Post Malone was just 9 years old. Austin's father then became the manager of concessions for the Dallas Cowboys.
Post Malone's father was a DJ in his youth. He was the one who introduced his son to different genres of music. Post Malone began to play the guitar drawing inspiration from playing Guitar Hero, a popular video game.
In 2010, he auditioned for the American band named Crown the Empire but was rejected because his guitar strings broke during the audition.  Post Malone played in a heavy metal band which is where he started professional music. Later on, he switched to much mellow rock.
He got his stage name from using his last name "Post" and from a rap name generator online for "Malone". He came up with his stage name when he was 15 years old. When he was 16 years old, Post Malone made his first mixtape and passed it out to his friends at school. Then his classmates voted him as "Most Likely to Become Famous".
In college, Post Malone enrolled in Tarrant County College in Fort Worth, Texas, for a short while then he eventually dropped out. After dropping out of college, he moved to Los Angeles where he lived with his long time friend and professional game streamer, Jason Probst.
Post Malone was in a 3 year relationship with Ashlen Diaz, but the couple separated in November 2018.
His old home was robbed back on September 1, 2018 in San Fernando Valley, California. He currently stays in Los Angeles, California. He also has a home in Cottonwood Heights, Utah which is a multimillion 12,700 sq.ft. home.
Post Malone has 77 tattoos all over his body including his face.
Career
When he moved to Los Angeles, California, he and his friend, Jason, and several artists and producers formed a music group called BLCKVRD. They recorded music together. Post Malone then met Rex Kudo who produced his popular hit entitled "White Iverson".
Post Malone's track "White Iverson" garnered many positive comments and was praised by famous artists like Wiz Khalifa and Mac Miller. He wrote the song 2 days before recording it. "White Iverson" received 1 million views just in 1 month after its release. The success of this track has attracted lots of record label companies. Eventually, In August 2015, Post Malone signed with Republic Records.
He then began working with notable artists like Kanye West which they collaborated on Kanye's single entitled "Fade". He was even picked up by Justin Bieber as the opening act. He also was invited by Kylie Jenner and he sang on her 18th birthday.
In May 2016, he released his first mixtape with the record label entitled "August 26". And in December the same year, he released his first studio album entitled "Stoney". In October 2017, "Stoney" was certified by RIAA as double platinum. His single "Congratulations" from the album was a success and reached number 8 on the Billboard Hot 100. 
In September 2017, he then released his first single Rockstar featuring 21 Savage from his album Beerbongs & Bentleys. The single reached number 1 on the Billboard Hot 100 list.
In February 2018, Post Malone released his new song entitled "Psycho" featuring Ty Dolla Sign. The song reached number 2 on the Billboard Hot 100 list. Having the album pushed back from being released, Beerbongs & Bentleys was finally released in April 2018. It broke the first day streaming records on Spotify with streams up to 78.7 million worldwide. The album was certified by RIAA a platinum and has garnered four Grammy Awards nominations. The album was nominated Album of the Year and Record of the Year. 
In September 2019, he released his third studio album entitled "Hollywood's Bleeding". The album has reached the number 1 spot on the Billboard 200 and has sold 489,000 units in its first week.
It was in August when Post Malone's album Stoney had surpassed and broke the record of Michael Jackson's 34 years for most weeks on the Billboard Top R&B and hip-hop album charts. Michael Jackson was on 76 weeks for his album Thriller, while Post Malone reached 77 weeks. Post Malone has announced on April 24, 2020 that his new album is in progress.
Post Malone is involved in several musical projects such as his track "Sunflower" whom he worked with Swae Lee for the film in 2018 entitled "Spider-Man: Into the Spider-Verse" soundtrack. He also has some notable songs such as the track entitled "Goodbye feat. Young Thug which was released in July 2019.
Post Malone receives more of his royalties of his songs because he is the one writing his songs.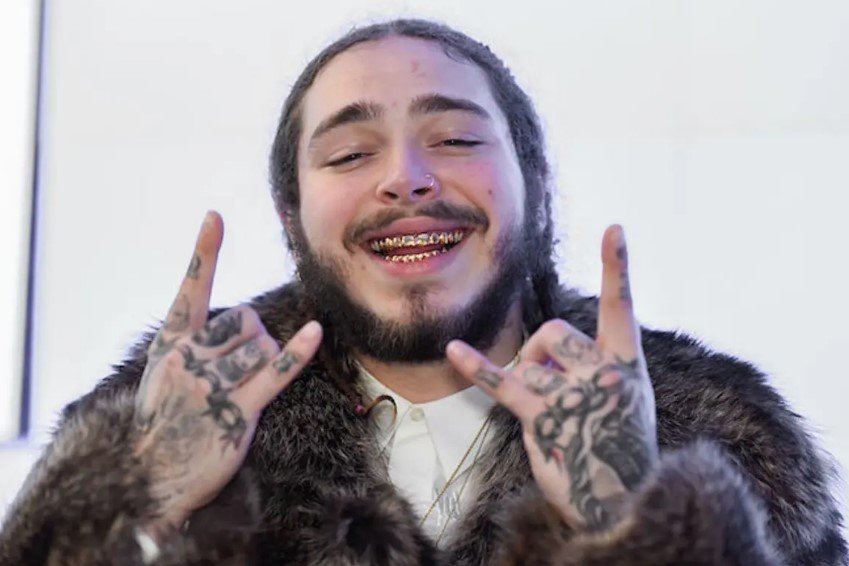 He has hosted his own music festival as well. He also enjoys endorsements from brand companies like True Religion, HyperX, and Bud Light. He did a memorable Super Bowl ad with Bud Light. Also with Bud Light, they've released a fashion collection for a limited time in August 2019.
Post Malone Total Net Worth
Post Malone is a famous rapper, singer, songwriter, and producer. His debut single "White Iverson" was his first attained recognition. He has other popular songs.
He is also successful in streaming, concerts and touring, and in business as well. Post Malone is one of the highest-paid rappers in the world and he has an estimated net worth of $30 million.