Opting for a smaller space is one of the top reasons people move. Although the process of moving from an apartment into a home is simple however, it is a process that requires changes to your routine, lifestyle, and the number of possessions you own. While it's not an easy task, many individuals eventually decide to move from a house and move into an apartment.
Moving from a home to an apartment can be a challenge due to a myriad of reasons one of which includes having a lot less physical space. If you plan and execute some simple steps you will be able to enjoy a comfortable life in a smaller space than you are used to. When it comes to making the most of the space at your disposal the only limit is your imagination. These guidelines can help you simplify the moving process.
How to manage moving into a smaller space
Downsizing can be stressful due to the difficulties that come with moving your possessions to a smaller space. With careful planning, you can ease your worries and make your new space an area you would love spending time in, without having to sacrifice your sense of style.
Here are some suggestions to help you plan and move into an apartment.
Make your choices carefully: Before you start looking for a new place to call yours, it's best to take stock of your lifestyle demands and priorities. Do you require separate office space or a quiet area? Are you running out of space for key furniture items? To what extent do you wish to change your lifestyle? Find answers to all these questions.
Prepare for the future: If you've decided to downsize now is the time to begin planning. If relatives are involved, the idea of moving can cause stress and trigger emotional turmoil. To avoid getting stressed, create two lists: one that includes your favorite items, and another list for your most essential items. Be sure everyone is aware of the plans you have before clearing out your space.
Change your mindset: It's easy to be sad if you are downsizing because of financial issues or simply because your lifestyle has changed. The differences between living in a home or an apartment are huge. The disadvantage of moving down is the loss of space, but the upsides far outweigh the loss, which includes lower expenses as well as less maintenance and less pressure to throw massive parties and gatherings. It is possible to locate great bars, nightlife venues, or retail in a convenient area.
Your home should feel warm and inviting. You should make sure there is enough room in your new house for the things that you use most often and things that make you happy.
Find packing supplies at the nearest market
There are many details you should consider when planning the transition from your home to an apartment, one of which is purchasing high-quality packing materials. Buying packing materials and medium-sized boxes ahead of time would be a great aid for the residential movers you hire. Get moving supplies such as bubble wrap, packing paper, straps, and dollies.
However, the most important step you must consider to ensure a smooth relocation is to prepare ahead and master efficient packing methods. A professional NYC Zeromax moving company would help you load the truck, unload it, assemble and disassemble your furniture, then wrap your electronics and box them.
If you decide to manage your relocation by yourself, there are a few things you should do to ensure nothing gets broken. Here they are:
Put the heaviest items at the bottom
Put the smallest items at the top
For fragile items, additional padding is required between the layers of packaging.
Glasses should be packed in special containers that are compartmentalized.
Plates should be packed upright.
Don't forget to be careful as packing is one of the most important things to consider when moving into a new apartment.
Be confident about your decision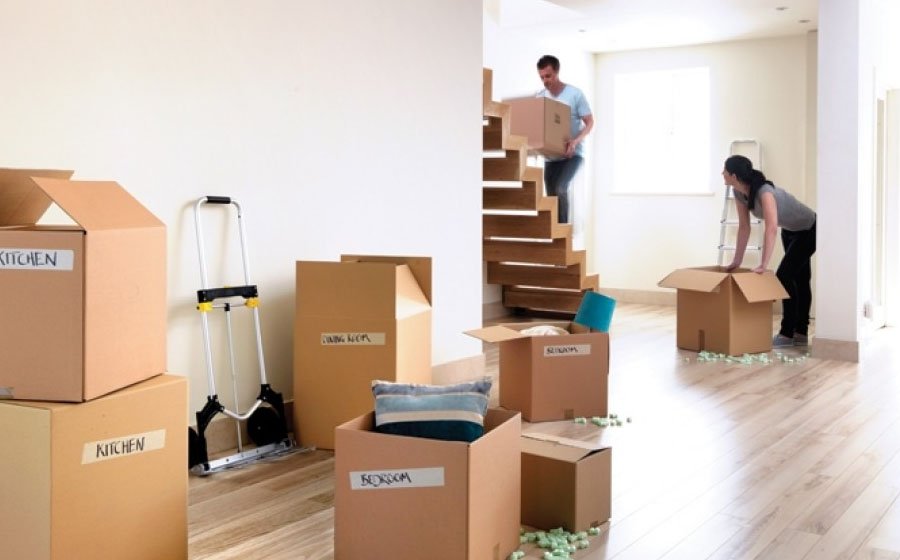 Some of the reasons people move to smaller places include:
Lesser monthly expenditures
A more convenient location
Less time and effort is required to maintain an apartment in comparison to a house
Condos may be found virtually everywhere, and their tenants have a wide range of options such as a sense of community, accessibility to work, and the possibility of pet-friendly areas.
Relocating is difficult enough without having to alter your routines. You should take the time to adapt to the new standard of living of where you've relocated to. Learn to speak the local language. Examine the facilities to find out what benefits the building offers. There might be a swimming pool or a gym. These are ideal spots for making new acquaintances and forming new relationships. There may also be an area for reading where you can unwind and read.
There are numerous clever ways to organize your belongings in small spaces such as studio apartments or tiny apartments. Modern furniture can double as storage. Plus it's likely that the majority of the things you donated were truly no longer needed by you. If possible, make interior design changes in your flat. In the end, you would have achieved a sense of ownership of the space.
Take advantage of the new chapter in your life and enjoy all advantages of living in an apartment. Changing your lifestyle by moving from a home to an apartment will provide you with new freedoms.