Montero Lamar Hill or is famously known by his rap name 'Lil Nas X' is an American rap artist, singer, musician, and songwriter. 
Personal Details
Stage Name: Lil Nas X
Full Name: Montero Lamar Hill
Gender: Male
Birthday: April 9, 1999
Place of Origin: Georgia, United States
Age: 21
Height: 6 ft, 2 in
Nationality: American 
Sexual Orientation: Gay
Status: Single
Spouse: None
Children: None
Profession: Rap Artist, Musician, Singer, and Songwriter
Total Net Worth: $6 million
Personal Life
Montero Lamar Hill was born on April 9, 1999, in the small town of Lithia Springs, Georgia, United States. He was young when his parents got divorced. He grew up with his mother and grandmother, and they were staying in a housing project called Bankhead Courts. His name was referenced after the Mitsubishi Montero. 
After 3 years, Montero moved in with his father who is a gospel singer, in the northern part of Austell Georgia.
It came to a point where Montero decided to leave the neighborhood but was doubtful if it would be the right thing to do. He decided to leave and later addressed it as one of his best decisions. He saw that there was no future for him in Atlanta and staying might involve him with the wrong people or group. 
In his teen years he is fond of using the internet and social media platforms for entertainment by making memes. He spent a lot of time on this where he got comfortable being alone. He also particularly engaged in Twitter. 
One of his challenges encountered as a teenager is his sexuality, he struggled with his acceptance of being gay and tried to convince himself that it was just a confusing stage. He was between 16 to 17 years old when he finally accepted it. 
Montero had his education in Lithia Springs High School where he graduated in 2017. He then went to the University of West Georgia, but his schooling was short lived when he decided to drop out and pursue a career in music. To support himself, he started to work at Zaxby's restaurants and Six Flags Over Georgia theme park. 
It was in 2019, that Montero finally decided to admit to his father and sister that he was gay, despite the trouble of uncertainty that he may get negative reactions from his fans. During the last day of Pride Month in June of 2019, he openly admitted it in public. Many people were uncertain of the coming out statement of Montero, but then he got the chance when he had an interview on BBC Breakfast. The news came out positive, but it also attracted several homophobic backlash on the social media and the hip hop community. 
Public Figure
Montero is well known for his public fashion trends. Vogue even stated that he is a master of glam aesthetic cowboy look in his clothing look and instagram photos. But what he wants and his stylist to show off is more of a futuristic, playful, colorful, and electric style. One of his clothing endorsements came from Wrangler where he mentioned the brand in his song 'Old Town Road' had sold out their Nas X partnered fashions. 
His dedication to fashion is so intense that during the 62nd Annual Grammy Awards, he wore different outfits including a Versace suit that took 700 hours to be made. 
His latest fashion engagement is modelling for a new skin care video from Rihanna's Fenty Beauty. 
Career
Montero's career started in 2015 to 2017 as an internet personality. It began during his teenage years where he isolated himself at school to focus on establishing a network, promoting his work, and creativity for his internet personality. His initial approach is creating comedy videos on Facebook, then transitioned to Instagram, and finally Twitter. It was in the Twitter world where he became viral. 
His latest count of followers was in 2019 where he has more than 2 million followers in Twitter, 4 million on Instagram, 5 million YouTube subscribers, and over 44 million monthly count of listeners in his Spotify. 
In 2018 to 2019, he released his country rap song 'Old Town Road' and became successful with it, he then released 7 more EP songs. It was then late in this year where he decided to make a career in the music industry. He started recording and writing songs. 
He got his rap name from rapper Nas, as a tribute. 
In 2020 to present time, he continued his passion for music by announcing the release of his upcoming debut album and several mixtapes. He also shared the title of his upcoming songs like Call Me By Your Name, Don't Want It, Titanic, and One Of Me.
Montero also engaged in writing. He made the children's book 'C is for Country'. 
Awards and Nominations
Montero has surely proven his talent by receiving a total of 79 nominations and has won 19 awards in different award ceremonies and categories. Here are several of his accomplishments.
He has received nominations in American Music Awards, BBC Radio 1's Teen Awards, BET Awards, BET Hip Hop Awards, Billboard Music Awards, Bravo Otto, BreakTudo Awards, Danish Music Awards, Grammy Awards, iHeartRadio Music Awards, LOS40 Music Awards, MTV Europe Music Awards, MTV Music Video Awards, Nickelodeon Kids' Choice Awards, People's Choice Awards, Swiss Music Awards, Teen Choice Awards, and UK Music Video Awards.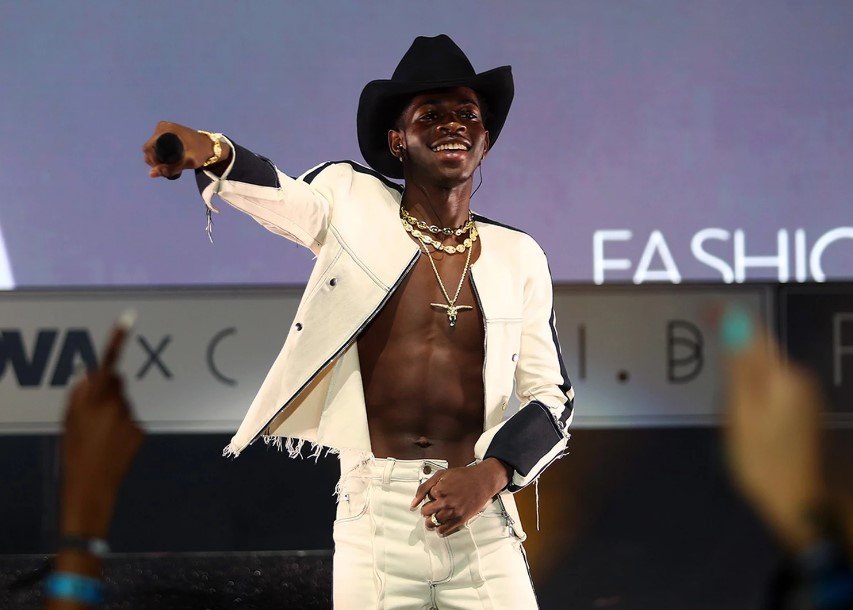 He has won awards in Teen Choice Awards, Streamy Awards, Queerty Awards, Nickelodeon Kids' Choice Awards, MTV Video Play Awards, MTV Video Music Awards, Grammy Awards, GLAAD Media Awards, Country Music Association Awards, Billboard Music Awards, BET Hip Hop Awards, Apple Music Awards, and American Music Awards. 
Lil Nas X Total Net Worth
Montero is a young artist with a unique set of talents and music genre that gained him notable admirations from his community, fellow artists, celebrities, fans, and critics. He is a successful rap artist, musician, and songwriter, who has made millions in his songs and albums. 
He has a total net worth of $6 million.