People often assume that having a large living room means that it is easy to set-up furniture and decorate. After all, you have so much space! However, this is the exact reason why it can be difficult. With so much space to play with, it can be easy to end up with a room that looks messy, without any structure and with a mismatch of styles!
This is why it is important to make sure that you plan your furniture set-up so you can ensure the outcome is a beautiful one. With that being said, let's take a look at how to set-up furniture in a large living room.
Designate different zones
The first thing that we recommend when it comes to living room design is to designate different zones. A large living room can be so much more than just a large living area. Instead, think about the different functions you would like to have within the room.
You could end up creating a space that offers two or three different functions. Of course, you will have your living space – a place to relax and unwind. However, you can also add other elements, for example, a reading zone, a gaming area, a place for a writing desk, or a media zone. So try to designate different zones before buying living room furniture.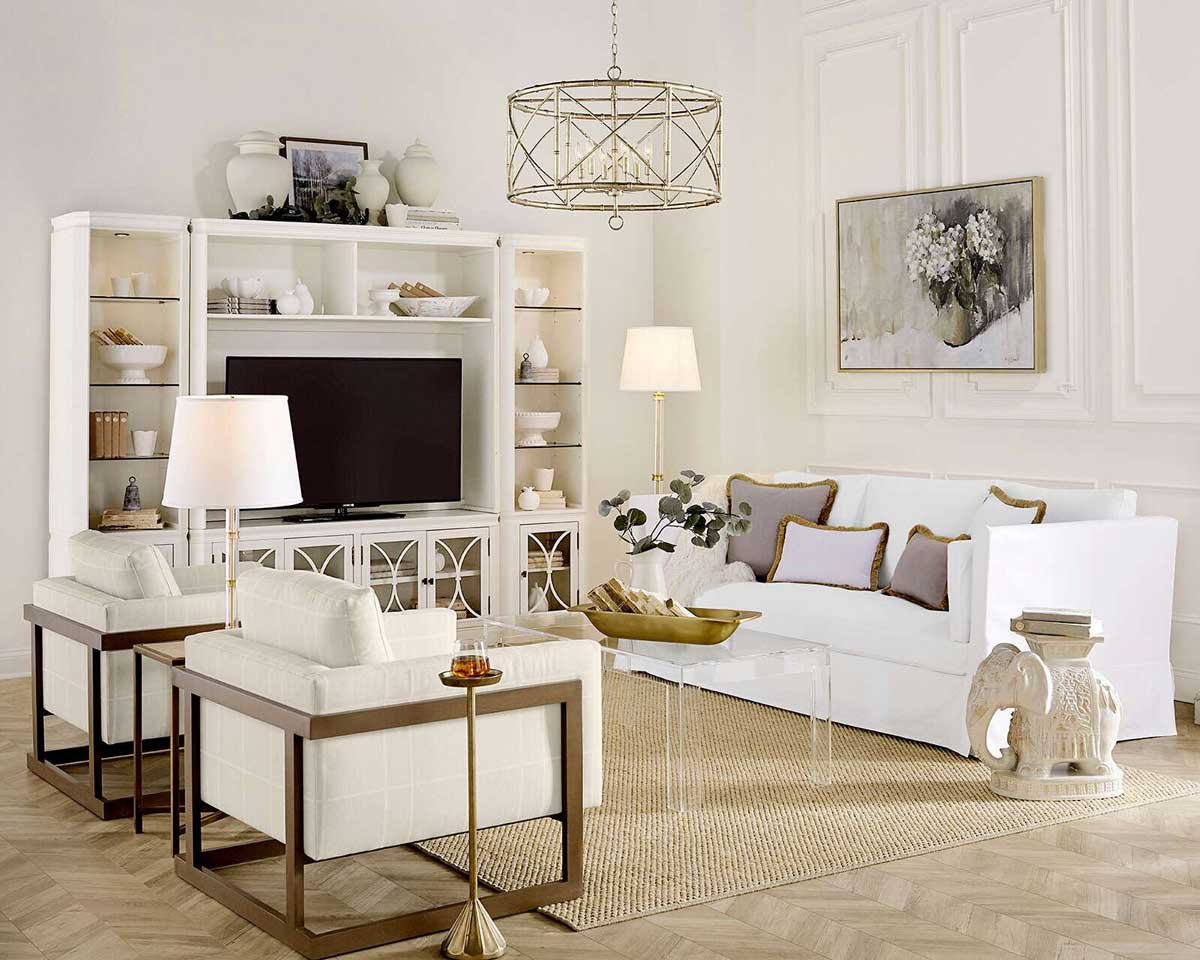 Consider the scale
Scale really does matter when it comes to large rooms, in particular. If you have tall ceilings that make your room feel unbalanced, you should try to incorporate taller furniture wherever you are able to. If all of your furniture is short, then it is going to make your ceilings feel too tall, and your furniture ends up becoming dwarfed. Consider chairs with taller backs, an armoire, or a taller bookcase.
Anchor the room
Large living spaces can end up feeling messy and cluttered if you incorporate too many small pieces in the room without having anchoring elements. This is why it is imperative to choose large, statement furniture pieces, which will tie everything together beautifully.
Examples here include a built-in bookcase, large coffee table, large sofa, or a sectional. If you want to go for something really grand, you could even add a piano to your living area! These sort of pieces are critical because they help to anchor a room, ensuring the littler pieces can be tucked in here and you can add accents without making the space look messy.
Visually divide the space up
Another piece of advice that we have when it comes to large living areas is to make sure that the space is divided up visually. You can divide the room up in many different ways, for example, by using pillars, half walls, or ceiling beams. If you want something more flexible, consider furniture placement, wallpaper, curtains, and area rugs to create a visually cosy space within a bigger living room.
You can even place two sofas with their backs to one and another to divide the space up visually. Other ways of dividing the space include the use of plants, curtains, large lamps, an attractive screen. Tables between chairs, or a large bench.
Get creative with your lighting
The final piece of the puzzle when it comes to setting up furniture in your living room is to use lighting to your advantage. Lighting can make a huge difference to how a room feels, irrespective of how big or small the room is! Luckily, with a large living room, you are probably going to have more windows, which will enable natural light to flood through during the day, making the space appear more welcoming and being a true pleasure to be in!
However, on an evening, dark corners and shadows can make anyone feel uneasy. You are going to need more than just your centre ceiling light. Use lamps to add more lighting to your room. Mix different lamps, including glass lamps, to light various areas while ensuring you don't have a lamp overload.
So there you have it: some useful tips and pieces of advice when it comes to setting up furniture and stylish your large living room. We hope that the information that has been provided will help you to achieve interior style success when it comes to having a large living space.
Having a large living room can often feel like a blessing and a curse, but when you use the advice above, it will be nothing but a beautiful and blissful blessing, enabling you to enjoy your living space, especially after a hard day at work or looking after the kids.