Car audio is one of the most important factors in the experience of your personal vehicle. We often turn a blind eye to little imperfections in our stereos, but the quality of the stereo makes a huge difference.
We're going to look at some of the ways that you can improve your car stereo system experience. We'll examine the fundamentals of the system and what you can do to optimize them.
Let's get started.
Improving Your Car Stereo System
The first thing to do is to start hammering out your budget. What are you looking to spend on a new stereo system for your vehicle? Further, do you even need an entirely new system?
If there's something, in particular, that's wrong with your system, it's almost always possible to make slight changes and address those issues. If you're getting a lot of buzzing or breaking at high volumes, for example, there might be an issue with your amplifier.
If one speaker is faulty, you don't have to invest in an entirely new speaker system. Putting money into all new equipment would help, sure, but it's not necessary if you don't have the budget.
That said, the following items come in a variety of costs, and all of them improve the quality of your audio experience a great deal.
Door Speakers 
The primary vessel for music in your vehicle is the door speaker arrangement. These are the speakers that tend to do the bulk of the work if you don't have any other aftermarket features.
Door speakers can handle the full range of sound pretty well, but they're most effective in the mid-range. That gives them the ability to play almost any kind of music in a way that's enjoyable. If you invest in new door speakers, the quality of your car's sound will improve significantly.
Those who have a tight budget should look to the door speakers first.
Tweeters
Tweeters are speakers that tend to sit somewhere near the back of your vehicle's interior. They're called "tweeters" because they deal with sounds on the high end of the mix.
Things like high harmonies, violins, and other higher-frequency sounds are made clearer by tweeters. You'll notice that the clarity of the mix improves, and there won't be as much buzz or treble when you turn the volume up.
Subwoofers
On the other side of things, subwoofers add clarity and depth to the low end of the mix. Generally speaking, that means you'll have a lot more bass if you install a subwoofer.
Manufacturer speakers can't always accommodate a lot of bass. As you start to turn the volume up, you'll notice that the bass starts to buzz and even rattle your speakers. What's even worse is that the clarity of the bass diminishes and you don't get a good idea of what it's supposed to sound like.
Installing a subwoofer will clear those issues up immediately and allow you to get a full, clear, and booming bass tone in your music.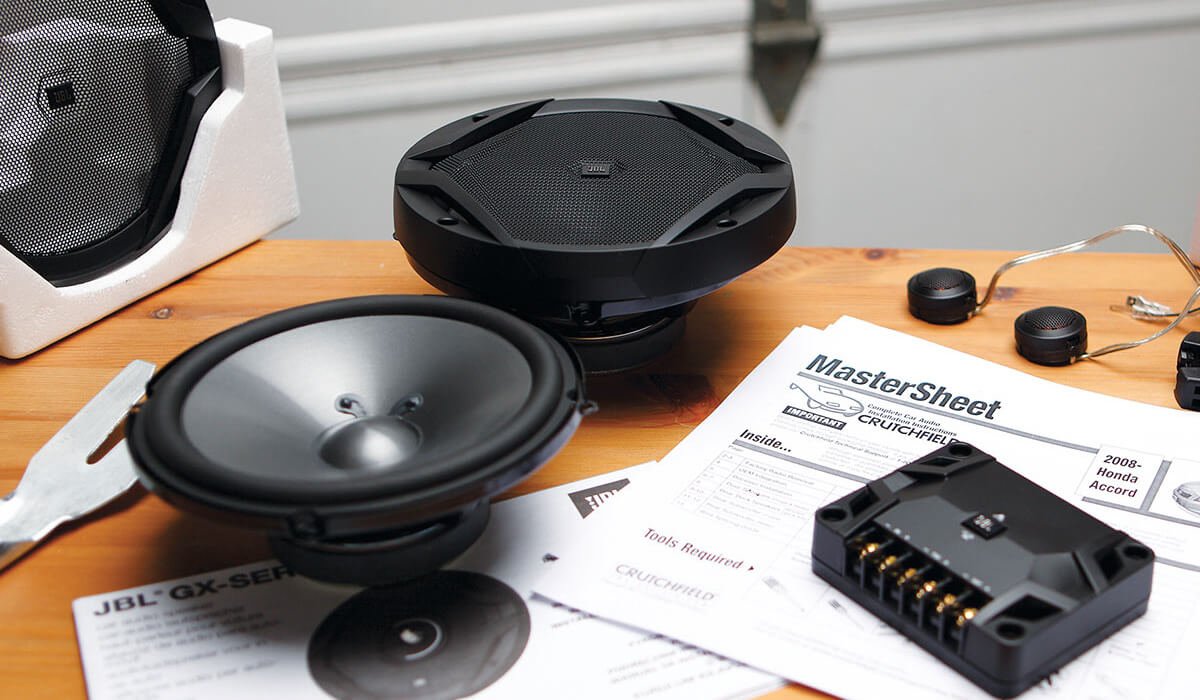 Amplifiers
The amplifier is the part of the system that increases and distributes the signal to the speakers. The more powerful the amplifier, the louder that signal can be.
If you install aftermarket speakers in your vehicle, you might notice that the car can't produce enough volume to express the full range of the speakers. Your speakers will sound great, sure, but you won't be able to enjoy them at their loudest.
Further, a low-level amplifier will cloud the signal at high volumes. You might have great speakers and a subwoofer, but the signal is still fuzzy so it won't sound great. Your amplifier has the responsibility to ensure that the signal is clear at any volume.
So, if you're going to invest in nice new speakers, a new amplifier is the best way to do those speakers justice and come out with the right sound quality. Note that you don't have to invest in an extremely nice amplifier if you don't have the need for it.
An aftermarket will almost always meet your personal needs. If you're looking to blast music out of your car to fuel block parties or blow out your eardrums, you might need to get a more expensive amp.
Head Decks
The head deck is the brain of the operation. It's the thing that you control everything else with, and you see it sitting on your dashboard. Some vehicles come with really nice head decks or screens that will accommodate your new sound system.
It would be wise to talk with the dealership or maker of your car in these instances. They might have some insight into what your car can handle and what you should buy in order to avoid getting a new deck.
That said, you can generally get aftermarket heads that work for your vehicle. These allow you to manipulate the sound and manage all of the features of your system with ease.
Some of them might have a more advanced screen than the one that came with your vehicle as well. You could watch movies on the screen, stream things from your phone, and more.
It's up to you. One thing is for sure, though, and that is that you need a deck of some kind to manage the sound.
Navigating The Options
All of the categories above come with thousands of particular options. It's overwhelming at times.
You can narrow your options by considering the type of music that you listen to most often. Determine whether low, middle, or high frequencies in the miz of the music are most important.
You can then find devices that specialize in those areas of the mix and make your choices accordingly.
Want More Ways to Enhance Sound?
Your car stereo system has a lot of potential to get bigger and better. We're here to help you with more ideas on improving your stereo system.
Explore our site for more stereo ideas, relationship advice, lifestyle tips, and more.