Introduction
Adding local details to your business for search engines stands to bring you great benefits today. According to a study conducted by Moz, it was discovered that local results on search pages are getting more clicks than before – and this is reason enough to consider hiring local SEO services to revamp the strategies employed on your website.
To attract the traffic of 93% of consumers using search engines to locate a local business, some tweaks need to be made to make your website local SEO friendly. For example, just a few changes to the Google Business Profile will help you get started with implementing local SEO. Let's look at some more ways you can optimize your website for local searches with help from local SEO services.
How Local SEO Services Improve Local Search Rankings
Based on a study conducted by Social Media Today, local searches on Google comprise a 46% share of the total. Think about it – optimizing your online channels for local SEO will get you exposure to this section of the audience that would otherwise have remained unreachable. Let's look at how a professional local SEO service optimizes your website for this.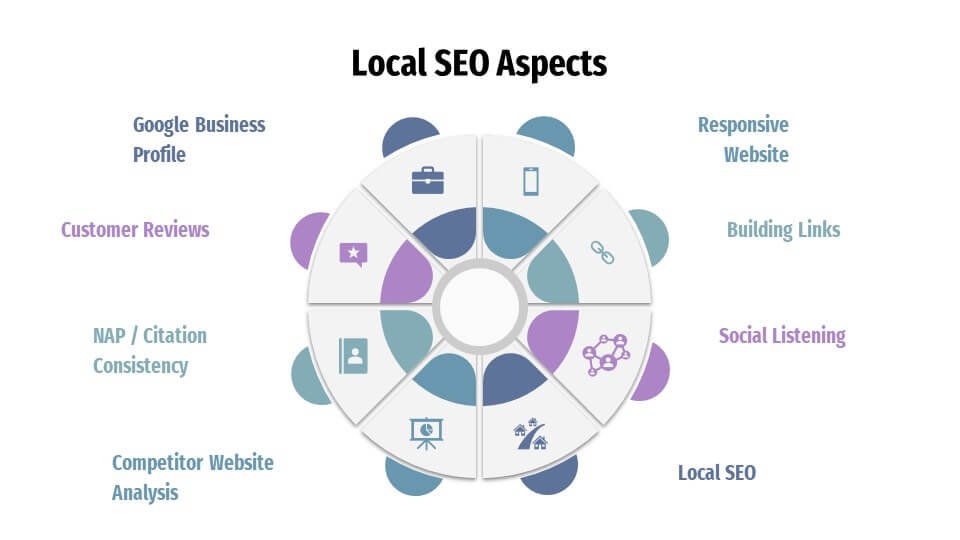 Creating a Google Business Profile
To optimize for local searches, creating a Google Business profile is the first step. Google Business Profile is an online tool that allows businesses to create a free listing for the local snack pack that appears in search results. This is the most important step because according to Moz, a GBP is the first thing Google searches for in a website for displaying local results.
Creating a properly filled-in GBP profile for the local snack pack is thus the first step.
Creating a Responsive Website
Laptops/desktops are no longer the preferred devices consumers use to initiate an online search. Mobile devices have taken the lead, and your website needs to be responsive to adapt to the new screen size and controls. According to a study by Uberall, 82% of the searches for a local business came from mobile devices – that is a huge chunk of the audience that a business can't afford to miss out on tapping.
Garnering Customer Reviews
Customer reviews boost the reliability factor of a website – positive reviews for a business urge Google to boost the SERP rankings of a website, whereas negative reviews push the website down in the local snack pack results.
A professional agency will help you gather customer reviews and regularly engage with them to help improve the customer experience. A positive customer experience helps get positive reviews. This strategy is a little long-term; however, it pays to have a lot of happy customers.
Building Links
Much like the benefit backlinks do for the non-local search results, they do the same for local search results as well. Link signals, according to this study by Moz, constitute a 16.53% weightage in gauging the position of a website in search result rankings. This number is only second to creating a Google Business profile. It is imperative to build backlinks that come from local sources to optimize your website for better rankings on local search results.
Ensuring NAP and Citation Consistency
The same study by Moz reveals that NAP (Name/Address/Phone number) needs to be consistent across all platforms – whether Google, Bing Search, Yahoo! Search, or other – in order for a business website to do better on local searches. The same information needs to be updated consistently everywhere. Citations consist of a 10.82% percent weightage in local search rankings, making this activity an important one for optimizing a website for local SEO.
Handling Social Listening
Contrary to popular belief that social listening only serves a good purpose for marketing, it also has great benefits for your local SEO strategy. Social listening gets you data about what people are talking about in general, for the activities or things that your business deals in. For example, for a restaurateur, tapping into social media helps gain insights into the kind of cuisine people are talking about or express a desire to introduce in the city.
Analyzing Competitor Websites
The best thing local SEO services can do for your business is analyzing what the competitors are doing to secure the top spot in local search results. There is nothing better than learning from someone else's experiences. If a competitor business is doing well on local search, the same strategies may be tweaked and applied to your own business to help boost your search result rankings. Professional SEO agencies know how to go about doing this; they have the necessary tools.
Conclusion
Local SEO is in vogue owing to a paradigm shift in consumer behavior. More people now want to shop from businesses that are situated close to them and can deliver value with a local character. For example, shopping for appliances from a nearby store gets them the benefit of quick service/repair when in need. Optimizing your business for local SEO helps you tap into this audience.