Teamviewer is one of the most popular remote desktop software tools which is used to access another desktop which is not in the close vicinity of the user's device. Using this application, one can view the desktop screen of the remote Desktop on their own device.
This application can be of great help for the customer care section of different companies that need to troubleshoot the issues faced by their customers. They can very easily access their computer screens and solve the problem.
Also, someone who has a separate desktop for work and home, and needs to access some files from their domestic desktop, can do it easily by using this application.  
There are several applications that can overperform Teamviewer in these functions. In this article, we shall be discussing 12 such applications which can be used to substitute Teamviewer.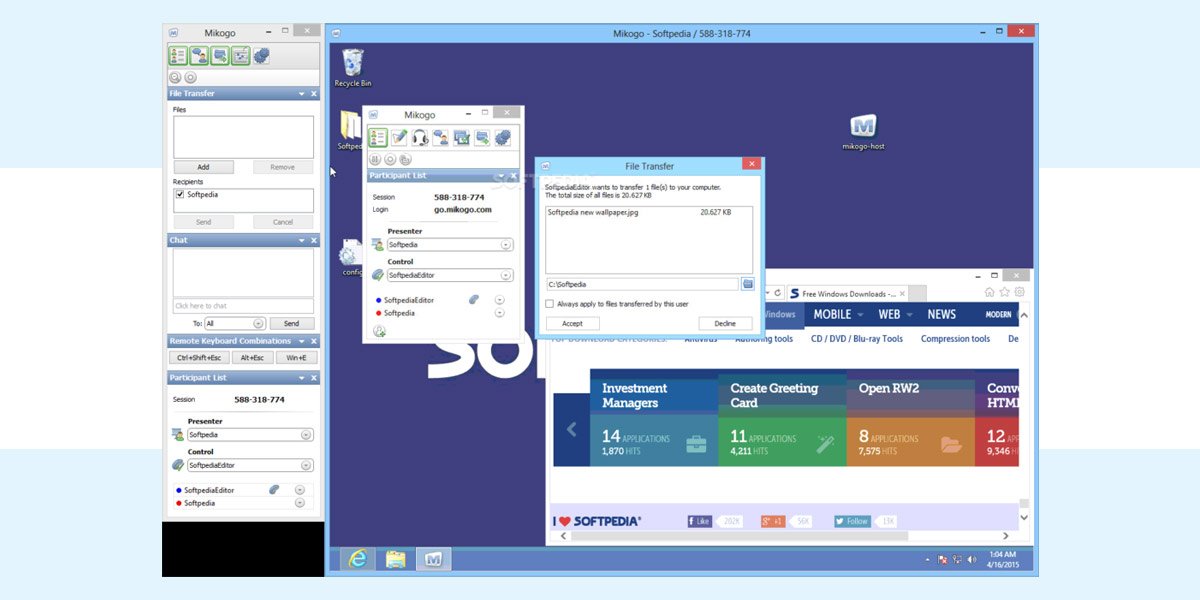 1. Microsoft Remote Desktop:
Not a lot of people are aware of the fact that Microsoft has a free remote desktop software that allows its users to access a remote desktop for their convenience. This application can be downloaded from the Microsoft Store. This application allows its users to connect to different screens of the remote devices they want to access. 
The only drawback of this application is that since it is a Microsoft app, it can be used only on Windows devices and does not work on others.
2. NoMachine:
NoMachine ranks high in the list of applications that can substitute  Teamviewer. It is one of the greatest applications for those that have their devices not supporting Microsoft Remote Desktop. It works for devices having operating systems like Macs, Linux devices, Raspberry Pi, etc. It also supports iOS and Android devices. 
3. Lite Manager:
Lite Manager is an excellent application that can substitute the Teamviewer app. It can connect as many as 30 computers which most others fail to do. It has a free version and a paid version. The free version also provides amazing features like Remote viewing, File transfer, Remote task management, Text chat, Remote launch, Remote installation, etc. 
4. Chrome Remote Desktop:
One quality of Chrome Remote Desktop that makes it stand out from the other options is that it has an extremely easy user interface that allows users to work on it even if they do not have prior tech knowledge. Using this application, its user can access a remote desktop using Linux, Windows, Mac, or Chromebook devices.
5. UltraVNC:
The best feature of this application is its privacy policies and how it safeguards your data. It uses data encryption to safeguard your access to the remote device you wish to operate. It also allows its users with a text chat feature to communicate with the person sitting on the remote device's screen.
6. PCHelpWare:
This application is not just free to use but is also customizable. One can customize based on their needs and as per their company's convenience. The only issue with this application is that it is not as upgraded as UltraVNC but it does support the older versions like Windows 95, Windows 98, Windows ME, Windows 2000, Windows 2003, Windows XP, and Windows Vista. 
7. ConnectWise Control:
ConnectWise Control is the best application if you want to manage your business with it and do not want to invest in the premium versions of other applications. ConnectWise Control allows you to access most of the premium features without upgrading to a premium version of the application. It is a great application for those who want to conduct customer service work by accessing the remote screen of their customers. 
8. AnyDesk:
AnyDesk is a perfect application for students. They can use it for educational purposes and the application even offers a forever free version that is efficient enough at conducting most of the tasks. It can help the students to communicate and connect with their friends at school and their computer screen and work together on a project or an assignment.
9. Jump Desktop:
Jump Desktop is a popular application that is successfully substituting the TeamViewer app. It offers personal and business options and both of these are free. It also supports all the Windows applications and also has a separate version for android and iOS devices. The only difference is that the user shall be required to pay a small amount to access this application on the android and iOS applications.  
10. Splashtop:
Splashtop is an excellent application if you're looking for something that can easily substitute the Teamviewer app. This application offers a free version for personal use but you may have to pay a small amount to gain access to some of its features. Also, there is a separate version for iOS applications. To access the iOS version of the application, one needs to pay a small fee.
11. Zoho Assist:
Zoho Assist is an incredible application that comes with a free version. The free has a lot of important features that could help the user to accomplish several tasks. Although, there are several features of the application that can be accessed only after getting the paid version. One can connect to as many as five computers at a time using this application.
12. DWS Remote Control:
The DWS Remote Control is an open-source application which not only makes it free for its users but also makes it more easily accessible. Its open-source feature is much more beneficial than one could imagine. It enables the user of the application to view the source code, edit it, copy it, distribute it, and also the user can participate in fixing bugs.
The application is totally free but there are several paid plans that provide the users with a higher degree of performance. The DWS Remote Control supports operating systems like Windows, Mac, Linux, Raspberry, Wandboard, and Pine64. 
Conclusion:
There are several applications available on the internet that can efficiently substitute the Teamviewer app. The top 12 applications are Microsoft Remote Desktop, NoMachine, Lite Manager, Chrome Remote Desktop, UltraVNC, PCHelpWare, ConnectWise Control, AnyDesk, Jump Desktop, Splashtop, Zoho Assist, and DWS Remote Control.