One of the major challenges faced by wound care professionals was taking care of the wound of patients during the tough COVID-19 pandemic. Coming together during the critical time and outline the best strategy for delivering quality of care across is the topmost priority.
The wound care service providers should leverage the best wound care management protocols for the specific health care setting to be most effective.
Nowadays providing essential care is a debatable topic as it wholly constitutes providing high-quality care. So, wound care is vital for vulnerable patients who often have various health issues such as diabetes, hypertension, chronic lung disease, and obesity, that too in the advanced age. The adults of advanced age are at higher risk for wounds and infections taking a longer time to get healed.
Wound care service providers should openly adopt the latest digital technologies and platforms now available to them under Health Insurance Portability and Accountability Act (HIPAA) restriction that focuses on effective patient engagement for care.
The COVID-19 pandemic has put forth the need for health care providers to find ways to develop avenues for a stronger platform for patients' care with chronic wounds. Along with that, patients also need to avoid frequent visits to the emergency department or even getting admitted to a hospital where the possibility of getting infected will be increased.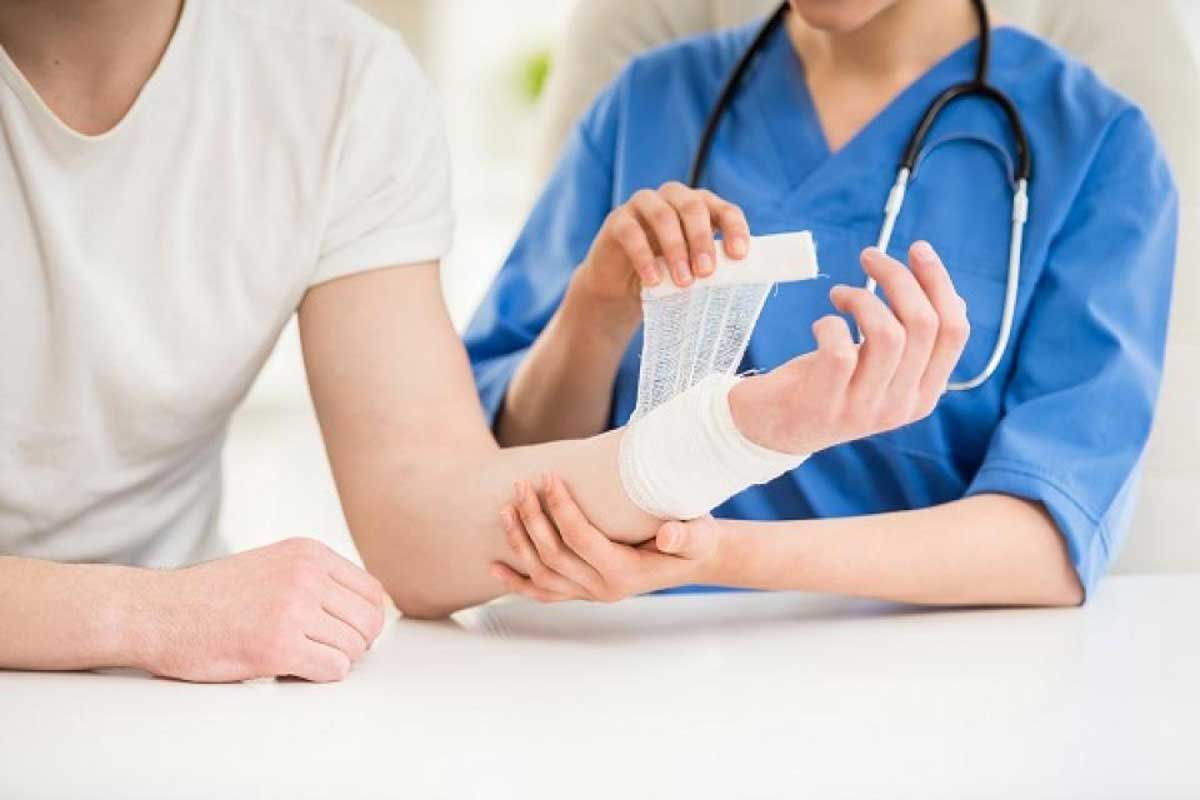 Certain guidelines have been forwarded by the wound healing society for various health care settings. Due to the limited supply of personal protective equipment (PPE) throughout the country, the recommendations have been adjusted for the current situation.
When the area is accessible to the normal business, you will need to make few adjustments as per your infection control policy and procedures. There will be many uncertainties until a vaccine is developed; therefore, implementing a concrete plan is imperative.
Wound Care Clinic
The healthcare providers should examine thoroughly every patient and categorize the essential and less important appointments as well as follow-ups. The patients at higher risk for wound infection, need serial sharp debridement or surgical debridement, have inconsistent wound care at home, have cellular & tissue-based product application or treatments, and are undergoing some therapy with high outflowing amounts should be considered crucial.
Screening the wound of the patients at the clinic for temperature, and ask questions related to respiratory signs on entering the clinic. You can provide them a  face mask as appropriate. The care provider should decide whether the patient needs to visit the clinic weekly basis, every two weeks, or every 4-6 weeks.
The patients who are provided wound care at their home by a visiting nurse can be scheduled to return in 2-3 weeks to the wound clinic. The nurse for health care, family, and patient are encouraged to connect with the provider with any changes or problems.
Do what you can to reduce the need for frequent dressing changes in-between visits, such as utilizing absorbent dressings on low-exudating wounds to extend wear time and appointment visits. You have to educate patients, their families, and the wound caregivers on how to change wound care dressings, during COVID-19 prevention measures, and maintaining hand hygiene.
Experienced Nursing Facilities for Long-Term Care
The nurses appointed in the nursing homes, skilled or unskilled, can be scheduled every 4-6 weeks for the wound center if the wound is quite stable. Wound care provider groups that visit facilities need to decide whether to continue in-person visits or can be avoided. If they decide against in-person visits, the best option is virtual visits by setting up telehealth services.
The wound care providers working in nursing facilities and long-term care centers should be aware of telehealth procedures & technologies so they can help facilitate these visits because residents will likely need support. The infection control policy & process for disinfecting surfaces should be closely followed and deployed within these facilities. If you have elders at your home, consider getting professional senior care Brooklyn to ensure their best health.
Telehealth Services
Telemedicine known as Telehealth refers to virtual visits that can be used in patients to heal wounds, open wounds, or for extended follow-ups in very stable patients. The virtual can be organized by coordinating with the patient, family, caregiver, and the appointed visiting nurse.
Telehealth services are real-time that happens through audio-video communication connecting the provider and patient in two separate areas. The care provider or the nurse should ask questions that clashes with how the wound assessment is normally performed, like asking about drainage, odor, pain, etc.
Photographs or live video as per HIPAA compliance can be performed. Though the high quality of the photos & videos is essential for providing authentic assessment. You should encourage extra lighting as indicated and without washing out the color of the wound and peri-wound area. All the information and images can be interpreted later on.
Wound Assessment via Telemedicine
While performing a wound assessment virtually through telehealth, the patient has to detail every small thing for you and always encourage patients or caregivers to wear clean gloves as they have to carry on the assessment.
Here is the list of details that needs to be mentioned while carrying out the wound care assessment via telehealth procedure.
The color of the wound bed such as pink, red, yellow, black.
Is it undermining or tunneling and providing instructions on how to analyze.
Learn when the dressing changed previously.
Check if there is any odor after wound cleansing.
Ask about fever, chills, new or increased pain, or any kind of redness, firmness, or edema.
Know about recent blood glucose levels.
Hospital & Clinics
A wound care team approach is necessary to review the needs of the patients whether inpatient or outpatient wound care. Communication with the primary wound care team, surgeons, home care, and the skilled nursing facility is very important to close the gaps in care. Make the right use of telemedicine at scale to expand patient engagement.
The elective procedures should be canceled for patients with a functional diagnosis that will not be significantly worse after a two-month delay in treatment. These procedures were used to treat slow-growing skin cancers and non-healing wounds in patients with flap reconstruction.
Education the Wound Caregivers
It is crucial that proper education should be provided to all health care staff. It should include wearing PPE, cleaning all surfaces especially stainless steel with antiviral wipes or cleanser according to facility policy. Also, good handwashing hygiene should be encouraged as an advantage for fighting and preventing the spread of COVID-19 and flu-like illnesses.
Final thoughts
Pandemic time is more like coming together and facing the consequences of the tough time. The wise use of telehealth services will help to increase patient engagement and monitor wound care management effectively. Proper training and education for health care professionals will help bolster and deliver continuity of wound care.
The main objective is to keep patients as healthy as possible by deploying the latest trends and technologies available for monitoring patients who are under quarantine, those at high risk, and patients who are tested COVID-19 positive.
About Net Health
Net Health is reuniting caregivers with their calling through cloud-based software for specialty medical providers across the continuum of care. Net Health's interoperable EHRs deliver end-to-end solutions that ensure compliance, improve outcomes, empower providers and inspire care.
The company serves over 14,000 facilities, including 98 percent of the largest hospital chains, two-thirds of skilled nursing facilities and many leading hospice organizations and private practices. Net Health is a portfolio company of The Carlyle Group, Level Equity and Silversmith Capital Partners.