Are you thinking of adding a pergola to decorate your garden? A pergola is indeed a worthwhile investment. So, what do you know about pergolas?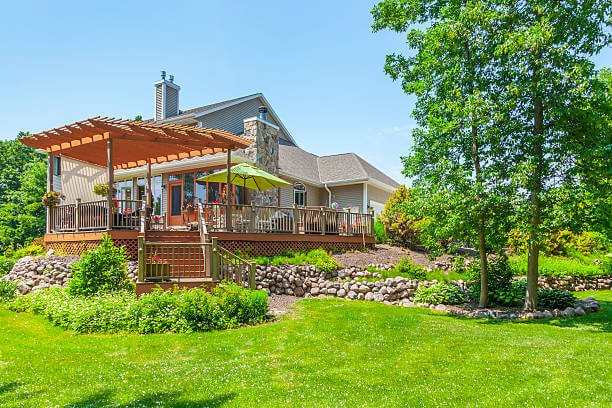 What you will get when you are placing a pergola in your yard?
Extended living space
You can hold a small wedding, barbecue, or enjoy a hot cup of coffee alone here. Pergolas provide a gathering place for friends and family to eat or play games. They add appeal, fun, and style to any party, picnic or wedding, and can also be an inviting entrance to the garden.
Unique spaces
The choice of pergola style allows you to give full play to your vision of space design, satisfying everyone's design desires and creating an outdoor space with uniqueness.
Added-value of the house
Experts say your home's landscaping has the potential to increase the value of your property by 15%. Outdoor living is becoming more popular these days, making pergolas and other comfortable outdoor features a top choice for adding value to your home. Pergolas add character to your landscaping while being practical and fun.
Applications
It can be widely used in patio, backyard, kitchen outdoor, carport, grapevine pergola, garden, park, etc.
How to set the orientation of the pergola?
Pergolas provide you with attractive shade options. Explore the best view, or which position you prefer to sit in during the time you use the pergola most often. When choosing a pergola location, it is recommended to choose one near trees or other plants for a more natural look. For optimal shade during most of the day, place it in a north and south-facing direction. Plant climbing vines or install a sturdy roof over the pergola to provide shade even in the middle of the day.
What are the materials available for pergolas?
The materials used to make pergolas are as diverse as you can imagine.
Press-treated wood: It is a relatively cheap choice. The initial price of press-treated wood is relatively low, but the monetary and time cost of its maintenance cannot be ignored. Because of its raw material, a press-treated wooden pergola is greatly affected by natural factors, so the maintenance requirements are very high.
Cedar (usually western red cedar) is a popular choice for pergolas. It is naturally insect resistant and looks beautiful. Cedar pergolas are more expensive than pressure-treated pergolas but last longer than pressure-treated wood.
The advantage of vinyl is that it requires little maintenance. The disadvantages are that the product has a limited choice of colors and it is not an environmentally friendly material.
Pergolas made of fiberglass are very sturdy and lightweight, but also very expensive. Another point is that you can paint it in the color you like. And it does not fade easily. Fiberglass pergolas are perfect for adding to a deck or an existing patio.
Aluminum and wood-plastic composite pergolas are comparable in terms of performance, strong durability, minimal maintenance, and are similar in price. The only difference may be the visual effect of the two materials. The aluminum pergola is more modern and can blend well with modern houses. The wood-plastic composite pergola is closer to the natural style and can be integrated with the surrounding natural environment. The preference for both materials varies from person to person.
How long will a pergola last?
Wooden pergolas are hesitantly maintained with difficulty for about 5 years, and by cleaning, staining, or sealing them annually, you can extend their life to 10 to 12 years.
Vinyl, which is significantly affected by temperature differences, is expected to last between 15 and 20 years.
Both aluminum pergolas and wood-plastic composite pergolas are ideal because they are highly durable, do not bend and warp easily, and require little maintenance. They are rarely influenced by external environmental factors.
Price comparison of each material
| | |
| --- | --- |
| Pergola Material | Cost Per Square Foot |
| Cedar | $25 – $35 |
| Pine | $20 – $30 |
| Teak | $55+ |
| Aluminum | $10 – $30 |
| Fiberglass | $60+ |
The price of wood plastic composite pergola varies from supplier to supplier, please consult the specific supplier for more accurate information.