Chicago boasts almost 2.75 million residents making it the third most populous city behind LA and New York. But you know what? There's always room for a few more!
If you're looking to move to a big city, Chicago is a strong contender. It has all the amenities of a big city, a lot of character, and so many other benefits.
Living in Chicago could be the best thing you ever did.
Want to know what all these amazing benefits of moving to Chicago are? Read on to find out!
1. Beautiful and Diverse Neighborhoods
Chicago is not a sprawling, faceless metropolis that you find in any Western country. Nope! Chicago is a patchwork of unique neighborhoods each with its own story.
The only downside of having so many inclusive, beautiful neighborhoods is that it will be difficult for you to choose where to live in Chicago.
This is only a small selection of the best neighborhoods:
Hyde Park in the Southside
Andersonville in the Northside
Boystown in West Lakeview
Pilsen in the Lower West Side
Hyde Park is one of the most attractive areas of Chicago because part of Jackson Park and some of Lake Michigan's banks lie within its borders. It also has the University of Chicago, making the neighborhood seem like a small college town.
Boystown is one of the most inclusive LGBTQ+ neighborhoods in the country and the first to gain official recognition as one. Here, you'll find awesome rainbow murals, queer bars, and youth community centers.
No matter your background, if you move to Chicago you will be welcome.
2. Incredible Public Transport
Let's face it, the US is far behind the rest of the world when it comes to public transport. But when you're living in Chicago, owning a car isn't 100% necessary like it is for Los Angeles residents.
Chicago Transit Authority runs eight L train lines (like New York's subway, but overground) and over 100 bus routes. Fares are affordable and a seven-day unlimited transport pass will only cost you $25.
There's even an L train that runs between the city and O'Hare Airport so catching an international flight couldn't be easier.
Chicago even has cycle lanes and it's common for people living in Chicago to walk when they're running errands or buying a few groceries.
3. Affordable (For a Big City)
One of the biggest reservations that many people have about moving to a big city like Chicago is the cost of living.
It's a valid concern. As of January 2021, the median price of a home in the US is $269,039 but cities tend to be way higher than rural areas.
Don't want to pay much more than that? You can rest easy. The price for the average home in Chicago in 2021 is around $300,000.
Rent is also more affordable than other big US cities, and you already know that public transport is cheap. So if you're earning a big-city salary, you will have way more disposable income because the cost of living in Chicago is more affordable.
For those interested in buying property in Chicago, you can read more now.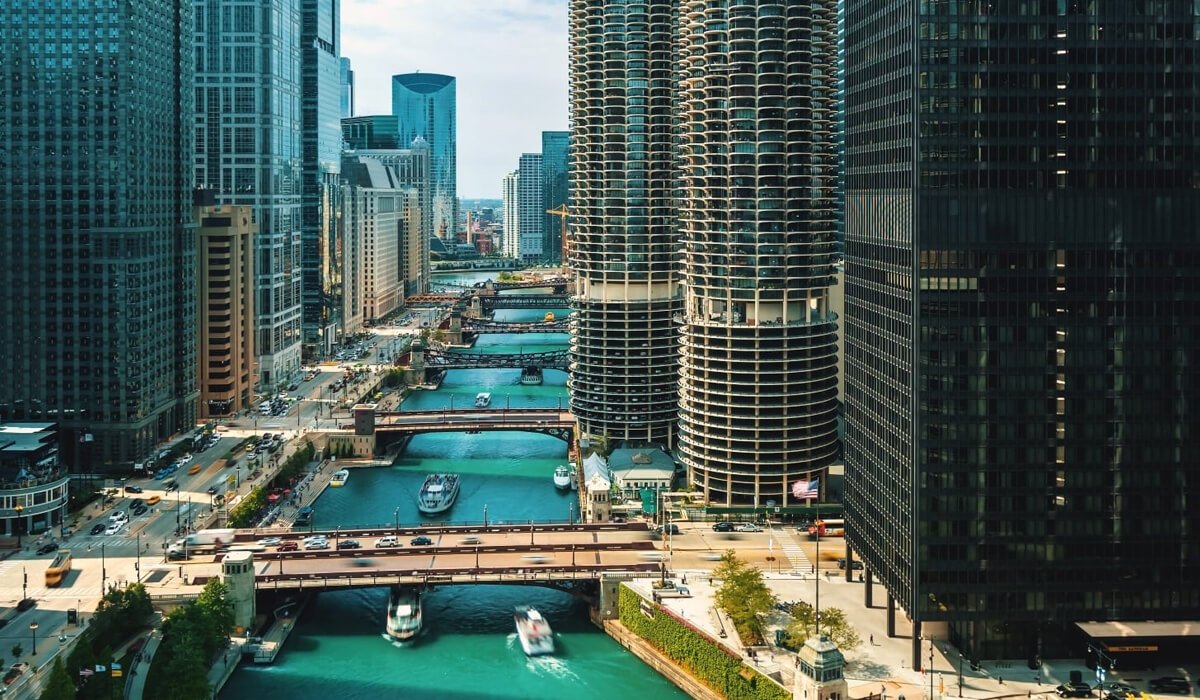 4. Amazing Culinary Scene
Unless you've been living under a rock your entire life, you'll know that Chicago is famous for its deep-dish pizza.
These are the most popular deep-dish pizzerias in Chicago:
Pequod's
Pizzeria Uno
The Art of Pizza
Lou Malnati's
Gino's East
Most of them have lines around the block come dinner time. But if you move to Chicago, you will have plenty of opportunities to taste-test every pizza joint in the city.
When you're ready to leave the pizzas to the tourists, you can start working your way through the meat. Chicago is the US meatpacking capital and boasts some of the best grass-fed steaks, hotdogs, and Italian beef sandwiches in the country.
It's also home to the world-renowned craft beer company Goose Island Beer Co. and dozens of charming cocktail bars. You've got date night arranged for the rest of your life!
5. Fantastic Cultural Opportunities
There are over 60 museums in Chicago, lots of beautiful architecture, and tons of parks. The Millenium Park, where the Chicago Bean, lives is likely the most popular.
When you first get to Chicago, you'll want to check out the Art Institute. This is where Ferris Bueller spends his day off and you would do the same if you knew what world-famous artworks it exhibits. It's the home to the American Gothic painting, The Great Wave off Kanagawa, plus many more.
Chicago is where the famous director John Hughes shot most of his movies, so you will be able to spend a few weekends hunting for them.
6. Best US City for Sports
This won't surprise you, but Chicago is a mecca for sports fans. But did you know it is one of only 10 US cities to have major professional baseball, football, soccer, basketball, and hockey teams?
Visiting Wrigley Field and watching a Chicago Cubs game is a right of passage for any native Chicagoan. But no matter your chosen sport, you will be able to play it and support it in Chicago.
7. Experience All Four Seasons
Some might say that the Chicago winters are a reason to not move to Chicago, but that's not true. Chicago delivers four, distinct seasons and that's something to celebrate.
Yes, if you live in Chicago in January, you will experience lows of 17°F. But in July, the temperature reaches highs of 85°F.
You'll enjoy watching the leaves change color in autumn and the flowers blossom in spring. You'll be able to throw snowballs on Christmas day and sunbathe on the banks of the lake in August. The winter might seem brutal at first but you'll soon come to appreciate it.
Still Curious About Living in Chicago? See For Yourself!
There are so many reasons why uprooting your life elsewhere and living in Chicago could be the best thing you ever did, but these are the key benefits.
And after a few months, you'll wonder why you ever doubted your decision to move to The Windy City.
Moving to another city means a new job and home, too. Check out our website for tons of home improvement tips to help you settle in!