In 2019, over 400 million people went to the beach in the U.S. So it's safe to assume that a great majority of Americans enjoy soaking up the sun. And, some of the most popular beach activities are beach volleyball, wakeboarding, and surfing.
Are you one of the many people learning how to use a wakeboard? If so, you'll want to continue reading this post since we're going to give you some of the best wakeboarding tips you can have. So, strap on your wakeboard, and let's get started!
Wakeboarding Lingo
Most likely, you'll be wakeboarding with your friends and other wakeboard enthusiasts, so you'll want to make sure you understand everything they say. So, one of the best tips for wakeboarding is to learn the most important terms. Let's briefly mention a couple of them.
Regular riding: riding with your left foot forward
Goofy riding: riding with your right foot forward
Wake waves: v-shape waves created by a boat
Bail: fall into the water
The flats: the area where there are no waves
Set: replacement for the word turn as in "your turn"
As you can see, knowing these terms will help you not feel lost in the conversation. Of course, there are other terms you should learn, but as a beginner, these will do. So be sure to memorize each one before you head off!
Don't Pull On the Rope
Unfortunately, many novice wakeboarders tend to pull the rope, which will inevitably cause you to bail. On top of that, pulling on the cord will cause your arms to tire out quicker than normal, which will make you have an uncomfortable time. However, as you practice, you'll learn how to let the boat pull you, and eventually, you'll be treading the water with your wakeboard.
If you're still struggling with the rope, you may want to change it. For example, shorter cords are perfect for beginners, while longer ones are meant for advanced wakeboards that do tricks.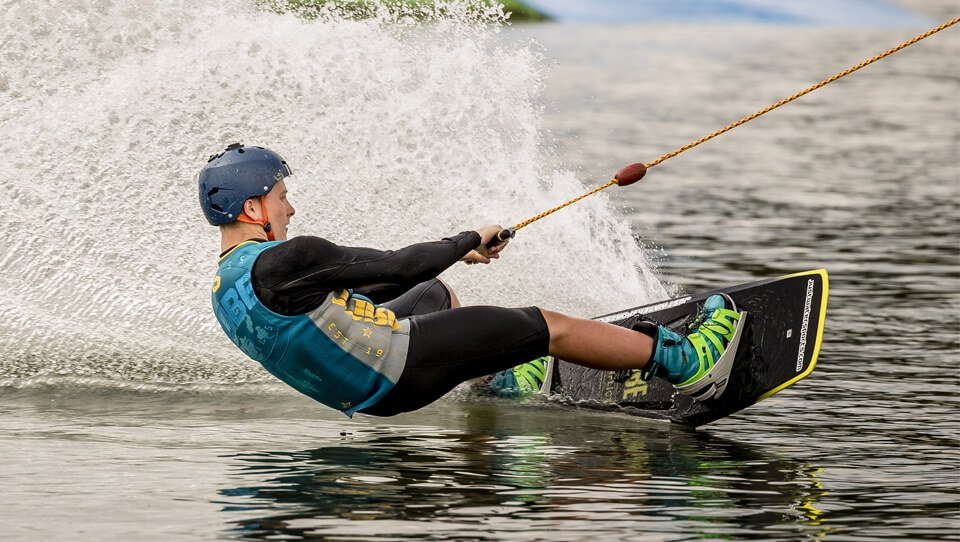 Just Have Fun
As a beginner, you'll probably be bailing a lot more than actually riding. So, it's important that you try to make your experience as fun as possible. Many wakeboard boats have cool features that create an awesome wakeboarding atmosphere. For example, wakeboarding tower speakers are perfect for hearing some tunes while out in the water.
Additionally, you can bring cool refreshments and snacks on the boat, so when you're waiting for your set, you can sit back and relax, sipping on some cool refreshments.
Wakeboarding Made Easy
Hopefully, with these tips learning how to wakeboard will be a lot easier. But, as mentioned before, the most important tip for wakeboarding is having fun. So, don't give up when you bail, but instead, get back up and try again!
What wakeboarding tips do you know of? Let us know in the comment area. And if you're interested in reading more sport-themed posts, be sure to check out our other topics!