Loft apartments offer the best elements of minimalist design. Their open concept floor plan and elevation tend to create a stunning space to call home. However, this layout often poses decor challenges as well.
If you're considering a loft apartment or want to redecorate the one you're in, here are some challenges you may encounter, tips for overcoming them, and three interesting ideas to keep in mind.
Challenges with Decorating Lofts
One of the most common challenges faced when trying to decorate a loft is the scale of the room. As many lofts have high ceilings and overwhelming vertical lines, it can be difficult to find artwork and design features that look proportional to the space. 
Another common issue is the lack of structure from one room to the next. While the open concept design is often the selling point of a loft, there's often a lack of privacy. Making permanent changes— for example, adding walls— often interferes with the natural light distribution and makes the loft choppy and disjointed.
Finally, it can be challenging to incorporate personal design preferences into a loft space based on the surrounding structure. This leaves many loft dwellers at a loss for what decor scheme to follow.
Fortunately, there are a few interesting solutions for remodeling and decorating loft apartments.
Idea One: Embrace Industrial Chic
Loft apartments often have minimal design features, embracing the external structure that contains them. In many cases, this look is more industrial than residential. Dallas Texas lofts, in particular, walk the delicate balance between industry and luxury.
If you're moving into a loft, embrace the industrial-chic design scheme. Rather than trying to change the surroundings, work with them to create something elegant and elevated. 
Use brushed metal fixtures and accessories, opting for metal furniture over wood. Brushed metal light fixtures and faucets are timeless and fit with the overall theme. To enhance the look, you can combine brushed metal with more modern furniture designs for a unique fusion between styles. 
Embrace exposed, natural wood elements. This offers a solid contrast to the metal and stone features throughout the loft, softening the hard edges without detracting from the design.
Add softer elements to increase the ratio of chic to industrial. Soft white area rugs and throw pillows go a long way to making the space feel warmer and more welcoming. If painting is an option, consider whitewashing a brick wall.
Finally, add pops of color in smaller design features, like lampshades and accent pieces. These subtle touches will really pop against the industrial background.
Idea Two: Create a Contemporary Kitchen
The kitchen in a loft is the place to shine. A contemporary kitchen design scheme is a fantastic way to modernize the loft apartment and create a beautiful blend between new and old. 
While many contemporary kitchens boast darker design schemes, choose white kitchen cabinets to make the room pop. This feature is ideal in an open concept loft with exposed brick and dark metal elements. Opt for a high gloss finish with elegant decor elements, featuring smaller art designs and accent pieces. 
Contemporary kitchen designs also work well with industrial elements, like metal countertops and polished concrete floors. A contemporary kitchen in a loft apartment is a great transitional space that feels both on par with the overarching design while providing a welcoming retreat.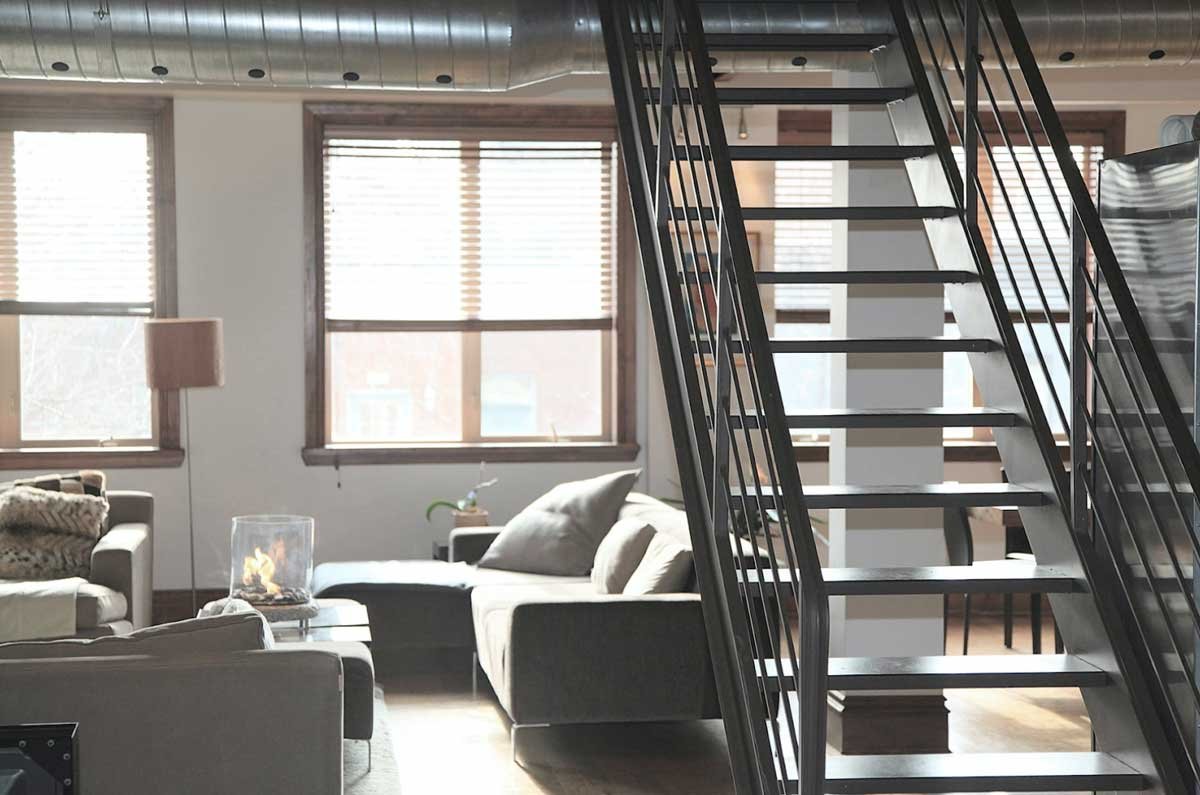 Idea Three: Create Separation
Finally, use furniture to create separation within the loft. Larger furniture pieces fit well in a loft space due to the vertical perspectives. Use area rugs and thoughtfully placed furniture to break the flow and create clearly defined spaces. Avoid putting furniture against walls, and use the more prominent pieces as barriers. 
For example, place your couch in the middle of the living room facing the far wall, then center your dining table between the back of the sofa and kitchen to create separate "rooms" within the open floorplan. You can also use side tables, screens, and artwork to create the flow you want within your home.
Tips for Decorating Lofts
When decorating your loft, consider the scale of the artwork you use. Choose large pieces or big arrangements using many smaller pieces to fill up the vertical space.
It's also important to incorporate functional storage options. The open nature and sweeping views of a loft are another reason the idea of embracing minimalism is so compelling— if there's a mess, everyone will see it. Adding enough functional storage for your belongings will help keep the space tidy.
Finally, choose some decor pieces that double as soundproofing. Thick, lush rugs soften both the design scheme and the echoes in your open concept home. Using large, thickly woven tapestries as wall decor will also help fill the space while absorbing sound.
With these interesting ideas and simple solutions, you'll be able to personalize your loft and make it feel like home.