Asbestos is a naturally occurring element which makes it affordable and since it has found uses in fireproofing and insulation industries, many construction industries and architects have resorted to use asbestos as a reliable material for building strong homes and other home decorations like fences and decorative rooftops. While the harmful effects of asbestos caused the material to not be used in any construction work after 1978, buildings built before that time contained the said material and while many homeowners ensured they got rid of the material from their abode, the asbestos fence remained. As the name suggests, asbestos fence contains cement, asbestos as the primary materials for the fence. Flexibility and tensile strength of these fences are two of the best benefits that you get.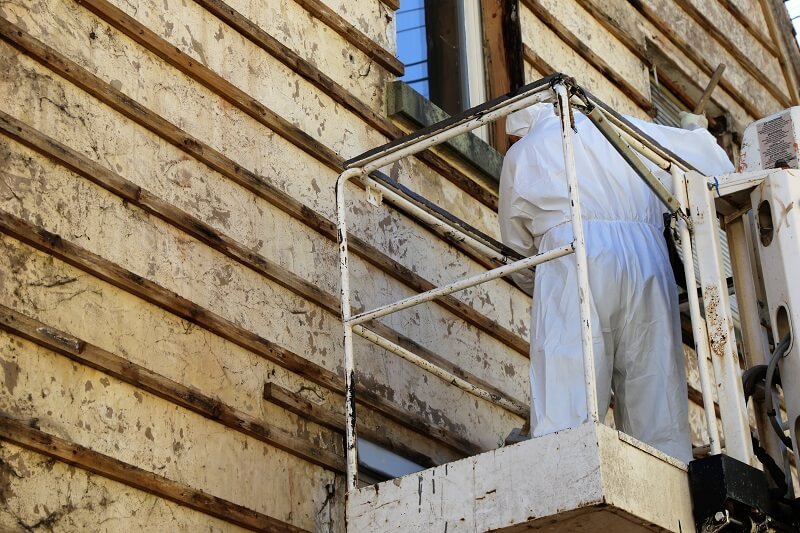 Tips to identify presence of asbestos in your fences
You will find asbestos fence present in many older
houses. But, not all fences were made of asbestos. People on the higher scale of status often opted for wooden or iron fences. That said, while having samples f your fence tested at a NATA accredited laboratory is a sure way to check, there are signs to help you identify if you are an owner of asbestos fence, like:
Age – the first and foremost way to be sure is to determine the age of installation of the fence. While your house can be built after 1980, if the surrounding properties are older then, chances of having asbestos fence too increases.
Capping material – check the capping of the fence. If the capping and the rest of the fence seem to be made of the same material, it is extremely likely to be made of asbestos. The capping is the topmost part of the fence and is the most exposed area. If the fence is made of asbestos, you need to be extremely careful because overexposure to outside and natural elements cause the asbestos to lose its color and natural strength.
Diamond washer – washers are responsible for holding the fence panels together. If your fence has washers shaped like diamonds, chances are you have a fence made of asbestos.
Ridges – If this is seen but the capping seems to be made of a different material (mostly metal), then you should get the fence tested for asbestos to be absolutely sure.
Better alternative for asbestos fence
The purpose of asbestos fence was often to protect the property from any wildfires. But, its benefits got overshadowed but the health risks it possesses. Thus, opting to replace your asbestos fence with reliable and equally budget-friendly material is the way to go. Some great alternatives are:
Colorbond Fencing – if privacy and security is your priority then opting for colorbond as a replacement for asbestos fence is a great option. These are low on maintenance and high on durability.
Modular Fencing – soundproofing is often sought by people living in really noisy areas. For them the modular fence is a great choice as they get relief from the noise and get privacy too.
Fiber Cement Fencing – a great alternative to the asbestos fence, this material uses a mixture of natural cellulose obtained from wood pulp and cement to give the sturdy and fireproofing properties of asbestos without being a health hazard.
You would also need to check how many ridges are there as a part of the asbestos fencing solution. Also, you should look for a diamond-shaped washer holding the panels together, that make the fence sturdier.

Conclusion
Opting to remove the asbestos fence is not only beneficial to your health but also safer for the environment. Always opt for a reliable asbestos removal company to ensure that no traces of the material are left behind for asbestos removal is a risky task.