So Rap has been a part of the American culture for a long time but not every rapper has been equally successful with it. "Vanilla Ice" is a name that needs no introduction when we talk about "Rap". Well, his list of achievements would take a while to cover but who does not remember "Ice Ice Baby". It is known to be the first hip hop number ever to have ranked first in the Billboard hot charts.
Personal Details
| | |
| --- | --- |
| Full Name: | Robert Matthew Van Winkle |
| Stage Name: | Vanilla Ice |
| Gender: | Male |
| Birthday: | 31 October 1967 |
| Place Of Origin: | Dallas, Texas, US |
| Age: | 53 years old |
| Height: | 1.8 m |
| Weight: | 82 kgs |
| Nationality: | American |
| Sexual orientation:  | Straight |
| Status: | Divorced |
| Spouse: | Laura Giaritta |
| Profession: | Rapper |
| Total Net Worth: | $12 Million |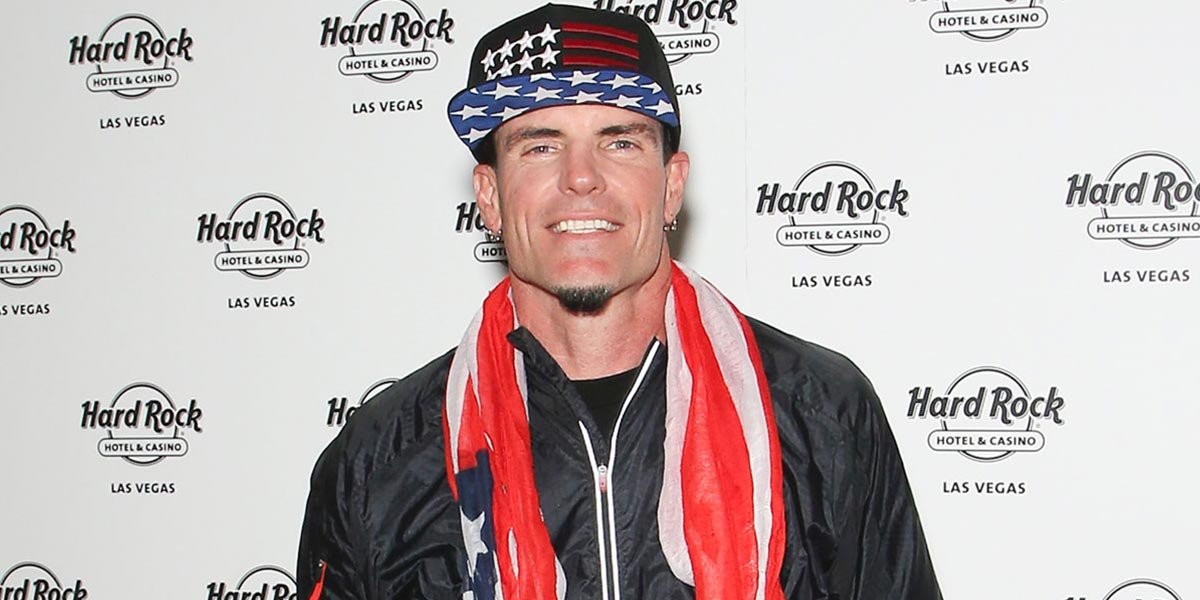 Early life
Born on the 31st October 1967, Robert Matthew Van Winkle was brought up in Florida by his mother and step father. He never got to meet his biological father, and happened to inherit his name from his step father only. When he was four years of age, his mother separated from his stepfather also. His stepfather worked in Miami at a car dealership and so he kept travelling from Dallas to Miami. At such a young age only, he was quite influenced by hip hop culture due to his immense interest in poetry.
He got involved in several Rap battles at different parties and was called by the name "Vanilla" for being the only white guy in the group. He had also started learning breakdance from the age of 13 and one of his very popular steps was "The Ice" and hence he got the stage name "Vanilla Ice". After some time, his father bagged a good job in Texas and had him and his mother shift with him to the same place. At the age of 16, Vanilla wrote "Ice Ice Baby". The song was about his and his DJ friend D-Shay's experience in Florida with a Drug run.
Personal life
One of the most talked about relationships of Vanilla's life was his romance with "Madonna". Who does not know Madonna! However the relationship was quite short lived and lasted only eight months.
In 1997 he got hitched to his girlfriend "Laura Giaritta". The couple was head over heels in love with each other. and was blessed with two daughters. However, their relationship deteriorated like none other. In the year 2016, Laura finally gave up on her relationship with Vanilla and filed for a divorce. The relationship had only gotten worse with time.
Back in 2001, Vanilla was charged with domestic violence for pulling Laura's hair in a truck, while they were into an argument. The matter was resolved by a probation period for Vanilla and family therapy sessions. Again a few years later after this incident, Vanilla was seen hitting his wife at Palm Beach County. He was charged with cases but eventually Laura forgave him and got back with him. After their divorce, Laura successfully got custody of both her children.
Appearance
Vanilla Ice is 1.8 meters tall and weighs 82 kg. He has dark brown hair.
Career
During his teenage, Vanilla Ice was involved with motor racing. He even conquered three championships but broke his ankle and no longer carried his passion. Later he learned to beat boxing and eventually break dancing too. He started rapping from a very young age. He has had several successful releases in his career like "Hooked" that was released in the year 1989.
Another of his albums called "To the Extreme" came in the year 1990. In 1994, he released "Mind Blowin' ". "Hard to Swallow" came in 1998 and "Bi-Polar" in 2001. "Platinum Underground" has a separate fan base and came in the year 2005 while "W.T.F. (Wisdom, Tenacity and Focus)" was released in 2011.
He even became a part of several movies like in the 1991 releases of "Teenage Mutant Ninja Turtles II: The Secret of the Ooze" and "Cool as ice". "Da hip hop watch" came in the year 2000 and features him playing himself. In 2002, came "The New Guy" in which he played "Seth", who was a Music Store Employee. In 2005 he featured in "The Helix…Loaded", in which he played "Theo". In 2006, in the project "The Bros." he played "Vanilla Ice", while in 2010 he became a part of "Big Money Rustlas" and played "Heckler". He also hosted the "The Vanilla Ice Project".
In 2012 he featured in "That's My Boy" and played "Uncle Vani". In 2013, he became a part of "Vanilla Ice Goes Amish" and played Himself. In the 2015 release "The Ridiculous 6", he portrayed "Mark Twain". In the year 2017, in "Sandy Wexler", he played Himself and in the 2020 release "The Wrong Missy" also, he played himself.
Accolades
He won the "American Music Awards" twice in 1991. One for "Favorite Pop/Rock New Artist" and the other for "Favorite Rap/Hip-Hop New Artist". In the same year he was nominated for "Favorite Rap/Hip-Hop Artist" and "Favorite Rap/Hip-Hop Album". In the same year, he was nominated in the Grammy's for "Ice Ice Baby" in the category "Best Rap Solo Performance". He also won the people's choice award for the same song in the category "Best New song".
He won "The Factual Entertainment Awards" for "The Vanilla Ice project" in the category "Best home show". In 1992, he won the Golden Raspberry award for the "Worst New Star" for the album "Vanilla ice". The same year he was also nominated in the categories of "Worst actor" and "worst new song". In 2013, he was nominated for "Vanilla Ice" in the category "Worst Supporting Actor".
Vanilla Ice's Net worth
Vanilla ice has had his share of success and  accounts for a net worth of $12 Million.
End Note
Apart from his extremely controversial life filled with broken relationships and drugs, Vanilla Ice has always stated that he believes in 'Karma'. He asserted, "I don't have any reason to hate anybody; I believe in good karma and spreading good energy."