What is Rick Ross's Net Worth?
Rick Ross is an American professional rapper, songwriter, record executive, and entrepreneur. He has sold millions of albums and millions more of his singles worldwide. Throughout his career, he was named as one of the highest-paid rappers in the world.
He also has several investments like his record label Maybach Music Group and 25 Wingstop franchises.
Rick Ross has an estimated net worth of $45 million.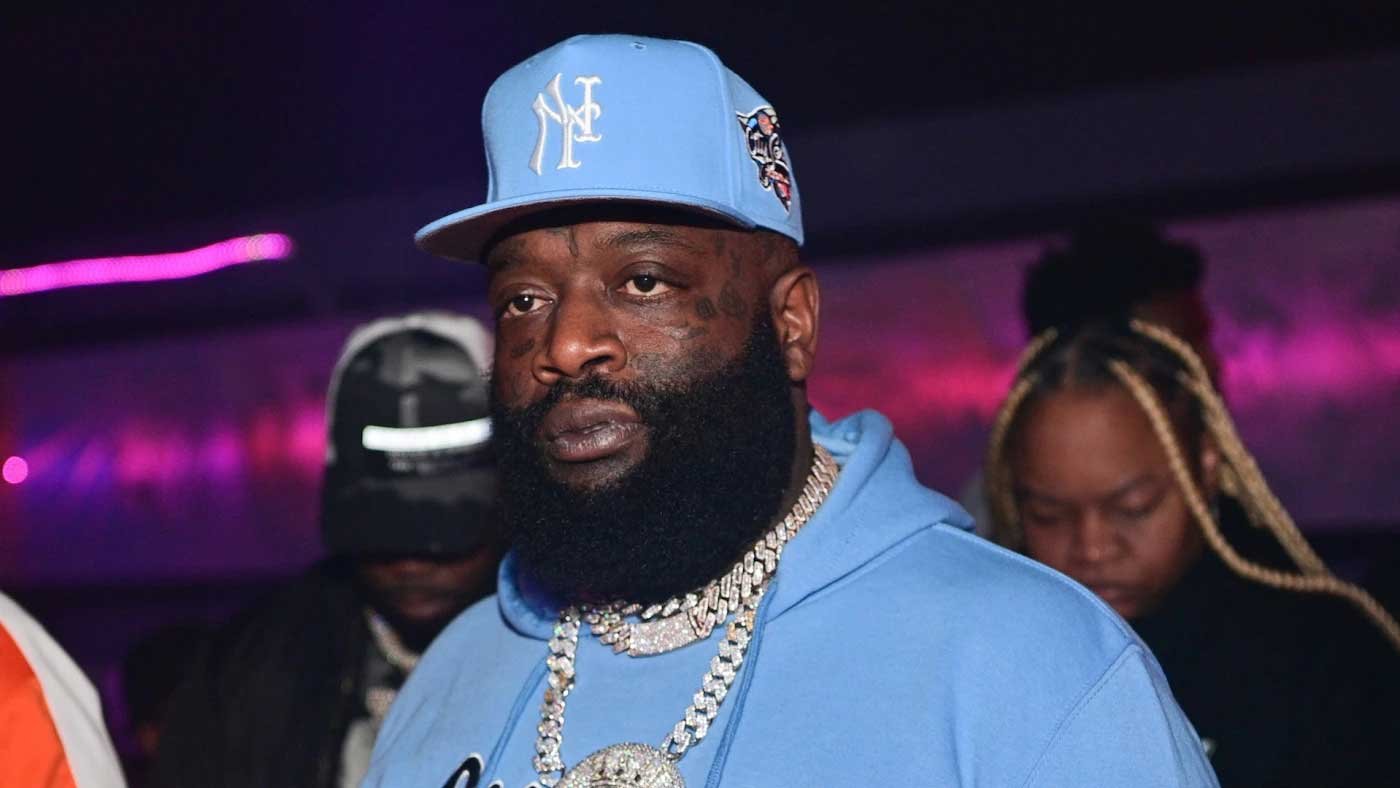 Rick Ross Early Life and Career Information
William Leonard Roberts II, or famously known as Rick Ross, was born on January 28, 1976, in Clarksdale, Mississippi, United States, to parents Sonny and Tommie. Rick Ross has one sibling, a sister named Tawanda Roberts. Rick Ross was raised in Carol City, Florida.
In high school, Rick Ross attended and graduated from Miami Carol City Senior High School. He then proceeded to attend the historically black college Albany State University on a football scholarship. He lost interest in his academics and then proceeded to write rap lyrics while selling drugs instead. In 1995, Rick Ross served as a correctional officer and then resigned in 1997.
Rick Ross eventually made his debut under the name Teflon Da Don at Suave House Records. His debut was on the song "Ain't Shhh to Discuss" on the lone album of Erick Sermon for DreamWorks, Def Squad Presents Erick Onasis. It was in the mid-2000s when he changed his name from Teflon Da Don to "Rick Ross". His chosen new name was derived from the former drug kingpin Freeway Rick Ross. He is not connected with the drug kingpin.
Rick Ross signed with Suave House Records. Suave House Records was the former label for rap duo 8Ball & MJG. Eventually, Rick Ross signed a deal with Slip-n-Slide Records. HE then toured with fellow rapper Trick Daddy and has made guest appearances on several albums on Slip-n-Slide.
In August 2006, Rick Ross released his debut album titled "Port of Miami". The album debuted at the top spot on the US Billboard 200 album chart. It has sold 187,000 units in just its first week upon release. It was predicted by Christian Hoard of Rolling Stone that Rick Ross' album will be the biggest rap record in the summer. Rick Ross' second single titled 'Push It' samples the theme of the film Scarface, Scarface (Push it to the limit). His second single was inspired by the film. Not only that, on November 8, 2006, the debut album, Port of Miami, received a Gold certification from RIAA.
In March 2008, Rick Ross released his second album titled Trilla. The album reached the top of Billboard 200. The lead single titled Speedin' which featured R. Kelly has reached number 21 on the US Billboard Bubbling Under Hot 100 Singles. Another single titled The Boss featuring T-Pain has reached number 17 on the Hot 100. Another single titled Here I Am featuring Nelly and Avery Storm. His 4th single titled This is The Life which features Trey Songz was released in July. Then, in 2008, Rick Ross was ranked as one of the 10 rappers sitting on the number 4 spot of the Hottest MCs in the Game.
Rick Ross' album Valley of Death has a track that stood out to MTV reporters. Rick has included in the track the time when he serves as a prison guard.
In 2010, Rick Ross had many accomplishments. In May 2010, he released the Albert Anastasia EP, a critically acclaimed track. On July 20, 2010, he released his fourth album titled Teflon Don. The song titled Super High featured Ne-Yo as the lead singer of the album. The second single of the album is Life Fast, Die Young featuring Kanye West. Then, the album reached the number 2 spot on the Billboard 200. Not only that, the album has sold 176,000 copies in its first week.
In November 2010, Diddy and Rick Ross collaborated on an EP. They released a single titled Another One. By the end of 2010, Rick Ross then released another mixtape titled Ashes to Ashes. It was released on the eve of Christmas.
In the early months of 2011, Wale and Meek Mill signed a deal with Maybach Music Group, Rick Ross music label. Wale and Meek Mill released their debut compilation album called Self Made Vol.1 in May. 
On June 26, 2011, Rick Ross performed at BET Awards 2011. He also received a nomination for Best Male Hip Hop Artist. Then, in the early months of 2012, Rick Ross was named again the Hottest MC in the Game.
2012 was the year for Rick Ross as it is the year when big things are happening. Rick Ross started the year with a universally acclaimed mixtape titled Rich Forever. His record label, Maybach Music Group, released Self Made Vol.2 in June 2012. On July 31, 2012, Rick Ross released his fifth album titled God Forgives, I Don't after a few delays. The album has reached the number 8 spot on the UK Albums Chart and reached the number 2 spot on the UK R&B Albums Charts. The album is the highest-charting album of Rick Ross. Not only that, in the first week after the album was released, it debuted number 1 on the Billboard 200 with 218,000 copies sold. The album was then certified gold in just less than 2 months. Rick Ross has four premiered songs such as 'So Sophisticated' featuring Meek Mill; 'Touch'N You' which features Usher; 'Hold Me Back' and '3 Kings' which features Dr. Dre and Jay-Z. Rick Ross then celebrated his accomplishment by releasing a mixtape titled The Black Bar Mitzvah. Also, he was nominated as Man of the Year by The Source.
The promotional single was released on iTunes on February 15, 2013. On April 1, 2013, the music video was filmed featuring MMG members such as Stalley, Gunplay, and Rockie Fresh.
On May 16, 2013, Rick Ross and Birdman collaborated and announced the release date of The H mixtape. Other singles were followed such as The Devil is a Lie with Jay-Z and War Ready with Jeezy.
In March 2014, Rick Ross released his 6th studio album titled Mastermind. The album debuted at the number one spot on the Billboard 200 chart and has received positive reviews from critics. The album has sold 179,000 copies in its first week of release. It has then sold over 290,000 copies on April 8, 2014.
On November 24, 2014, Rick Ross released another album titled Hood Billionaire. It is to make up for Meek Mill's incarceration. 
On thanksgiving of 2015, Rick Ross released a remix tape titled Renzel Remixes to promote his upcoming 8th studio album release. His 8th studio album titled Black Market was released on December 4, 2015. It is the final album for his original contract with Def Jam.
In January 2016, Rick Ross signed a solo deal with Epic Records. He was reunited with L.A Reid. L.A. played a major role in signing Rick Ross to Def Jam.
On February 21, 2016, Rick Ross released remixes such as Famous by Kanye West. He also released songs such as Purple Lamborghini of Suicide Squad: The Album, Make it Work off of Self Made Vol.4, Supa Cidy, and Freaky Hole.
In March 2017, Rick Ross released his 9th studio album titled Rather You Than Me. The album debuted on the number 3 spot on the Billboard 200. 
On August 26, 2020, Rick Ross announced the release date of his 11th album titled Richer Than I've Ever Been during an interview with Hot 97.
Rick Ross Awards & Achievement
Throughout his career, Rick Ross has received multiple nominations and won once.
In 2010, Rick Ross was named and won the award Men of the Year by The Source.
In 2011, Rick Ross was nominated Best Male Hip Hop Artist by Bet Awards. He lost the award to Kanye West.
Rick Ross received 5 nominations at the Grammy Awards, one in different years.
In 2012, Rick Ross received a nomination for BEst Rap/Sung Collaboration of the song I'm The One with Dj Khaled, Drake, & Lil' Wayne.
In 2013, nominated for Best Rap Album, God Forgives, I Don't.
In 2015, nominated for Best R7B Performance and Best R&B Song, New Flame with Chris Brown & Usher.
In 2017, nominated for Best Song Written for Visual Media, Purple Lamborghini with Skrillex.
In 2020, nominated for Best Rap Song, Gold Roses with Drake.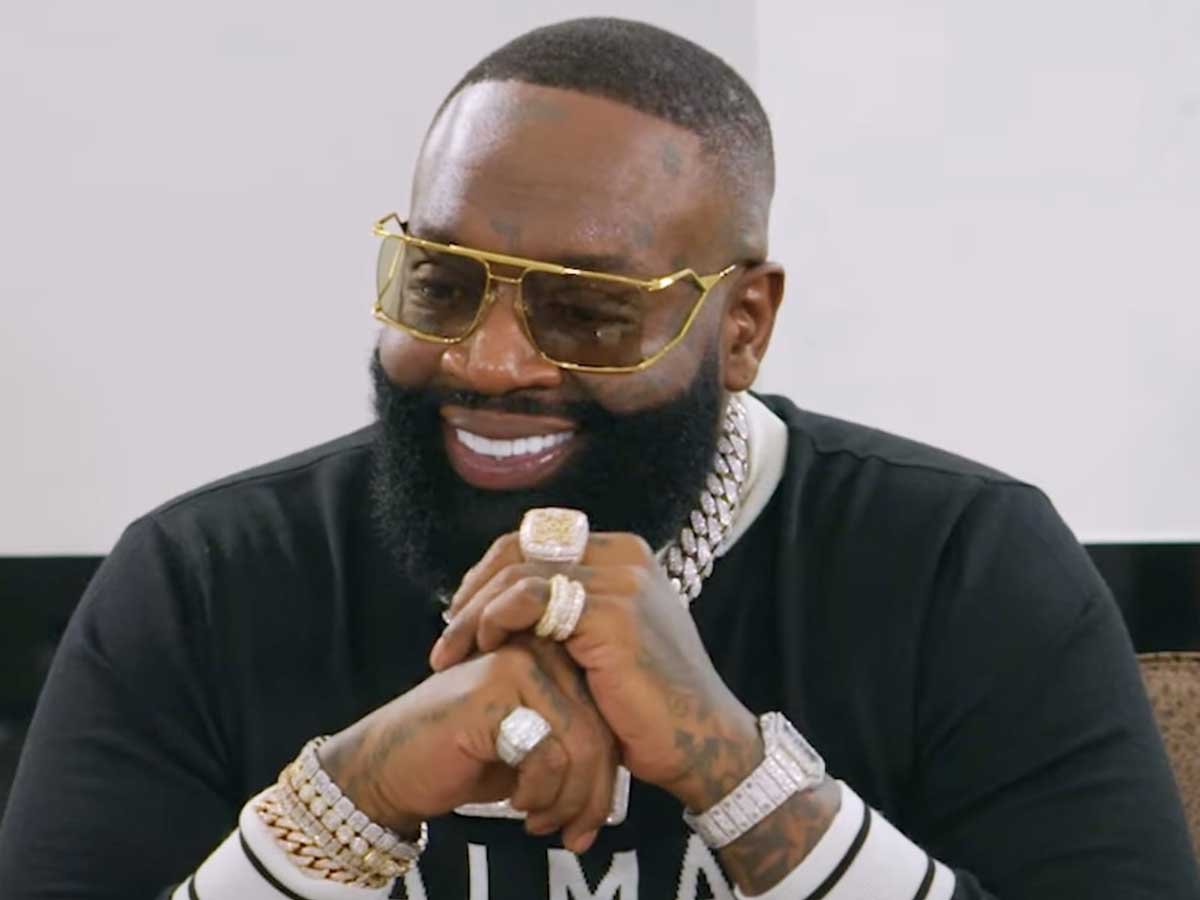 Why is Rick Ross Rich?
Rick Ross has worked hard throughout his career. He has made millions from his music career. He is a professional rapper, songwriter, and is a record executive. He was named again and again as one of the highest-paid rappers in the world. 
To add to his wealth, he has 25 Wingstop franchises. 
Why is Rick Ross so Famous?
Rick Ross became popular in the rap world. He then proceeded to start his record label called Maybach Music Group and worked with Meek Mill, Omarion, and Wale.
Rick Ross was also nominated multiple times. He received 5 nominations at the Grammys, 1 at BET Awards, and 1 win at The Source.
Rick Ross House and Cars Collection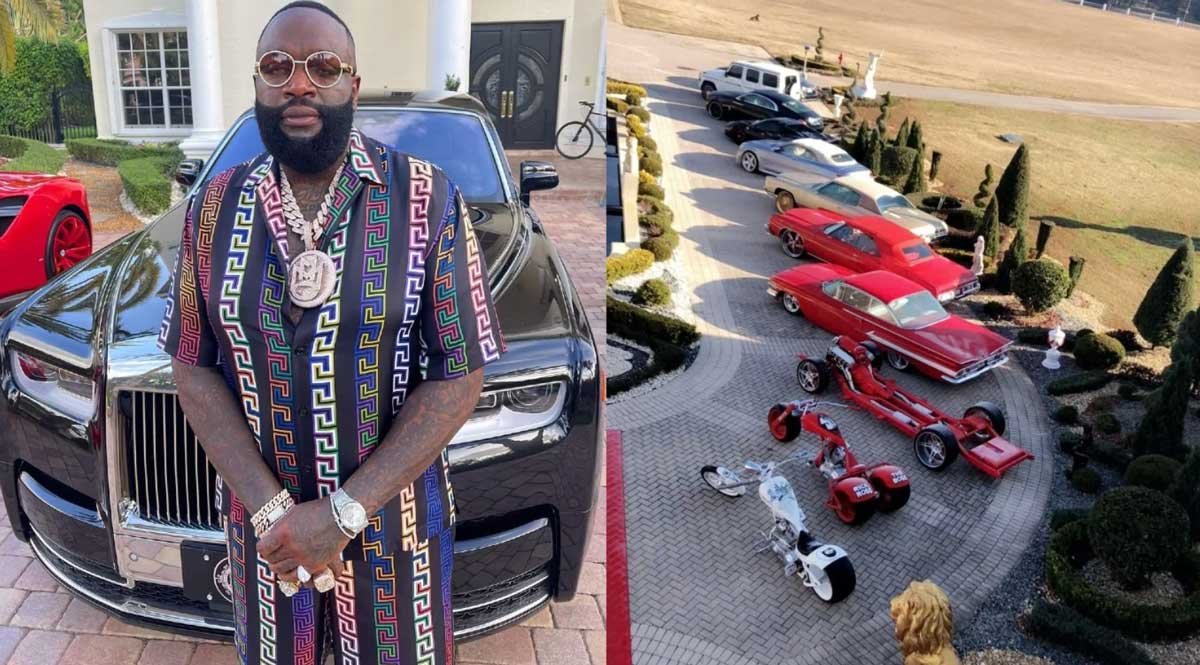 Rick Ross made headlines for purchasing a 54,000 square foot, 109 rooms mansion outside Atlanta which was previously owned by boxer Evander Holyfield. He bought the mansion for $5.8 million in 2014.
Back in 2012, he purchased a mansion for $5.2 million in Fort Lauderdale, Florida.
In October 2020, Rick Ross purchased another area of land for $1 million, an additional 87 acres of land near his Atlanta mansion.
Rick Ross is one of the biggest car enthusiasts in the hip-hop industry. He has a car collection of 100+ luxury vehicles. Here are some of his notable car collections.
Ferrari 458 Italia, Ferrari 488 Spider, Rolls-Royce Wraith, Rolls-Royce Phantom, Bentley Brooklands, Bentley Continental SuperSports, Lamborghini Urus, Lamborghini Murcielago, Maybach 57S, Mercedes-Benz CLS, Mercedes-Benz S650 Cabriolet, Mercedes-Benz G63 AMG, BMW 760Li, 1960 Chevrolet Impala, 1980 Chevrolet C/K, 1971 Chevrolet Impala custom Gucci model, 1973 Chevrolet Impala, Pontiac Trans-Am, Hummer H2, Fisker Karma, Tesla Model 3, and multiple second-generation Chevrolet Bel-Airs 1955 to 1957. 
You can check it out on the Instagram feed of his luxury car collection.
Famous Quotes by Rick Ross
Here are some of the famous quotes by Rick Ross.
"Ambition is priceless. It's something that's in your veins."
"Regardless of how it goes down, life goes on."
"I may not be a role model, but I most definitely could be a motivation for a lot of people in the hoods."
"Every day is a new opportunity to reach that goal."
"Forget yesterday, live for today. Tomorrow will take care of itself."
If you're a hater we make you scared to show your face. It's called success."
"How many people you bless is how you measure success".
"Every day is a new opportunity to reach that goal."
"Momma getting' older feelin' pains in her shoulder. I gotta stay focused and remain a soldier."
"I'm very versatile and there's nothing I regret in my life. I'm excited with who I am and I'm just going to keep riding the wave."
"Love is for free, just expensive to shop."
"Being dead broke is the root of all Evil…"
"I'm building a dream with elevators in it."
"Every boss started as a worker."
"Drug users made me. They taught me. I didn't know how to work a scale; I didn't know what a gram was. Drug users taught me the business. They're going to teach it to the next guy, because they want a good drug dealer, one they can trust, one that's not going to rob them, one that's not going to cheat them out of their money, one that's not going to sell them fake dope. That was me. They're going to find one because they're going to be looking for that guy every single day until they find him."
"I'd never trade my old girl for all the money in the world. I'd never trade my daughter, Toya, for all the money in the world, and I'd never trade my only boy for all the money in the world. I put my last name first!"