Maang tikkas are one of the most important jewelry items a bride would wear. This is because it is placed beautifully on her forehead, so all attention goes to it first. So, you must choose an elegant and pretty maang tikka to help amplify your beauty and showcase your exemplary style. Being such a popular item in the wedding trousseau, many styles and designs are available for you to choose from. Hence, everyone can find their favorites. Here are some different designs you can opt for to flaunt your bridal beauty.
POLKI MAANG TIKKA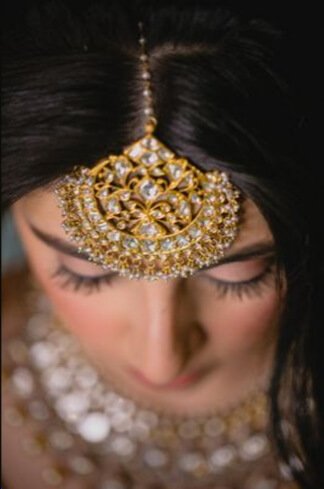 Polki jewelry is a staple at Indian weddings. Thus, trying out different Polki maang tikka designs in various vibrant colors and styles will lead you to find your favorite. Nothing would beat the traditional beauty of this design.
KUNDAN MAANG TIKKA
Nothing beats a Kundan maang tikka's beat because it is timeless, easy to wear, and readily accessible in various forms and patterns. It fits everyone without a hitch and compliments every face shape perfectly. The design can be enhanced with stones, diamonds, and jewels for the headdress's maximum splendor.
BORLA MAANG TIKKA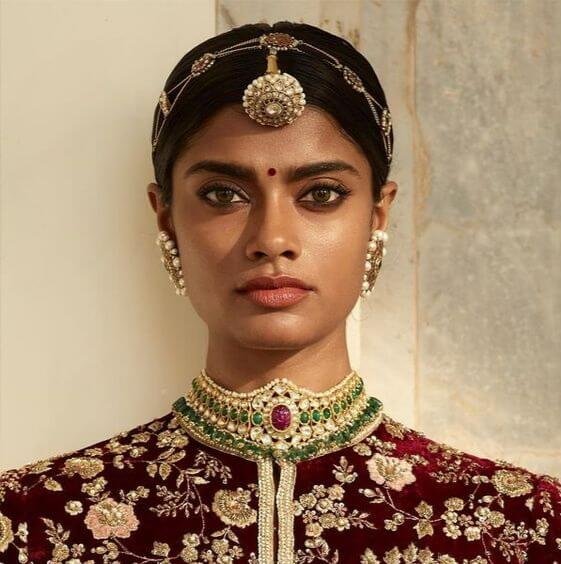 People in this region have used the Rajasthani Borla maang tikka pattern as an ethnic adornment for thousands of years. The Borla maang tikka was a renowned item from the Rajputs, the famed royals of the land. It has a unique shape that is embellished with beads and priceless stones. You can try out simple Borla maang tikka designs with a few pearly chains. You can also combine the maang tikka with a decorated maatha patti to make the look more regal and royal.
CHANDBALI MAANG TIKKAS
Representing the ethereal beauty of our nightly friend, the moon, Chandbali maang tikkas are the new trend of the hour. The chain connected to the crescent-shaped maang tikka can be simple or embellished, depending on personal tastes and preferences. Just like everyone adores the beauty of the moon in the night sky, the beauty of the Chandbali maang tikka is worthy of that admiration.
PASSA MAANG TIKKA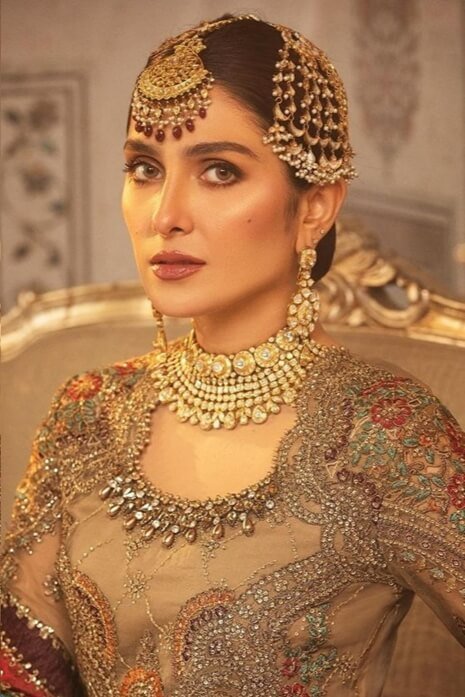 The only brides that wear this style are Muslims. A distinctive pattern rests on the head's left side. The addition of ghunghroo attachments and kundan work raises the level of attractiveness. Even Hindu brides of today are admired for sporting a Paasa Maang Tikka across their hair. The maang tikka gives the bride a tremendous amount of royalty, which is also stunning.
OVERSIZED MAANG TIKKA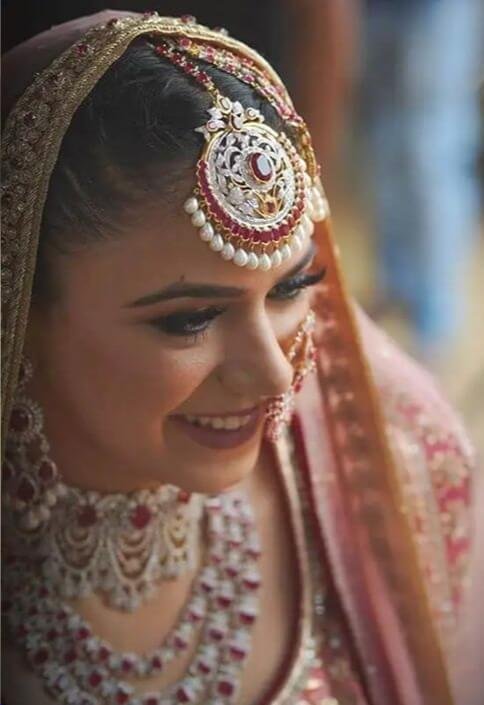 Oversized maang tikkas are perfect for brides who want an incredibly glamorous look. They will provide that extra bling to your bridal outfit and make you stand out from the crowd, as a bride should. Kundan oversized maang tikkas, Polki oversized maang tikkas, oversized gold maang tikkas, etc., are all good options to try out on your special day.
TEARDROP MAANG TIKKA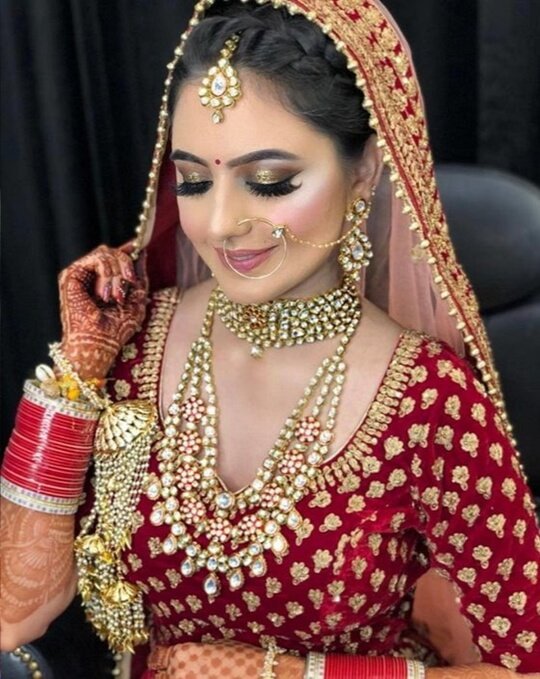 These are extremely elegant and delicately shaped maang tikkas. The shape of the maang tikka resembles that of a teardrop, hence the name. So, it gives the perfect simple yet beautiful, minimal yet elegant look craved by certain brides. Combining gold with vibrant gemstones to create a teardrop-shaped maang tikka would help give the perfect, minimal bridal look. To get the perfect spirited look, you can try gemstones like amethysts, rubies, sapphires, emeralds, etc.
FLORAL MAANG TIKKA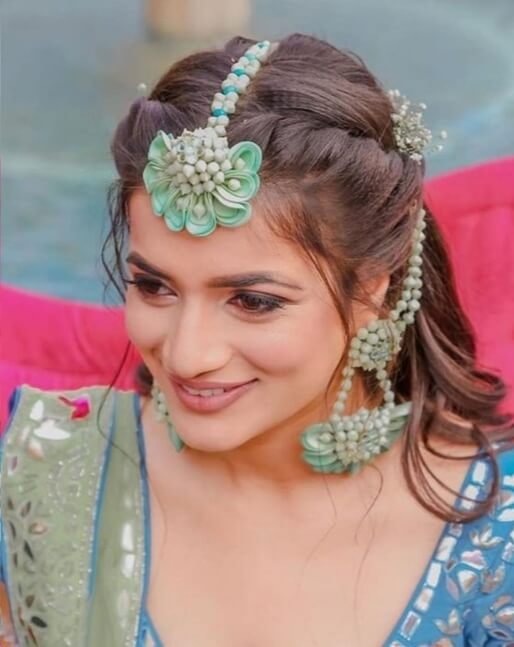 This lightweight and minimal-looking maang tikka is perfect for the all-important pre-wedding ceremony: the Haldi ceremony. This floral and vibrant maang tikka is perfect for the Haldi ceremony, where everyone dons yellow clothing. So, it would go perfectly with the spirited background.
ELABORATE MATHA PATTI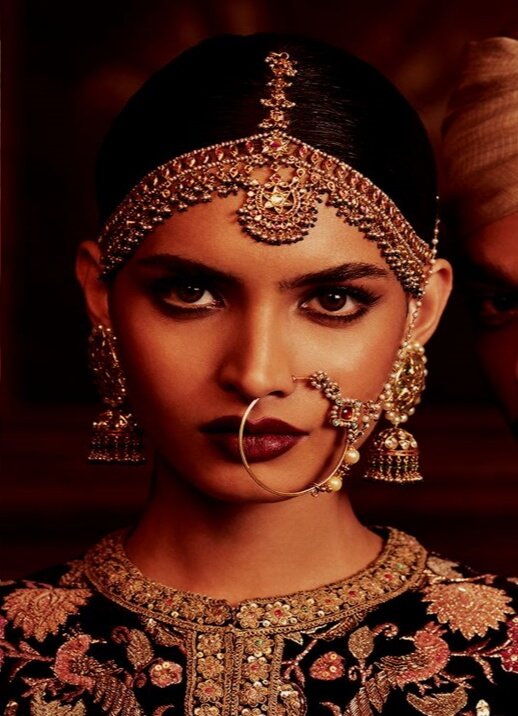 The beauty of a maang tikka can be taken to the next level by attaching it to an elaborate and embellished matha patti. A beautiful matha patti will help look like a crown and make any bride feel like a queen on her wedding day. So, this is one of the best maang tikka designs you can try out.
GOLD MAANG TIKKA DESIGNS
Gold is the traditional metal for a bride. Gold jewelry is an all too important part of a bride's wedding trousseau. Hence, a gold maang tikka is a perfect way to incorporate gold into your look. The maang tikka can be as simple or embellished as you like, combining various gemstones or diamonds to create an elegant and beautiful look.