LeBron James is widely known as a basketball legend whose games were to be watched by all ages who love the sport. He is an NBA superstar who played with reputable teams such as NBA Cleveland Cavaliers, and Miami Heat. 
James has won several championships, NBA Finals, as well as garnering various Most Valuable Player Awards.
Off the court, James is a businessman, television producer, voice actor, and media personality. He is one of the most sought after persons for countless endorsement deals that have accumulated additional wealth. James was also involved in activism and philanthropic pursuits.
If you want to know more about LeBron James, then keep reading as we will provide you with enough information about his early life, career, awards, honors, and more.
Personal Details
Full Name: LeBron Raymone James Sr.
Stage Name: LeBron James
Gender: Male
Birthday: December 30, 1984
Place of Origin: Akron, Ohio, United States
Age: 36 years old
Height: 6'8" ft
Weight: 113 Kg
Nationality: American
Sexual Orientation: Straight
Status: Married
Wife: Savannah James
Profession: Basketball Athlete, Television Producer, Screenwriter, Voice Actor
Total Net  Worth: $500 million
Early Life
James was born on December 30, 1984, in Akron, Ohio to Gloria Marie James, who raised him as a single mother, and Anthony McClelland, his father. James grew up in an impoverished neighborhood, with no permanent place to stay and his mother struggling to find a steady job.
Assessing their family situation, Gloria decided to let James move in with Frank Walker who later influenced him to play basketball when he was nine years old.
In his early days, James alongside his friends Sian Cotton, Dru Joyce III, and Willie McGee called themselves the 'Fab Four' after garnering success from both local and national level basketball tournaments.
Soon after, James graduated from St. Vincent-St. Mary High School where James has been actively participating in numerous basketball games and tournaments along with the other members of Fab Four.
Early Career
During his time at St. Vincent-St. Mary High School, he was already renowned to be an outstanding, and promising athlete. In his sophomore year, James took pride in being named as Ohio Mr. Basketball and becoming the youngest athlete to be selected to the USA Today All-USA First Team. James also earned the name 'Gatorade National Player of the Year'.
His basketball skills were critically acclaimed by peers and media that he was featured in several magazines and interviews. James was lauded to be the best high school American basketball player during his time.
Due to James's success, St. Vincent-St. Mary was able to mark their third Division Title in four consecutive years.
It was undeniable that LeBron James was destined to become an NBA superstar.
Professional Career
LeBron James's professional basketball career kicked off when he was drafted by NBA team Cleveland Cavaliers which his contract lasted for seven years from 2003 to 2010.
In 2010, he was drafted by several reputable teams including the Bulls, Mimi Heat, New Jersey Nets, Cavaliers, and more. During this time, he signed with the Heat until 2014 wherein he received numerous fan scrutiny and criticisms. Soon after the end of the Heat contract, James officially returned to Cavaliers as a star player saving Cleveland's from championship drought.
James continued to bring glory to Cleveland Cavaliers over the years and to date. 
Aside from that, James also debuted as part of the United States national team during the 2004 Olympics held in Athens, Greece returning with a bronze medal. In addition, he also participated in the 2006 FIBA World Championship in Japan winning another bronze medal. At FIBA Americas Championship in 2007, James returned with a gold medal award.
Personal Life 
James married his high school girlfriend, Savannah Brinson on September 14, 2013, in San Diego, California. The couple had three children together named Bronny, Bryce, and Zhuri.
In 2015, James became the face of the NBA and was elected as the first vice president of the National Basketball Players Association. Throughout his career, James became a media figure. He was also one of the most-sought athletes for endorsement deals including Coca-Cola, Nike, Beats by Dre, McDonald's, and many others.
Despite every positive remark he got, James has also taken stances on controversies. Furthermore, he also partakes in activism which became evident when James donated in-kind support to the committee of former President Barack Obama's election as well as current President Joe Biden along with other non-profit organizations. 
His family founded the LeBron James Family Foundation, which is based in Akron to provide scholarships for thousands of students in need. 
Apart from that, James was also an entrepreneur. He is the co-owner of a production company called SpringHill Entertainment along with business partner, Maverick Carter. 
Awards and Honors
James has garnered numerous awards and honors throughout his career from his high school years up to date. Some of his notable awards include winning gold medals in the Olympics, and Las Vegas FIBA Americas Championship. 
He has also won titles and honors such as AP Athlete of the Decade, NBA Rookie of the Year, NBA Scoring Champion, NBA All-Star Game MVP, Sporting News Athlete of the Year, Time Athlete of the Year, and many more. James was also a recipient of J. Walter Kennedy Citizenship Award in 2017.
With his age, LeBron James is far from talking about retiring or taking a break due to health conditions and such as he made it clear in his interviews that he invests heavily in his health, and he continues to thrive to become a top athlete.
LeBron James Total Net Worth
As of February 2021, LeBron James has a net worth of over $500 million with an annual salary of $100 million. This was due to several reasons, mainly through his NBA career, and endorsement deals.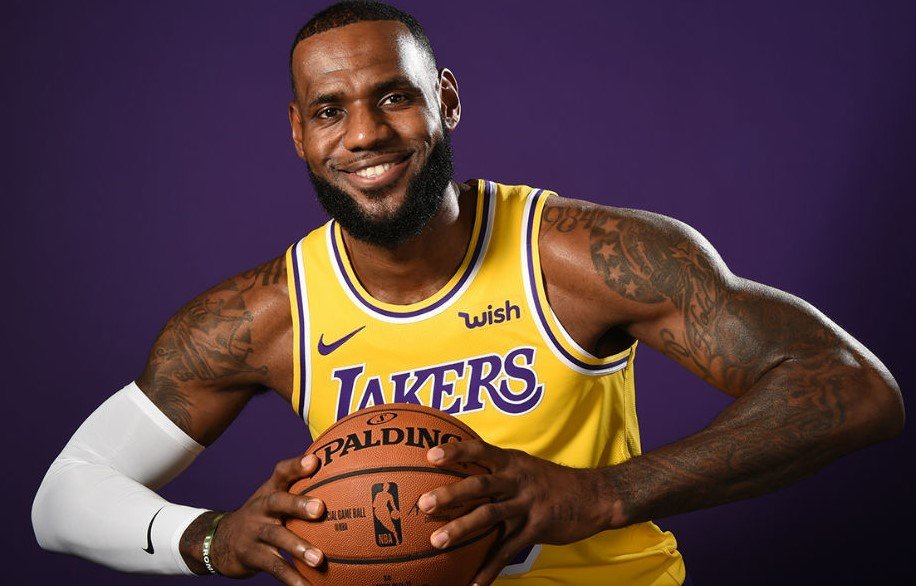 However, this net amount was also made possible because of his TV appearances, movies, and his widespread popularity that continues to rise over the years.
Some statistics show that LeBron James could earn over a billion in career total earnings upon retirement following the footsteps of basketball legends like Kobe Bryant, Magic Johnson, and Michael Jordan.