Jimmy Fallon is an American entertainer pretty well-known for his television hosting. His tv show The Tonight Show Starring Jimmy Fallon, and Late Night with Jimmy Fallon are one of the few reasons that the name, Jimmy Fallon, became known throughout the world.
His way of interacting and talking with the Hollywood stars brought together a lot of audiences throughout the world, giving the show good scores, and for this occurrence, Jimmy became one of the greatest tv hosts in the entertainment field.
Jimmy Fallon has a net worth of $60 million as of this moment. Jimmy Fallon is also known for being a comedian, writer, actor, singer, and also a producer. 
Personal Details
Stage Name: Jimmy Fallon
Real Name: Jimmy Fallon
Occupation: Actor, Comedian, TV Show host, Television Producer, Screenwriter, Presenter, Voice Actor, Writer
Gender: Male
Birthday: September 19, 1974
Place of Origin: Brooklyn, New York
Age: 46 years old
Height: 6ft (1.83m)
Nationality: American
Total Net Worth: $60 million
Early Life
Jimmy Fallon was born in the Bay Ridge neighborhood of Brooklyn, New York on September 19, 1974. A young Jimmy Fallon attended the St. Mary of the Snow, which is a Roman Catholic school. Due to the influence brought upon the school, Jimmy became the altar boy in school and for quite some time, he considered being a priest. One of the reasons Jimmy outgrew his religious ambition was because of the impact of Dr. Demento show on the radio.
While listening to the radio broadcast, Jimmy started getting the idea of going into comedy instead. Like most teenagers in their young and energetic life, Fallon also became obsessed with Saturday Night Live.
Jimmy and his sister sometimes acted out some of the sketches performed in the show for their parents and friends. In his high school years, he attended Saugerties High School and he was a performer in most of his high school life.
He graduated high school in 1992 and moved on to The College of Saint Rose, in Albany, New York to pursue BA in communications. On weekdays, he prioritizes school and studies hard, while on weekends, he performs stand-up comedies. At age 21, before Jimmy even graduated, he left college and went to Los Angeles in 1995 to pursue his comedy career full-time. 
Career
While at Los Angeles, Jimmy had joined the improv group The Groundlings. While situated around people with the same passion as his, he started learning from others and started polishing his acts. Oftentimes, he does stand-up acts at the legendary Improv, where he is paid $7.50 — which did not even cover the parking fee at the Improv.
In 1997, Jimmy Fallon auditioned for the famed Saturday Night Live for the first time ever. Unfortunately, he was unsuccessful. Although he failed at first, this did not bring him down and started pursuing his goal even further.
At age 23, Jimmy Fallon got his second audition for Saturday Night Live. Auditions of the said shows are known to be intimidating and difficult. Even people from the auditions told Jimmy that the creator, Lorne Michaels, pretty much is a person who never laughs on auditions. However, Jimmy did pretty well.
He performed his "celebrity walk-a-thon" act where he made different impressions of well-known comedians, such as Jerry Seinfeld and Chris Rock. This act made Lorne Michaels laugh, and for this reason, he was successfully hired as one of the casts for the 1998 – 1999 season. This started out his career in comedy as he became the program's most featured impressionist. 
At first thought, Jimmy Fallon decided to follow John Belushi's footsteps by spending three years at SNL. However, as he was given reins of the Weekend Update with Tina Fey, three years had gone to more years.
Staying in SNL, Jimmy Fallon made friends with a couple of co-stars and made a long-running friendship. Fallon remained a member of the cast until the 2004 season. During his glory days in SNL, he was portrayed as the best SNL cast member since Phil Hartman.
In 2002, Jimmy Fallon was given the opportunity to host the MTV Video Music Awards. During the opening, Jimmy spoofed some of the famous music videos of artists, such as Eminem, Avril Lavigne, Enrique Iglesias, Dave Matthews, and many more artists who are very famous that year.
After SNL, Jimmy tried to pursue his acting career with different movies, like Fever Pitch, Ted 2, Jem and the Holograms, Factory Girl, iCarly, 30 Rock, Taxi, Family Guy, and Whip It. 
It was 2009 when Jimmy thought he found his place in the entertainment industry. He took over as host on the tv show, Late Night with Conan O'Brien, which was later on renamed Late Night with Jimmy Fallon. April 2013 when NBC announced that Jimmy was selected to be the host of The Tonight Show from Jay Leno following the 2014 winter Olympics. 
Due to his great entertainment skills and comedic sketches, Jimmy Fallon had won a couple of awards, such as 2010 Primetime Emmy Awards for Late Night with Jimmy Fallon. Saturday Night Live in 2012 and 2014, and also in 2015 with his show The Tonight Show Starring Jimmy Fallon.
Personal Life
In the movie, Fever Pitch, where he also starred, he met film producer Nancy Juvonen where they began dating in May 2007. Fallon bent the knee and proposed at Juvonen's family home in New Hampshire in August 2007.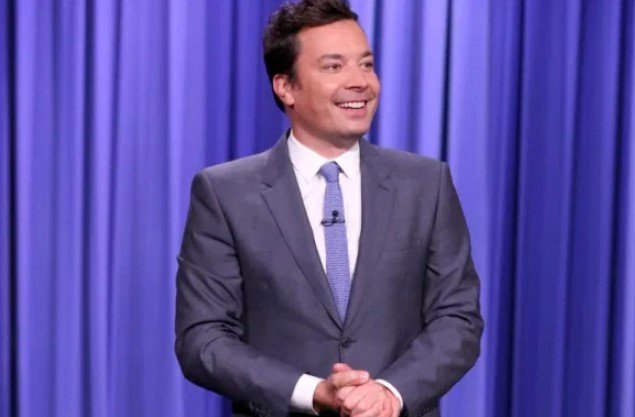 They have been happily married since December 22, 2007. They have been blessed with two daughters, Winnie Rose and Francis Cole. Along with her daughters, they also have a golden retriever he named Gary Frick. Gary has appeared in a couple of episodes on Late Night with Jimmy Fallon.
Jimmy Fallon Total Net Worth
Jimmy Fallon and his wife, Nancy, owned a home in the Hamptons. The home consists of a 3,500 square foot that is located in Sagaponack. It's design looks like a farmhouse that was built in the 1800's. It was reported that the house was estimated to cost $5.7 million in 2011. Jimmy Fallon has a total net worth of $60 million.