They rose to fame with the Vine app and have been on the heights since then. Yes, we're talking about Jack and Jack! Hailing from Omaha, Nebraska, Jack Johnson and Jack Gilinsky started to enroute their share of success with "Wild Life", which was released in 2014. Another important feature was in 2018, when they collaborated with Jonas Blue for "Rise".
Personal Details
| | |
| --- | --- |
| Full Name: | Jack Edward Johnson and Jack Finnegan Gilinsky  |
| Stage Name: | Jack and Jack |
| Gender: | Male |
| Birthday: | March 24, 1996 and September 10, 1996 |
| Place Of Origin: | Omaha, Nebraska͵ United States |
| Age: | 24 |
| Height: | 1.74 m and 1.78 m  |
| Weight: | 65 Kgs and 71 kg |
| Nationality: | American |
| Sexual orientation:  | Straight |
| Status: | Unmarried |
| Spouse: |   — |
| Profession: | Musician |
| Total Net Worth: | $1.5 million (each) |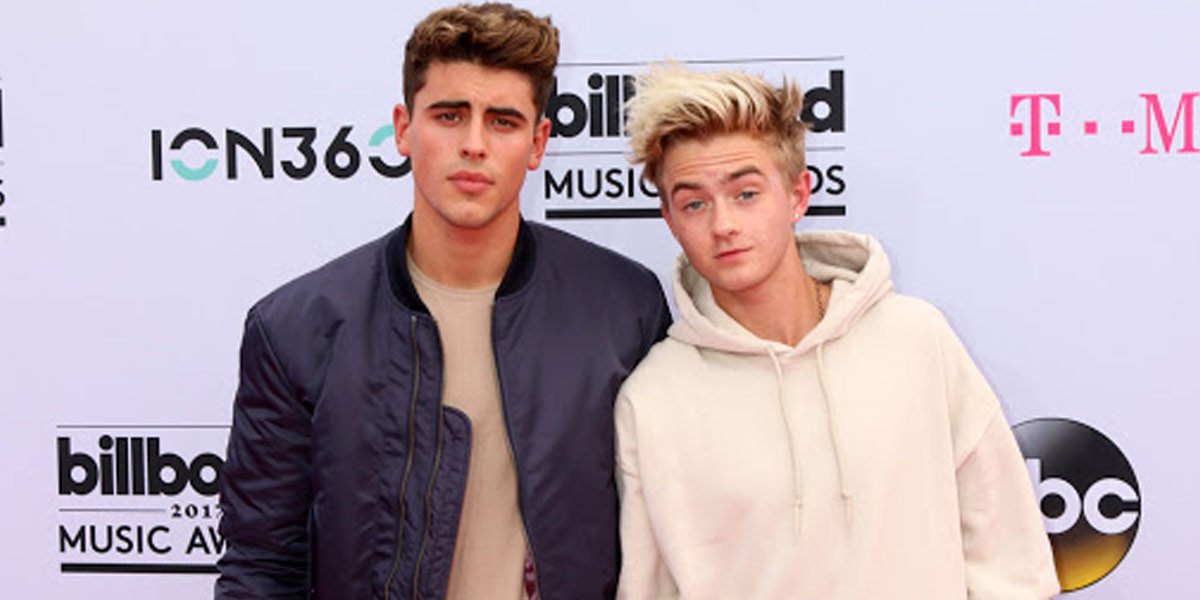 Early life of Jack and Jack
Now this is a patent case of what they call, "Made for each other". Jack and Jack met in their Kindergarten. What caught their attention was the fact that both of them were named "Jack" and that they both were wearing the same shirt.  With time, their friendship aged like wine. They started their first collaboration in 2007, which was "MotherFalconQuagmire", a YouTube channel. Their content featured them lip syncing to songs, some satires and comedy.  The YouTube channel was made in their leisure time, but covered a lot of audience and was quite appreciated. However, once they entered the high school, they couldn't give it much time and the channel lost its popularity.  
Appearance
Jack Edward Johnson is 1.74 m tall and weighs 65 Kgs, while Jack Finnegan Gilinsky is 1.78 m tall and weighs 71 kg.
Career
In 2013, the duo took to the "Vines" app and started posting their short clips on it. The clips featured them doing fun with several songs. One of their vines was the "Nerd Vandals clip" that was even praised by the "Huffington Post". The duo with their amazing comic sense, bagged 25000 followers in no time. They started making short covers for different songs and also released series like "When This Song Comes On". They wore wigs and portrayed girls, they played nerds, they played strict parents and redefined humour. With the "Magcon tour", they collaborated with various other artists and travelled to different cities to accomplish shows.
With one of the gaming companies in Omaha "SkyVu Entertainment", they launched their own gaming apps like "Let It Goat" and "Jack & Jack Vines Puzzle Game". Jack & Jack met the Eakin brothers in 2013. The sophomores helped them to record their songs and release them in "itunes" etc. After the release of their first single, "Distance", they joined hands with Shawn Mendes and Steve Aoki. They were approached by several record labels but turned down every offer saying, "Why get our money stolen, or make less money, when we can get our songs on the exact same spot on the charts ourselves? We're going to stay independent as long as we can, until we see the benefit from the record label."
 In 2020, Jack Gilinsky released his solo song that featured "Don Toliver" and was called "My love". Soon after, he did an interview declaring his split with Jack Finnegan. Jack Finnegan also released his solo "You lie" and used the name "JVCKJ".
Tours and Performances by Jack and Jack
In 2014, the duo shifted from Omaha to Los Angeles, in order to find more opportunities for work. They joined DigiTour Media. The tour was conducted across 18 cities and encompassed fan interactions, live music and comedy. The same year, they also performed at the "Teen Choice Awards". They performed at the "2014 INTOUR", as a part of their Collab with "Fullscreen". Digi tour media released an entire movie in 2014, based on the tour conducted by the "Jack and Jack" duo. In 2014, they organised their own music night in Omaha at the "Ralston Arena" and invited "Hot Boy" as the guest of the evening. The event also had the performance of "Emblem 3".
Accolades
In 2014, the duo were nominated for the Teen Choice Awards in the category "Viner". In 2015, they won the "MTV Woodie Awards" in the category "Social Climber". The same year, they were nominated for two other awards : the "Teen Choice Awards" in the category "Web Star: Music" and the "Streamy Awards" in the category "Entertainer of the Year". In the year 2019, they were nominated for the "Brit Awards", in the category "British Video of the Year".
Net worth of Jack and Jack
Jack Edward Johnson and Jack Finnegan Gilinsky, with their vines and super hit singles and of course the tours that they have accomplished, account for a net worth of $1.5 million each.
End Note
"And you never know, tomorrow might not end up happening. So I kept it movin', got my foot on the gas. Life's better when you're livin' it fast, man, that's a fact!" Make each day of your life perfect and live it like you'd live the last one. The more you think and complicate things, the more you'll ruin the zest and kill their essence.
Well, if you're a broken heart, Jack and Jack have the best lines for you. "You know how it goes when you fall for the wrong one. I love you, I hate you- it ain't cool, it's fucked up! Crazy how two people fall in love with each other just to turn around and hurt one another. It's fucked up! You know how it goes when you fall for the wrong one."
Well, life isn't always as painful as we think it is. It gifts us with the best people of our lives. And when you find someone, do not forget to sing to them, "Never thought I'd find this woman, but here you are in front of me. So I think we should get a move on. Got no time to waste so let's just cut to the chase."