The United States is leading, globally speaking, in most aspects of modern life; economy, education, technology, and whatnot; America never fails to present an epitome of global leadership. There is one aspect, however, which is the home internet speeds that we lag in!
The internet has been long available for domestic use now, and the need for speed has remained on the rise. It started with downloading on dial-up connections and today we are looking at fiber optic and 5G technology enabling domestic consumers with internet speeds that were once unimaginable.
Some stats
To meet the widespread need for speed, telecom companies, ISPs, and cable providers invested over $275 billion to improve the existing infrastructure. The facets that consumed these funds included an upgrade of hardware, an extension of coverage to new territories, and back-end improvements to enhance available speeds. This investment is finally paying off ranking the US higher amongst the leaders in download speeds. According to Ookla, the speed-testing platform, the US stands at the eighth position when it comes to downloading speeds on a fixed broadband connection. September 2019 results clock the global average at 69 Mbps whereas the US average lurks around an impressive 124 Mbps.
What speeds would work for you?
One of the easiest ways to decide the average speed requirement is to take into account what will consume your bandwidth and ask yourself a few questions. Is it streaming? Gaming? Is latency an issue? Will megabit speeds suffice or should you go for gigabit speeds?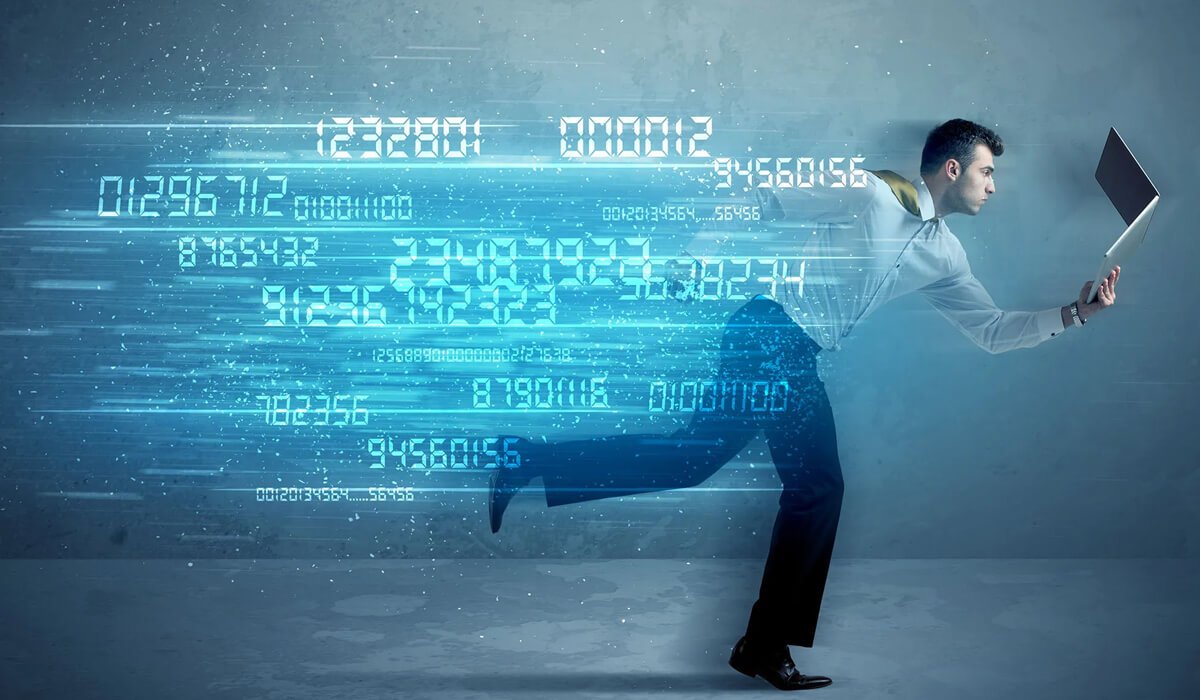 Understanding speeds
Before you can delve into sorting the speed requirements, you should know what these speeds are. The speed of the internet represents bandwidth, which is the amount of data you can send or receive per second (the duration measured in seconds).
Streaming requirements
One of the major bandwidth consumption in a modern household occurs via streaming platforms. Almost all members of a family use the web space, nowadays, to watch movies, series, seasons, documentaries and so much more. All this requires data and speed.
Many platforms that offer streaming services also determine the speed requirement. Netflix however is taken as an industry standard. Netflix requirements should therefore give you an idea about what speed would suit you if you are looking to spend most of the bandwidth on streaming. Netflix suggests you have a basic 0.5 Mbps connection just to get on board with the streaming platform, while 1.5 Mbps is the recommended speed. A 3.0 Mbps connection gets you SD quality streams, a 5.0 Mbps connection barely enables you to watch in HD quality; and if you want to enjoy Ultra HD streaming quality, you must have a 25 Mbps connection.
Online gaming requirements
Online gaming uses the internet like anything. Streaming only requires downloading of data but when gaming,  much data has to be uploaded. Therefore you need a better internet connection for gaming. That too with great ping and latency scores. What speeds would exactly work for you? The following are some recommendations from the top console manufacturers:
PlayStation
The PlayStation user manual does not specify a recommended connection speed. FCC, on the other hand, recommends speeds reaching 25 Mbps for gaming. Those who are already into online gaming understand this recommendation is not just a fluke rather a tried and tested estimate.
XBOX
Unlike PlayStation, XBOX elaborates on the subject. They provide guidelines on exactly what speed you should have. They recommend a connection that gets you 0.5 Mbps download speeds for online gaming purposes. If you enjoy streaming on your XBOX console, you should have at least a 1 Mbps connection for SD streaming. A 3.0 Mbps connection would suffice for online gaming while 3.5 Mbps will enable HD streaming.
The only issue is these speeds are the minimum. The actual speed requirement does vary with the game. These are only to get you started. The more, the merrier is what the message is here.
PC/Mac
There are a lot of games out there many of you like to play. These games are available on different platforms as well. Your preference decides what you would use to quench your gaming thirst. Many would like consoles, while others would prefer PCs. Regardless of your preference; you will need a great internet connection.
Ping and Latency
Online gaming depends on speed, latency, and ping. Both may sound similar but they are different. Latency is the time taken by the data leaving your device and reaching the server. Ping is the time data takes to leave your device, get to the server, and bring back the response. All this happens in milliseconds. Why do you have to know? This is the way lag is measured.
Therefore, you not only need speed but lower ping scores as well. No matter how fast the internet is, if the ping or latency  is not right, the connection is no good for gaming!
What is the best option?
While there may be many options out there, you need to go with an ISP that is tried, tested, and makes the cut. The best in this regard is CenturyLink. The coverage is great; you can get a connection in over 37 states and expect great service. CenturyLink internet speeds facilitate usage for nominal domestic use and go all the way up to GBPS standards able to meet the desire for robust consumption. Call CenturyLink phone number today to order your internet connection.
Conclusion
There is no definitive way to measure your requirements, albeit there are a few ways you can measure what speeds will suit your needs. Streaming requirements may not be much but online gaming will put your internet to the test. Getting the fastest available connection will not cut it but the right speed with decent latency and ping scores will work.