If you're passionate about body art and self-expression using decorative jewelry, then a career in body piercing could be perfect for you. That said, piercing is less formalized than other types of jobs, and thus there's less of a straight path to getting into the industry.
One of the most assured ways is landing an apprenticeship with a reputable piercing studio to get the right training and find employment. Following this process can ensure that you're adequately prepared with the necessary skills and allows you to build a long-term career in which you can invest.
Here's how to start a piercing apprenticeship and career:
Research The Industry
The first step towards getting into a piercing career is finding out as much information as possible about the industry. This is so that you know what to expect in terms of earnings and payment structure, working hours, job security, and whether they align with your interest and personality. Research can also help you find out whether you meet the requirements to become a piercer and how the market performs in your area to provide you with a steady income.
Thus, you can watch piercing videos and tutorials on how to choose the right piercing guns, for instance and read informative articles about the revenue piercing businesses generate. Additionally, you can also follow industry leaders such as piercing influencers on social media to attend their seminars and learn about their best practices and techniques to appease and attract customers.
Take The Health Training
Once you've fully understood and accepted the conditions of a piercing career, you can enroll in a training course to equip you with the necessary skills. While no specific or formal college or university education is compulsory, you'll need to take a few courses recommended by the Association of Professional Piercers or APP to qualify for an apprenticeship in the future.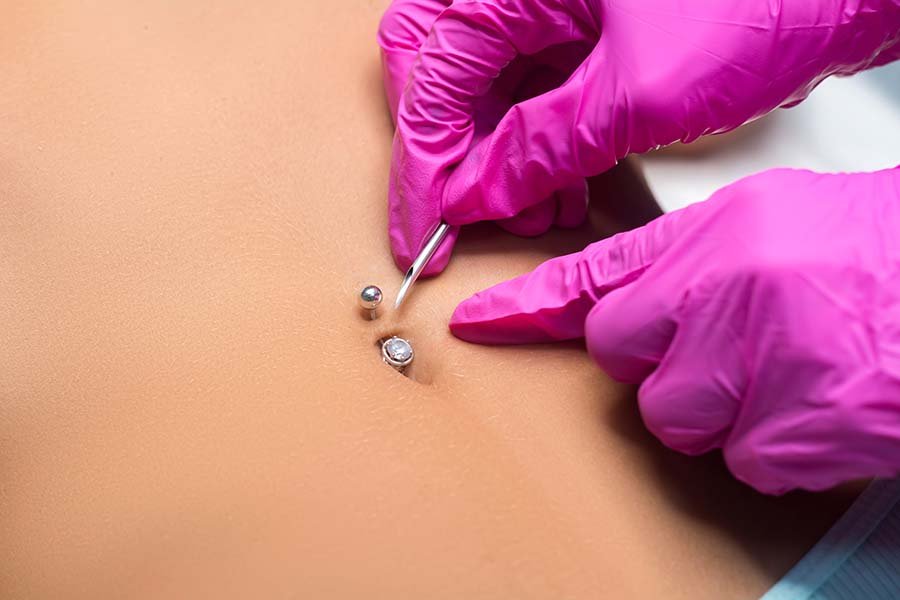 These classes are required by most states and reputable piercing and tattoo studios of new recruits to obtain health certifications that maintain strict hygiene and safety practices of the industry. As such, some of the courses you can expect to take include:
Bloodborne Pathogens Training for body artists from OSHA or OSHA-approved organizations such as the Red Cross
CPR and first aid training from the Red Cross
The APP's Exposure and Infection Control and Personal Protective Equipment Standard course
Body piercing training
These are the minimum requirements for completing and receiving your certifications. Depending on your state, there may be extra requirements you need to meet, such as getting a Hepatitis B Vaccine or serological test and obtaining the signed document to achieve all the prerequisites.
Find The Right Mentor
A mentor is an industry expert who'll be conducting your apprenticeship and taking you under their wing to teach you on the job to prepare you for a career in piercing. Therefore, you should aim to choose a suitable mentor who is an APP member, has signed and adheres to the regulator's code of ethics.
The code was drawn up to protect your labor rights as an apprentice and ensure you get the sufficient experience needed to become a fully competent piercer. As such, mentors are obligated to maintain professional conduct and provide high-quality, objective teaching, training, and fair feedback on your performance. They are also to provide you with a clean and safe working environment that complies with the health and safety standards outlined by the regulations.
For this reason, it's ideal to meet your mentor before the apprenticeship starts so you can discern whether they share your values. They should instill confidence and inspire you to support their leadership style.
Undergo The Apprenticeship Program
When you've completed the training, have the knowledge and useful skills to pursue a piercing career, and found a good mentor, you can look for an apprenticeship program in your area to join. This can be done by visiting the website of reputable studios to apply for an apprenticeship if they're offered.
Otherwise, you can contact the studio or piercers working there via email to inquire whether they're willing to take you on board. Studios with a formal apprenticeship program follow the APP's industry-standard guided curriculum comprising a minimum set of tasks needed to become a competent piercer. These mainly consist of:
1,200 hours working with a mentor piercer to perform studio duties, administration, and client consultations, among other tasks.
100 hours of documented procedure observation to watch piercing procedures using various techniques, equipment and body locations.
50 piercings performed under the supervision and evaluation of the apprenticeship mentor.
Again, depending on the studio offering the apprenticeship, it can take about six months to a year to complete their training. Furthermore, some apprentices may charge a course fee, while others may offer it for free or pay a stipend if it's an apprenticeship leading to employment.
Conclusion
Starting a piercing apprenticeship begins with career research to gain insights into the work, tools, and techniques you'll need for the job. From here, you can take industry-outlined courses to learn about health and safety before finding a suitable mentor.
Then you can apply to local apprenticeship programs or contact studios capable of training you. Doing this allows you to meet the requirements and develop skills to start and grow your career in body piercing.