Did you know that people spend about 90% of their time indoors in the United States?
With so much time spent in your home, you must ensure that the air quality is at safe levels and contributes to your health.
If you are wanting to reduce pollutants and allergens from the air in your home, there are many steps to take.
Continue reading to discover the steps you can take to have cleaner air in home so that you and your family are healthy!
Fix Leaks Around the House
One of the best tips for getting cleaner air in home spaces is to fix leaks that are around the house.
Whether the leak is indoors or outdoors, you should seal it up as quickly as possible. You must seal these leaks because they can let moisture into your home. When moisture enters your home, it can turn into mold and mildew that can be harmful to your health.
If you have found an area with a leak and mold is already formed, use caution and proper supplies when cleaning it up. Mold can be extremely dangerous and spread to other surfaces without you even realizing it.
Many people notice that mold is growing in their homes after it is too late. Common symptoms to watch for in moldy areas include coughing, asthma symptoms, and wheezing. It is a good idea to redirect water away from the home after you fix the leaks to prevent them from coming back.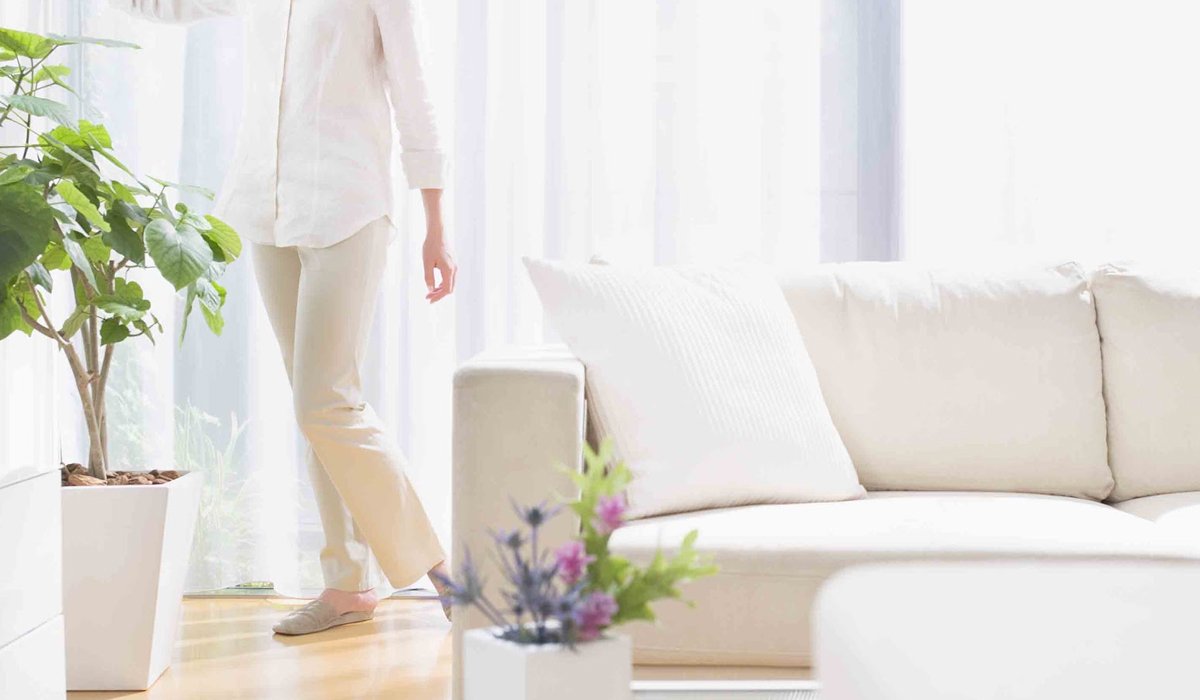 Don't Permit Indoor Smoking
If you want to reduce health risks and have cleaner air in your home, you shouldn't permit smoking indoors.
Smoking cigarettes indoors can add harmful pollutants to your home. Every person who lives in the home is affected by the smoke the comes from cigarettes and it can have negative lifelong effects. Many children and adults get respiratory tract infections every year, which could be reduced if people didn't smoke in their homes.
Another reason to avoid smoking in the house is that it will end up creating a film of residue on your walls and belongings. It is difficult to get smoke out of the walls, carpet, and furniture once you begin.
Use a Carbon Monoxide Detector
Avoiding respiratory irritation can be a lot easier if you have a carbon monoxide detector.
Carbon monoxide is a clear and odorless gas that is difficult to identify. Without a detector, your family could become sick or have breathing problems that are difficult to treat. Having a carbon monoxide detector will help give you peace and ensure that the air quality in your home is where it should be.
When the detector picks up levels of carbon monoxide it will alert you so that you can leave the house and protect your family.
Turn the Car Off 
Did you know that idling your car while sitting in the garage can lead to air pollution and health risks?
When you let your vehicle idle in the garage or any other enclosed space, you can create dangerous levels of carbon monoxide. Many people install carbon monoxide detectors in the garage for this reason so that no one gets carbon monoxide poisoning.
If you need to turn the car on in the morning to heat it before your drive, make sure that the garage door is fully open. It is best, however, to pull the vehicle out of the garage completely and put it in the driveway.
Pick the Right Paint
Many paint brands have volatile organic compounds (VOC) that can be harmful to breathe in.
If you are planning to get some housework done and put up a fresh coat of paint, try to look for low-VOC paints. Low-VOC paints are much safer and won't risk your family's health. Even after standard paints dry and the smell is gone, they still release chemicals in the air that can be harmful to inhale.
Some of the most common ingredients found in paint that you should avoid include formaldehyde and acetaldehyde. When you paint with low-VOC paints, however, you should still open up the windows and let as much of the scent out as possible.
Swap Out Air Filters 
Most people can get away with changing their air filters out every 6 to 12 months.
If you have pets, however, you should be swapping them out every 90 days. Changing air filters is crucial because it helps reduce allergens and pollutants in your home. When you don't change these filters, a lot of pollutants can enter your home and circulate without leaving.
A c3045 air filter works well with units that are newer than 1902, they also come at an affordable price! Check what type of air filters you have in your home and change them out if it has been a while. You should also change or clean air filters used in portable AC units and heaters.
Get an Air Purifier
A great way to get rid of dust mites and allergens in your home is by setting up an air purifier.
Air purifiers can be bought in a variety of sizes, depending on how much space you want to cover. Some people get them installed with their HVAC units, but you can also get portable air purifiers for specific rooms in the house.
It is a good thing to have an air purifier because it can reduce the smallest particles in the air. They help get rid of moisture, dander, and certain gases.
Many people recommend getting an air purifier if you have a pet. This is because they can track allergens from outside and reduce allergy symptoms.
You Can Get Cleaner Air in Home Spaces
If you want to get cleaner air in home spaces, there are many methods that you can try.
Getting a carbon monoxide detector can help keep your family safe and ensure that the air they are breathing in is safe. To get cleaner air in your home, it is a good idea to use low-VOC paints and to open up the windows during home projects. Don't forget the impact that an air purifier can make when you have pets or want to reduce pollutants.
Do your best to change air filters throughout the year, as this can lead to asthma symptoms and breathing difficulties.
Be sure to check out our blog for more articles about indoor air quality and keeping your family safe from toxins!