Epoxy is fast becoming one of the most popular materials for decorating countertops and other furniture. Homeowners looking for a cheaper alternative to popular countertop materials can opt for DIY epoxy countertops. However, some may question the durability of these countertops.
So, how long do epoxy countertops last, and are they durable?
Epoxy countertops have decent durability against heat. However, they are prone to yellowing if food stays on the surface for too long. Cleaning epoxy countertops can be a hassle for many homeowners, but their affordability still makes them a popular choice for those on a budget.
There are many challenges associated with an epoxy installation. Caesarstone shares the pros and cons of epoxy countertops that can help you make an informed choice.
In this article, we'll walk you through important things you need to know about using epoxy countertops.
What are epoxy countertops?
Epoxy countertops are made from a specific type of resin. They are not prefabricated panels that can be purchased from the supplier and installed immediately. Epoxy is a type of refinishing product used to enhance old countertops and other furniture.
Although prefabricated epoxy resin countertops are available for purchase, they are highly expensive.
Epoxy coats are made by mixing the base resin with a hardener that allows the resin to go from liquid to solid. It dries and hardens to form a flat surface.
Epoxy can be cast over sanded countertops for a transparent, glossy finish or can be used to repair countertops in bathrooms or kitchens to hide scratches and stains that accumulate over time due to normal wear and tear. People are increasingly using epoxy with pigments on countertops to create a faux marble look.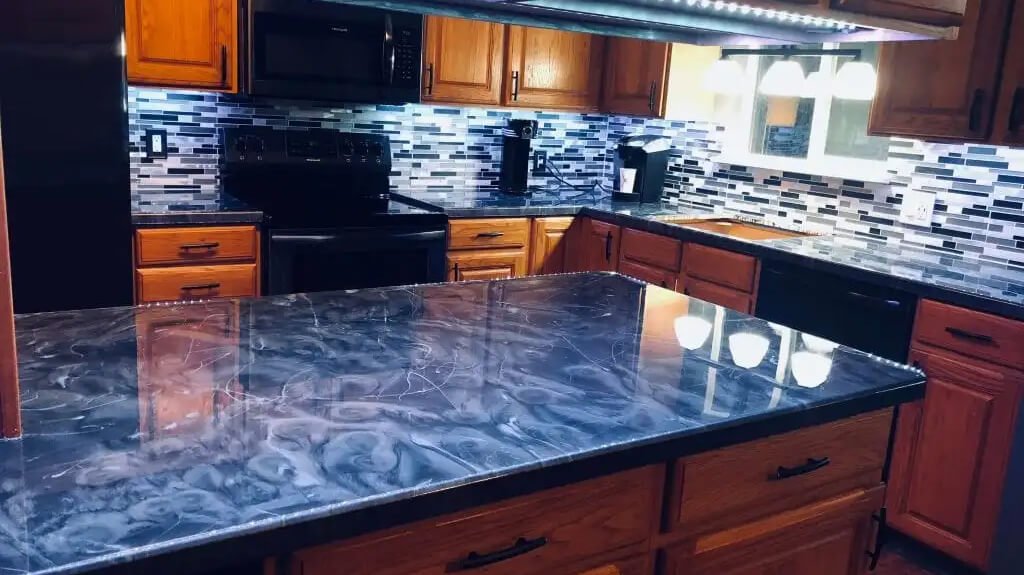 How durable are epoxy countertops?
Have you ever wondered: how durable are epoxy finished countertops?
Epoxy is a highly durable material that can last long. It is moisture and scratch-resistant. Therefore, a good choice for kitchen and bathroom countertops. If properly maintained, epoxy countertops can last forever.
One of the major issues with epoxy is that it stains easily. If you don't clean spills from food and drink immediately, your epoxy countertops will likely stain. Since it is used on kitchen countertops, this can happen frequently and lead to a loss of the gloss and life of the epoxy.
However, you can prevent stains by cleaning up all spills as soon as they occur. Using a cloth dampened with soap and water, you can remove food and drinks from the countertop without affecting the color.
Avoid cleaning your epoxy countertops with abrasive cleaners, alcohol, and wax-based varnishes. You may not see any significant changes after their first use but these cleaners can gradually damage your countertops and leave them looking dull and worn out.
Use cleaning agents specifically made for epoxy countertops. Mild dish soap and water is good enough for cleaning epoxy countertops. Polishing your epoxy countertops with mineral oil can help them stand out. However, make sure not to overuse mineral oils as they can make the surface look hazy. You can also add buffer attachments to your electric drill and buff your countertops using polishing paste. Make sure to dry the countertops completely after the maintenance treatment.
If you want to extend the life of your epoxy countertops, you may also want to consider steam cleaners. Epoxy countertops are heat resistant. Therefore, it is safe to use steam cleaners on them. If you have stubborn stains on the countertop, use steam cleaners. The heat loosens up the plastic a bit, making it easier for the cleaner to absorb what's left on the countertop. There are different types of steam cleaners available. Check the size of your countertop and the cleaner's meter size before purchasing the best one for your purpose.
With proper cleaning and maintenance, your epoxy countertop can shine for a long time.
What epoxies should you use?
There are specific epoxies that are best suited for different types of projects. The countertops require a special epoxy resin with specific properties. Here are a few things to check on the label before buying epoxy for your countertop:
Self Leveling: Make sure you buy a self-leveling epoxy. So you can use a diffuser to get a smooth and even base. If your epoxy doesn't flatten on its own, it may have uneven cross-sections that make it messy to work with.
Gallons: Epoxy hardens sooner than you may think. While working on a countertop, make sure you have enough mixture to pour and cover the entire countertop.  It is recommended to use epoxy that comes in at least a gallon can. Read the label to make sure there is enough epoxy to cover the entire surface, especially if you are working with a very wide or long countertop. The label should state how many square feet the epoxy bottle can cover.
Heat Resistance: If you are using epoxy in the kitchen, you need to make sure it can withstand higher temperatures. Therefore, look for epoxies that have higher heat resistance.
Scratch Resistance: Countertops are exposed to multiple treatments in a day, so you need a scratch-resistant epoxy. Otherwise, they may suffer from scratches after repeated use. Make sure the label highlights the scratch resistance formula before making a purchase.
Conclusion
So, how durable are epoxy countertops?
Epoxy can be a great countertop refinishing product, but it depends on the type of epoxy you use and the material on which you apply the epoxy solution. Before purchasing epoxy for countertops, make sure you know exactly how to use it. Otherwise, you might damage the countertops.  Read product reviews and specifications before deciding which product to use. You can then test the product to make sure you feel comfortable using it.
It is best to consult a professional before deciding on the type of countertop replacement or refinishing that best works for you.
Before purchasing epoxy, you must also ensure that your product is self-leveling and at least one gallon in quantity, as well as heat and scratch-resistant. These four product details create an incredibly durable and attractive epoxy finish that you will love.
Finally, remember to properly maintain the epoxy countertop surface to make it look new forever.