About Gotham Season 6
Gotham is an American action, drama, and crime series themed on the Batman franchise, developed by Bruno Heller. This TV and web series premiered on September 22, 2014. Since then, five seasons have been aired under this series on the FOX channel. There has been a curiosity among the fans over Gotham Season 6 release.
Gotham covers the journey of iconic Batman characters before they become prominent personalities. It is a prequel to the Batman movie series.
Gotham features:
Ben McKenzie

Cory Michael Smith

David Mazouz

Sean Pertwee

Erin Richards

Donal Logue

Robin Lord Taylor

Camren Bicondova

Chris Chalk
The main reason behind this series's popularity is that it revolves around the transformation of Batman characters. The series was intended to focus on Gordan's initial journey with the Gotham City Police Department. Later, the plot shifted from Jim Gordan to Bruce Wayne. It also showed Batman's opponents that were striking for everyone, especially for the loyal Batman fans.
Here, we bring you all the news regarding Gotham Season 6:
Why is Season 6 Canceled?
All the five seasons of this series were a huge success among the audiences and received remarkable reviews. But, the chances for Gotham season 6 are very less. In May 2018, the FOX channel announced that season 5 would be the last. Gotham Season 5 consists of a total of 12 episodes. They were fewer than other seasons that consisted of 22 episodes.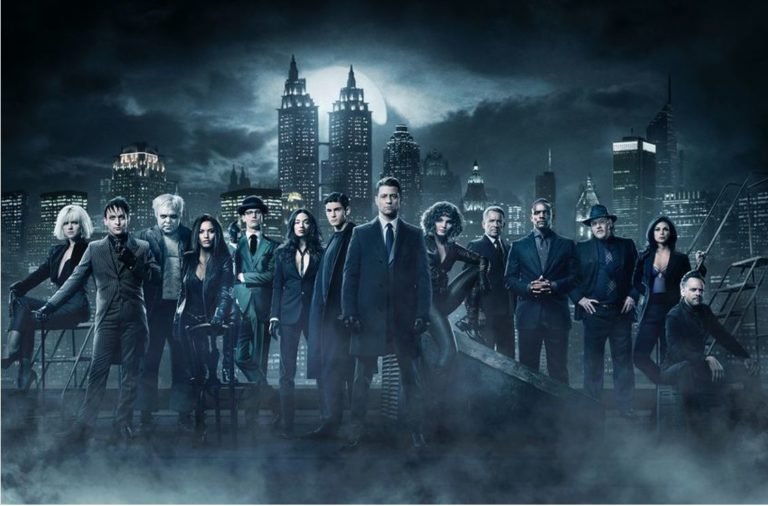 Renewal Possibilities
Gotham Season 5 premiered on January 3, 2019, and the finale of the season aired on April 25, 2019. The show received praises and appreciation for its performances, story, production, and writing, but gradually, the ratings dropped after a blockbuster opening of the season. So, even from this angle, the chances for season 6 are low. The story concluded with a proper ending, and no sequence was left incomplete for the next season.
Gotham Season 5: Ending Plot
The final season of the Gotham series showed David Mazouz's character Bruce Wayne turning into a Batman. It also showed Jim Gordan becoming a mustached lawmaker, just like it's portrayed in the most celebrated DC comics. This series was designed to be the prequel to the movies, and in the last season, the characters finally evolved into the original characters. So, technically there is no storyline left for Gotham season 6.
Even though actor Donal Logue commented some time back that there are chances of revival for Gotham Season 6, as of now, Gotham Season 6 is not renewed, and Season 5 will be the last of the series.
Gotham Season 6 Cast
Till now, the series is not planning to return with season 6, but if it returns, most likely, we can see the cast as follows:
Ben McKenzie playing the role of James Gordon

Donal Logue playing the role of Harvey Bullock

David Mazouz playing the role of Bruce Wayne/The Dark Knight

Sean Pertwee playing the role of Alfred Pennyworth

Robin Lord Taylor playing the role of Oswald Cobblepot/The Penguin

Erin Richards playing the role of Barbara Kean

Camren Bicondova playing the role of Selina "Cat" Kyle

Cory Michael Smith playing the role of Edward Nygma/The Riddler

Morena Baccarin playing the role of Leslie 'Lee' Thompkins

Zabryna Guevara playing the role of Sarah Essen
Plot
The plot revolves around the beginning of Gotham City Police Department Commissioner James Gordon and the cheats that made the city popular for notorious criminals and underworld activities.
Season 1
In Gotham Season 1, we see Gordon and Harvey Bullock solving the murder case of Bruce Wayne's parents, witnessed by a minor thief named Salina 'cat' Kyle. Gordon was also accompanied by forensic scientist Edward Nygma, detective Renee Montoya, Crispus Allen, along with District Attorney Harvey Dent. At the same time, a fight starts between Carmine Falcone and Fish Mooney with criminal Oswald Cobblepot. Fish Mooney is killed, and Cobblepot declares himself as "King of Gotham."
Season 2
In season two, Theo Galavan comes to Gotham with the orders of killing Bruce. But Gordon, Cobblepot, Selina, along with the Gotham City Police Department save Bruce. At the same time, some secretive and crucial experiments are conducted in a special allotted place called Indian hill, where Dr. Hugo Strange is trying to experiment with turning the inhabitants into monsters.
After Gordan kills Galavan, his troops are revived by Dr. Hugo Strange, who transforms them into  "Azrael" to plan revenge against Gordon. When Gordon comes to know about this, he, along with GCPD, closes the Indian hill facility, but a bus of monsters escapes from there, including a restored Mooney and a duplicate of Bruce.
Season 3
In season three, Gordon turns into a bounty hunter to find the bus of monsters that escaped. During the journey, he meets Valerie Vale, a reporter. Gordon has a short relationship with her before she departs from Gotham. She advises Gordon to rebuild his relationship with his ex-girlfriend, who now has a new partner. On the other side, a virus called "Tech virus" emerges, which is used against Gotham. But, Mooney, along with Dr. Strange, develops a cure for that virus. The secret organization, "Court of Owls," hires Bruce's duplicate while the real Bruce finds Demon's head.
Season 4
In season four, Cobblepot creates a new law of "licensed Crime" that will enable him to rule the criminal underworld. Meanwhile, Jonathan Crane embraces his fear-mongering "scarecrow" aspect. At the same time, Jerome Valeska conspires for anarchy in Gotham. But Jerome is killed, and his twin brother follows his path and aims to fulfill his plan.
There is a state of confusion among the fans whether Gotham season 6 will release or cancel. According to the officials, most probably, the show will not be renewed for Season 6. But, if at all it gets a renewal, we will update you instantly. There are rumors for a spin-off or a sequel, but there is no official confirmation from the makers of the show. Let's wait for an announcement from the makers.