Phone number applications are one of the most commonly used applications across the world. It is one of those applications you will find on every single phone no matter what. These applications help us to send messages, cellular calling, connect to wifi, etc. There are several added features to these applications like call recording, transferring, and customizing the greeting. One can send SMS and MMS to each other by using these applications on their phones.
These features might be secondary but their importance is no less to use. Many times, most applications do not offer these features and hence we have to download additional applications to fulfill these purposes. In this article, we have presented before you a list of the top 10 phone applications that offer you the best features.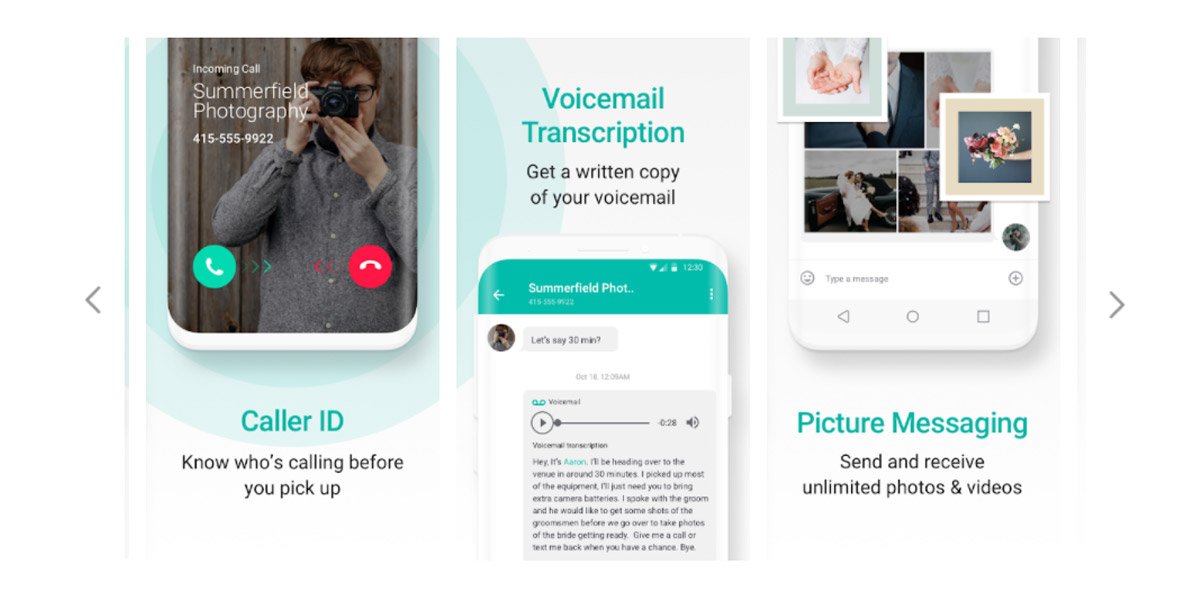 1. Grasshopper:
This application is efficient enough at keeping a record of all your contacts and communications made across the various channels. You can even use these applications for a desktop and make calls using this. 
It is efficient enough at transcribing your voicemails to texts and you can address your voice mails even in situations when you cannot listen to them. Also, you can record messages for various professional and personal purposes. What makes it all the more special is its feature by which you can send a fax in a pdf format via email.
2. Phone.com:
This application gets set up in just minutes and does not take a complex process or an hour to finally start working. You can create schedules with this one and customize them easily. Each time you receive a phone call, the application notifies you with a message. 
Your phone's address book can be synced with this application to ease your work. You can even personalize the text templates you send over when you're busy or in a meeting. It even allows you to have your unique caller ID.
3. MightyCall:
This application provides you with unlimited calling. You can very easily forward your calls to another device as per your convenience. This application allows you to choose a tool-free or area code number without having to pay any extra charge for it. 
It even allows you to record your calls for further reference and you can listen to your voicemails and it even keeps you notified each time. Even if you're on your desktop, you can make calls using this application
4.Hushed:
This application allows the user to add and manage more than one number. Every time you want to access your number, you can do it very easily, by using this application and the WiFi/data connection. 
Your conversation's privacy is sincerely respected and guarded by this application. You can communicate in privacy and securely through this. It allows the user to record and customize the voice mails that have to be sent over. One can even forward a call using this application. 
5. PhoneBurner:
The user of this application can very easily dial numbers from local area codes. The application provides its user with an inbound phone number. One can efficiently transfer a call using this application, to any number they like as per their convenience. 
The team of this application is always there to help the users with setting up the application and provide assistance at every step. 
6. Voxdirect:
This application allows its user to call via virtual receptionists. Also, if you are in a situation where you cannot attend a voicemail, or if you are unable to turn your voicemail into an email before you send it over, the application transcribes it for you. 
If you cannot attend a call at a given time, you can easily transfer it to another person. Its transcription facility allows you to read voicemails. Also, you can get connected with actual customers, and avoid spammers through this application.
7. ConXhub:
This application allows its users to attend calls at the highest HD quality. One can forward their calls from one number to another and from one device to the other, without any sort of complication. 
The devices do not even have to be in the closed vicinity of the Phone. It even offers its users with a Toll-Free, Local, or International Phone Number from any country they would like.
8. YouMail:
If ever there is a missed call left on your device and you're curious to know who it is before you call them, this application will help you detect the user before the call. It even provides its users with custom voicemail greetings and also offers them visual voicemail. 
The privacy feature of the app is commendable since it protects the user's phone number with a second one. Also, it has pre formed templates to send to the missed calls that its user wasn't able to attend. Users of this application can even make a conference call.
9. Google Voice:
This application has been named amongst the list of the best calling and texting apps. It can be customized as per its user's needs and to suit their routine. Its transcription feature can transcribe words very efficiently and at a fast pace. 
This application can even be integrated with Google Calendar and Meet and it allows its users to communicate with someone in the USA without extra charges.
10. Talkroute:
This application allows its user to record their incoming and outgoing calls and keep them for further references. It even provides a detailed history report of the calls. 
Users of the application can customize the welcome message that is sent over from their number.
This application offers its users with 3 or 4 digit direct-dial extensions. The users can send and receive MMS and SMS. One can set a time and date as soon as the application is installed in their phones.
Conclusion:
There are countless phone applications available across the internet that help their users with attending phone calls, sending text messages, and several additional features. The top 10 phone applications that can accomplish the most essential features related to call, efficiently are, Grasshopper, Phone.com, MightyCall, Hushed, PhoneBurner, Voxdirect, ConXhub, YouMail, Google Voice, and Talkroute.