Deion Sanders is an American athlete (retired- football and baseball), sports commentator, and football coach.
Personal Details
Stage Name: Prime Time and Neon Deion.
Full Name: Deion Luwyn Sanders Sr.
Gender: Male
Birthday: August 9, 1967
Place of Origin: Fort Myers, Florida
Age: 53
Height: 6'1"
Nationality: American
Sexual Orientation: Straight Male
Status: Single- in a relationship
Spouse: Carolyn Chambers (m. 1989-1998); Pilar Biggers-Sanders (m. 1999-2013)
Profession: (Retired) Football player and Baseball player, sports commentator, studio analyst, and football head coach at Jackson State University
Total Net Worth: $40 million
Personal Life
Deion Luwyn Sanders Sr. was born August 9, 1967, in Fort Myers, Florida. He is an American athlete (retired- football and baseball), sports commentator, and football coach. Prime Time and Neon Deion are Sander's nicknames. 
Sanders was a letterman and All-state honoree in three sports football, baseball, and basketball in high school at North Fort Myers High School.
The Florida High School Association All-Century team, the team which consists of 33 players, named Sanders during the 100 year history of high school football in 1985. Also in 1985, Sanders was selected by the Kansas City Royals in the sixth round of the 1985 Major League Baseball draft in which he did not sign with them.
In college, he went to Florida State University where he played football, baseball, and track and became a two-time All-American cornerback in the years 1987 and 1988.
He was allowed to play in the Sugarbowl even though he did not attend classes and take the final exams in which the school was forced to make a rule called "the Deion Sanders rule" that an athlete can not participate in a bowl game unless he successfully completed the previous semester.
Sanders married twice. His first wife is Carolyn Chambers to whom he was married from 1989 to 1998 and had 2 children. His second wife is Pilar Biggers-Sanders whom he was married from 1999-2013 and had 3 children. His divorce with Pilar was quite a buzz, it was messy and complicated. In 2012, he started dating Tracey Edmonds, an American businesswoman, producer, and personality.
Also, Deion Sanders has finished his bachelor's degree in Business Administration focusing on organizational management from Talladega College in 2020.
Career
In his football career, Sanders played for the Atlanta Falcons which he played primarily as a cornerback. Sanders has played football for the San Francisco 49ers, the Dallas Cowboys, the Washington Redskins, and then for the Baltimore Ravens. He played multiple positions. Playing for the Washington Redskins earned him a 7-year contract and at $56 million US dollars.
In the NFL, Sanders played for 14 seasons and he won two Super Bowl Titles. With the 49ers, he won the title XXIX, and with the Cowboys as XXX. And in 2011, Sanders was inducted into the Pro Football Hall of Fame.
Deion Sanders also played professional baseball for 9 years. In June 1988, he signed for the Yankees yet he left the Yankees to attend NFL training camp. 
On May 31, 1989, Sanders debuted in major league baseball. He got a deal of $4.4 million US dollars. After three days of signing the deal, he was the only athlete to both score a touchdown and hit a home run.
Sanders played with the New York Yankees, with the Atlanta Braves, with the Cincinnati reds in 1997, and with the San Francisco Giants. The duration of his time in baseball was quite difficult because he does not get along with the game's approach. In 2001, Sanders retired from baseball.
Aside from sports, Sanders also appeared in commercials with brands such as Nike, Burger King, Pepsi, American Express, and Pizza Hut. 
He has an autobiography entitled "Power, Money, & Sex: How Success Almost Ruined my Life" which he released in 1989. In 1994, he released his rap album entitled "Prime Time" on Buts It Records, MC Hammer's label. Sanders' appeared in Hammer's music video entitled "Too Legit to Quit".
Sanders has made cameo appearances in several television Night live shows. He hosted Saturday Night Live after he won his first Super Bowl and became a spokesman of Sega Sports video games both in 1995. He hosted the pageant Miss USA in 2002. 
Sanders starred with his wife on a reality show entitled "Deion & Pilar: Prime Time Love" in 2008. It focuses on their lives together with their children in Texas.  Also in 2008, he participated in Celebrity Family Feud which he competed with the Kardashians namely Bruce, Kris, Kim, Kourtney, and Khloe.
In 2004, Sanders was the co-host of the GMA Music Awards broadcast. It was taped in late April 2004 and then was aired in May 2004.
From 2014 to 2015, Sanders starred in a reality show on the Oprah Network, entitled "Deion's Family playbook, which was about his life.
In the fourth season of The Leagues, Sanders appeared as himself playing a role as a prospective buyer of Andre's apartment. 
In an episode of Running Wild with Bear Grylls, Sanders and Grylls hiked in the Southern Utah desert for two days.
Sanders works as a football coach, as a volunteer, at Trinity Christian School Cedar Hill where his son studies. He founded the Prime Prep Academy Charter School in 2012 but because of some issues with financial and legal reasons the school closed in 2015.
He also worked as a studio analyst, after his sports retirement, for both the NFL Network on Sundays and CBS sports which aired on Thursday games only.
Deion Sanders Total Net Worth
Deion Sanders succeeded and excelled in two professional sports. He played both in the World Series and in the Super Bowl.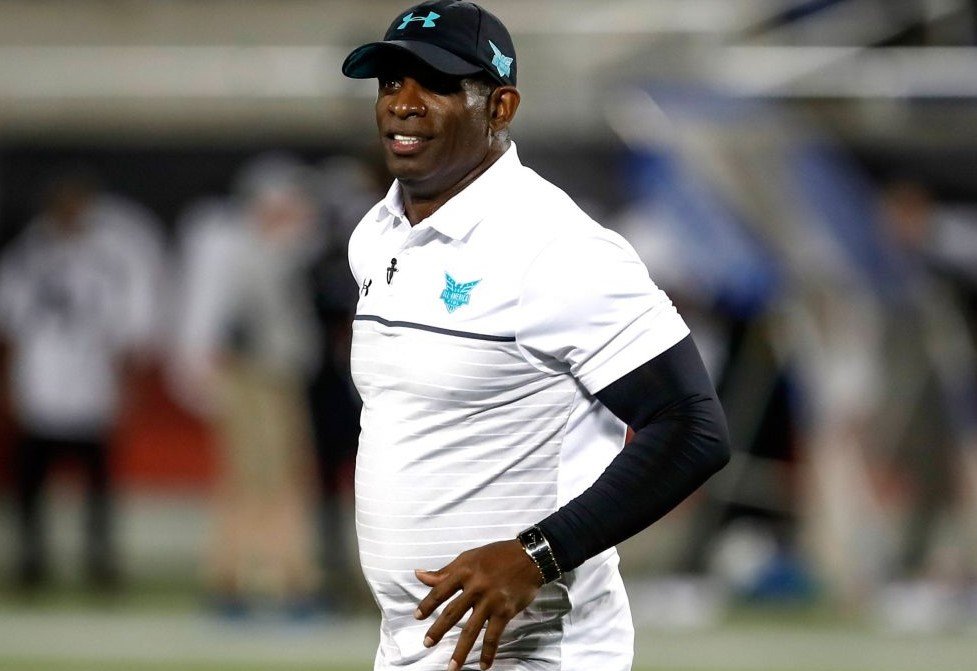 His estimated earnings in his football career from 1989 to 2004 are around $45 million and in his baseball career from 1991 to 2000, he has estimated earnings of around $13 million. Sanders also has other business ventures which added to his fortune.
He is one of the versatile and gifted athletes in sporting history, has careers in football and baseball. His net worth has amounted to about $40 million.