Daymond John, an American fashion designer, businessman, television personality, and Author, was born on 23rd February 1969 in Brooklyn, New York City. He grew up in Hollis. His net worth as of 2021 stands at $350 million sourced from different engagements. How did he get to this point? Let's read!
Personal Information
Net worth: $350 Million
Full Name: Daymond Garfield John
Date of Birth: 23rd February 1969
Place of Birth: Brooklyn, New York City
Nationality: American
Age: 52
Education: University City High School
Occupation: Fashion designer, Businessman, Television Personality, Motivational Speaker, and Author
Marital Status: Married
Wife: Heather Taras
No. of Children: 3
Early Life and Education of Daymond John
Daymond John was born on 23rd February 1969 in Brooklyn, New York City as a son to Margot and Garfield John. His parents divorced at his tender age, and he had to start working to support his family at the age of 10 years. His job at this point was handing out flyers, where he used to earn $2 per hour. 
He later secured a full-time work program while in high school, and he had to attend his job and have his school work sorted during his free time from work. On his graduation, Daymond John worked as a waiter at Red Lobster, where he was able to start a commuter van service.
Daymond John did not get a chance to attend a college education. He had to pursue his quest to help the family that saw him become the president and CEO of the clothing company FUBU.
Career of Daymond John
Daymond John's career started when he became the president and CEO of FUBU, a clothing company, when he was 20 years old. FUBU stands for "For Us By Us." that he used to run from his mother's house in Queens, where he was brought up.
Since he adored fashion and hip-hop, his customers mainly comprised of young male urban customers. He later learned the sewing techniques from his mother, who later allowed him to take over the house to run his business.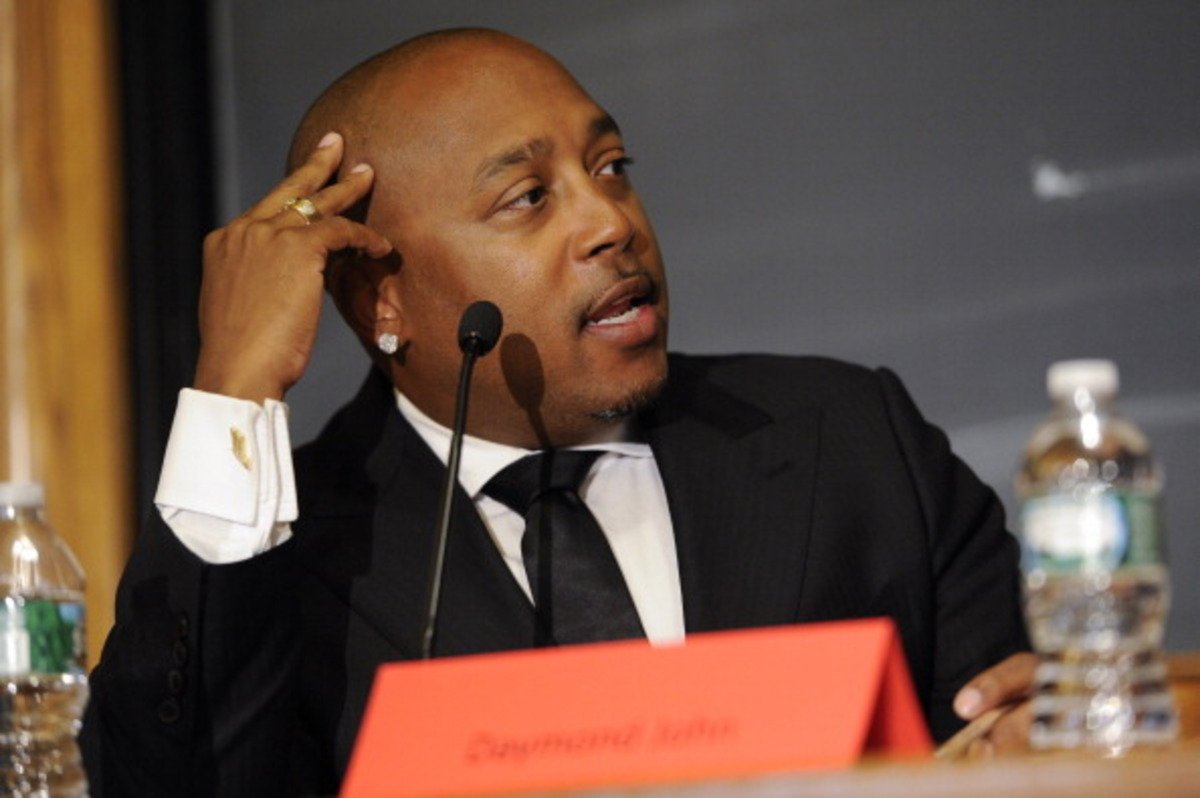 Since Daymond John needed capital to boost his business idea. His mother mortgaged her house to raise $100,000 and gave the sum to Daymond John as startup capital. At this time, Daymond John continued working as a full-time employee at the Red Lobster in order to keep funding his growing business.
Daymond John's first project was to sew knock-off wool ski hats. He, with his neighbor Carton Brown managed to sew 90 hats that they priced at $20 per piece but sold them at $10 and made around $800 from the project. They ventured into the next project and screen-printed T-shirts that they sold to the residents of their area.
More About Daymond
Daymond John and Carton Brown became business partners and recruited their friends J. Alexander Martin and Keith Perrin. Together they decided to design Sweatshirts, hockey jerseys, and T-shirts that all had a FUBU logo.
They later loaned some of their clothing items to rappers and music celebrities with the aim of receiving endorsements. In 1993, LL Cool, one of his neighborhood friends, agreed to wear a FUBU T-shirt as a promo campaign and a FUBU hat that instantly boosted their brand. 
In the early 90's he received $300,000 worth of orders that forced him to take a second mortgage on his mother's house to meet the requirements of the orders. Since Daymond John and his business partner Carton Brown were turned down by 27 banks. They had to use every investment they had to advertise with the New York Times that saw them sign a deal with Samsung Textiles.
After six years since FUBU's formation, it started generating an annual income of $350 million. Till now, FUBU has earned over $6 billion from its worldwide sales.
Other Daymond John's Sources of Wealth
Apart from FUBU, Daymond John is famous for his appearance in a television series "Shark Tank" as a judge from 2019. He has also invested over $8.5 million in the series.
He has also authored numerous books, including;
Display of Power

The Brand Within

The Power of Broke

Rise & Grind: Outperform, Outwork, and Outhustle Your Way to a More Successful and Rewarding Life.
Daymond John is also an executive producer of "The Crow: Wicked Prayer," a movie he produced in 2005. 
He is the founder and acts as the CEO of the Shark Group, which is a consulting and brand management firm.
He later in 2015, he co-founded Daymond John's success formula. This is a program that he put forward to guide young entrepreneurs on how to grow their business to greater heights.
Daymond John Personal life
He had the first marriage that left him with two daughters, Destiny and Yasmeen. He later married a second wife in 2018, and together they were blessed with a daughter whom they named Minka Jagger.
In 2017, stage II thyroid cancer was diagnosed in him, but the tumor was successfully removed through surgery.
Daymond John's Net Worth
As of 2021, Daymond John's net worth stands at $350 Million.