Making sure your drains are clear can be an overlooked aspect of home maintenance by some homeowners. If you notice when you use your showers, sinks, and the water is not going down it may be time to clean your drains.  There are a lot of common culprits of drain clogging that we can overlook in our daily lives. Depending on what is clogging your drains there are a variety of ways to clear them out.
I would like to address a few of the most common ways our drains get clogged and the best ways to address each specific problem.
Hair:
Hair is one of the more common sources of clogged drains. Hair does not degrade easily so it is very common that it gets stuck to the sides of your pipes and causes clogging. Hair is one of the main culprits for clogging bathroom sinks, showers, and tubs. Once it begins to pile up you will notice slow water flow or even complete blockage.
A simple fix for this issue is installing a hair catcher on your tub/shower drain. These hair catchers or hair screens for your bathroom will help us protect our drains by collecting hair before it goes down and makes it much easier to clean regularly. Having good practices of ensuring minimal amounts of hair go into your drain will save you time and money in the long run.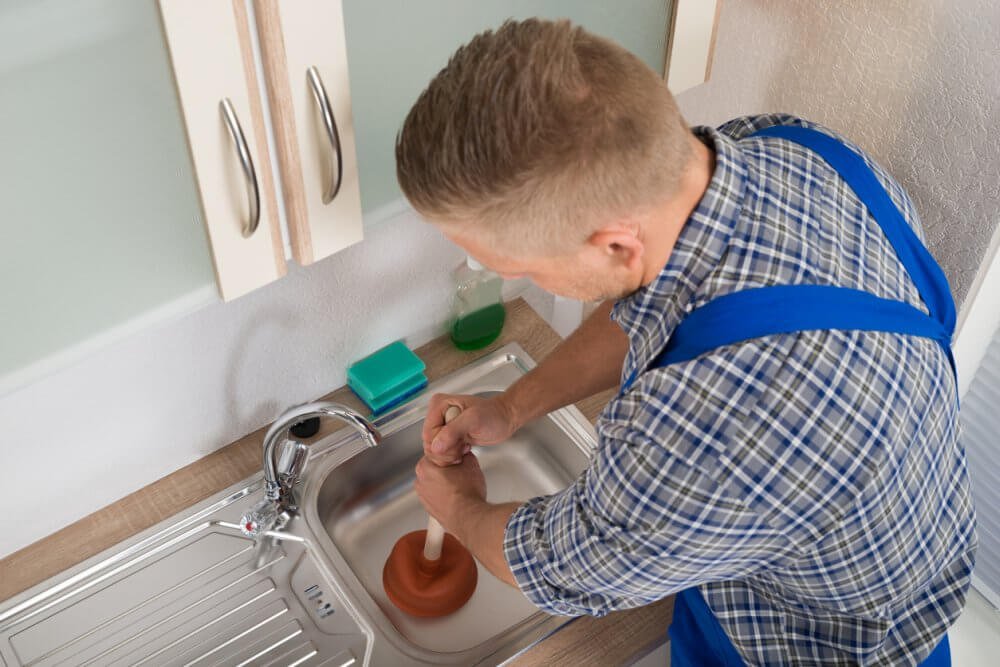 Common Problematic Foods:
You may think the garbage disposal will deal with everything you throw at it, but this is not the case. Certain foods are not as easy to break down so they can build up and cause your drains to clog. It is important to make sure you are conscious of what you put down your garbage disposal.
There are a few foods that will damage your drains that are more common than others. Pasta, rice, and flour may seem harmless before they go into your sink, but it is once they get into the disposal/drain that they begin to do damage. They will expand, stick, and combine to block whatever else is coming down the drains after it.
Other items like eggshells, pasta, asparagus, celery, and chia seeds are some of the other common problematic foods.
It is also important to note that putting bones or fruit pits down the drain can cause serious damage. You may think the disposal will get them, but they will just shake around the blade until they eventually go down the drain and cause serious blockages.
To ensure unwanted items are not going into your drains you can add baskets and strainers to your sink that will catch food scraps so you can control what does and does not go through your disposal.
Education is also crucial for preventing food-related drain clogging. As a homeowner/renter, it is important to educate yourself on what you can and cannot put down at your disposal. Negligence will cost you time and money that can easily be saved by simple google searches.
Grease:
When grease goes down the drain it can stick to pipes like tar. You may pour it down as a liquid, but soon after it will cool and solidify in your pipes. Any type of grease should not be put down in the garbage disposal at all costs. To fix the damage of grease in your pipes is time-consuming and expensive. It is also important to note that you should use rags to clean up grease from dishes. That grease will end up in the sewer one way or another so it is best to avoid it completely.
Cleaning grease out of your pipes requires your drains to be cleaned by Hydro-jetting. This is an expensive and time-consuming process that can be avoided by smart practice. The best way to clean up leftover grease is to let it cool after cooking and pour it into a disposable container so it can be easily disposed of in your trash can.
Roots:
Tree roots are a common cause of the main sewage lines on the property backing up. Tree roots can slip into the lines and cause clogging, They can either grow into a previously separated line or cause the break themselves. Small breaks, as little as an inch, in your line can be the source of serious problems.
It is important to perform regular maintenance on your sewer line and make sure landscaping is done above where your main sewer line is located. This issue can best be prevented by planning ahead when landscaping. Making sure no trees will be in the vicinity of the main sewage line is a preventative measure that is worth taking.
Wrap-Up
While there are products we can buy to help with day-to-day prevention, The best fix for common drain problems is education. Staying educated and being careful about what you do and do not put down your drains will save you time and money dealing with clog