Chief Keef born Keith Farelle Cozart, is an American professional rapper, singer, songwriter, and music producer. He is also known as Sosa.
Personal Details
Stage Name: Chief Keef
Full Name: Keith Farelle Cozart
Gender: Male
Birthday: August 15, 1995
Place of Origin: Chicago, Illinois, U.S.
Age: 25
Height: 6'0"
Nationality: American
Sexual Orientation: Straight male
Status: Single
Spouse: none
Profession: Professional rapper, singer, songwriter, music producer
Total Net Worth: $1 million
Personal Life
Chief Keef was born on August 15, 1995, to a 15-year-old Lolita Carter in Chicago, Illinois. His father is Alfonso Cozart. He has been estranged from his father.  His parents are not married. His legal guardian was his grandmother.
His name was from his uncle, Keith Carter, known as "Big Keef", who died. Chief Keef grew up on the South Side of Chicago which was a stronghold for the Black Disciples street gang. Keef was a member of the gang.
He attended a therapeutic day school at Dulles Elementary School and the Banner School, in his childhood years. Chief Keef began creating his own raps at the age of 5 using the karaoke machine of his grandmother and he recorded his rap with cassette tapes. By the age of 15, Chief Keef dropped out of high school at Dyett High School.
Chief Keef has 4 children. He had his first daughter at the age of 16, named Kayden Kash Cozart. Keef was requested to pay for child support by the mother of the child. He had another daughter in November 2013 because of DNA documents revealing he is the father and was requested to start paying for child support.
Keef announced his third child in September 2014, a son, named Kru Karter Cozart. Then, in May 2015, another woman claimed that he is the father of her child.
He caused a controversial issue for naming his son "FilmOn Dot Com", in August 2015. The name was inspired by his record label and in an effort to promote the label as well, FilmOn Music. Chief Keef struggled with child support claims in court.
Over the course of his career, he has faced and struggled with financial issues and legal issues. He has been evicted from rental properties for unpaid rent. He served time in juvenile detention.
He was placed several times under house arrest for legal issues such as he was charged with assaulting a police officer when he was 16 years old. By the age of 17, He was investigated for being connected possibly with the death of the fellow rapper, Joseph Coleman a.k.a Lil JoJo.
He was arrested for driving under the influence of marijuana, smoking marijuana in public, driving with a suspended license, speed driving, and violating parole. He was sued for missing a performance by promotion company Team Major. Also, he was sued by Kim Productions for missing a performance. 
Chief Keef's musical style has been influential in the Hip-hop world for his style and for his gangster image. His mumble rap style has influenced a large number of modern artists like Young Thug, 21 Savage, YoungBoy Never Broke Again, Lil Pump, XXXTentatcion, and other rap artists.
Career
As a 16-year-old, he gained his fame with his mixtapes, "The Glory Road" and "Bang". During his house arrest, he uploaded his tracks on his Youtube account. His track entitled "I Don't Like" became a major hit and it started the new rap "Drill" subgenre of rap music.
Kanye West remixed "I Don't Like" with Jadakiss, Big Sean, and Pusha T and it was a stepping stone of Chief Keef to higher notoriety. He then became a sought-after artist with numerous music record labels. Keef signed with Interscope Records and released his debut studio album entitled "Finally Rich".
With Interscope Records, he was offered a good contract with the three-album dead amounting to more than $6 million US dollars. Interscope paid Keef in advance with $440,000.00 US dollars. Keef also was paid $300,000 by Interscope to cover recording expenses for the track Finally Rich commercial version. For his record label, Glory Boyz Entertainment, Keef also received a $180,000.00 advance payment, plus $200,000.00 for the overhead expenses of his record label.
Yet, there was an agreement in the deal with Interscope Records that if the track Finally Rich did not sell up to 250,000 copies then Interscope will cancel the deal. Unfortunately, the album has only sold up to 150,000 copies. Interscope Records dropped Keef in 2014 officially.
Glory Boyz Entertainment has signed rappers such as Lil Reese, Fredo Santana, and Young Chop. The label was not functioning well as it had only released mixtapes. After Keef's album "Finally Rich" was released, Glory Boyz was set to release an album by Lil Reese.
Though, on January 3, 2014, Keef has announced that he was starting a new record label called Glo Gang and its members were Chief Keef, Tray Savage, Capo, Tadoe, Ballout, Justo, and Blood Money. Tray Savage, Fredo Santana, Capo, Blood Money all died. The current artists of Glo Gang are Chief Keef, Ballout, Tadoe, Lil Flash, Benji Flo, and JusGlo.
In 2012, he had his major hit song entitled "Love Sosa". In the next year 2013, Chief Keef released the track "Hold my Liquor" in which he collaborated with Kanye West. Keef also released two mixtapes which generated large negative responses from music critics. Keef then explained that it was because of the drug addiction that the tracks were lacking quality. 
Chief Keef has been releasing fewer mixtapes or tracks over the next few years. Yet, he continued to do a collaboration with famous artists.
Chief Keef Total Net Worth
The American professional rapper, singer, songwriter, and music producer has a net worth amounting to $1million.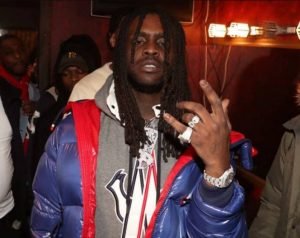 Chief Keef's music career has made an impact and highly influential on the hip-hop scene. He has been credited for being the pioneer in mumble rap and drill which are sub-genres of rap music.