Bulova Corporation has a long and fascinating history. Joseph Bulova, a 23-year-old immigrant from Bohemia, founded the company in 1875. J. Bulova, his jewelry store in Lower Manhattan, garnered a reputation for quality, advancement, technique, and creativity.
Bulova began manufacturing and selling clocks and pocket watches in unprecedented quantities. Bulova established his first plant in Bienne, Switzerland, to meet demand in America. The plant was dedicated to the production of all watch components. The jeweled movements were mass-produced on an assembly line, allowing for industry-first standardization.
Bulova now has several brands and collections. Precisionist, Mechanical, Bangle, Marine Star, Diamond, Adventurer, Dress, and Speciality are the basic Bulova series. Bulova has had many famous ambassadors throughout its history. Here's a list of some of the finest Bulova watches.
Bulova Precisionist Champlain Watch
One of the finest Bulova watches is the Precisionist Champlain model. The innovative Bulova Precisionist Champlain watch for men is a flagship model of the Bulova Precisionist luxury watches, and it is currently the most precise watch with a sweeping second hand available in the world.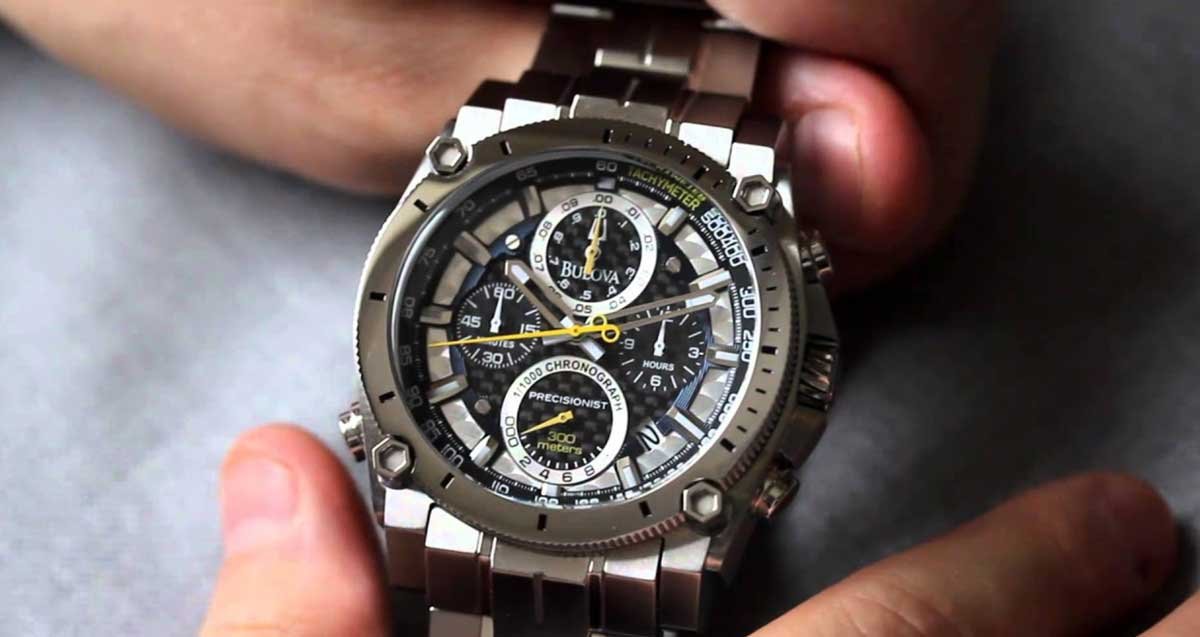 This exciting watch with enhanced features is also the timepiece with the highest vibrational frequency. It vibrates at a frequency of 262.144 kHz, which reduces the negative effects of temperature changes and allows the Bulova Precisionist to have unrivaled accuracy when compared to other quartz watches.
While most comparable products are accurate to 15 seconds per month, the superb Precisionist is accurate to 10 seconds per year. The quartz Precisionist Bulova caliber P102.10 movement is used in this fine watch. The Bulova Precisionist brand's flagship model combines superior technology with an incredible and smart design. Its intricate and stylish black carbon fiber dial has multiple levels and patterns. This easily readable dial is shielded by a tough curved mineral.
Bulova Dress Dual-Time Sunray Watch
The exquisite Bulova Dress Dual-Time has an exceptional design and advanced specifications. Sunray Dial Men's Watch 96B110 is an exceptional timepiece that is appropriate for any formal occasion. It is a magnificent accessory that exudes charm and success. This amazing timepiece has an ice-cold silver appearance and is part of the Bulova formal Dress collection.
It has a stainless steel circular case (39 mm in diameter and 10 mm in width). Its eye-catching analog face is shielded by a long-lasting curved mineral. It has an adorable silver-white Sunray pattern dial with black accents and makes an immediate impression. Bulova has included a dependable Japanese quartz movement in this exquisitely designed watch to ensure accuracy and reliability. The Bulova Dress Sunray Watch is ideal for the business world, but it can also be worn to the beach because of its water resistance to 30 meters.
Bulova Mechanical Square Skeleton Dial Watch
The endearing Bulova Mechanical Automatic Square Watch for Gentleman is a true work of design and watchmaking ingenuity. It is an undeniably eye-catching wristwatch of the highest quality that simply exudes style and prestige. This creative Bulova men's wristwatch is part of the Mechanical collection, which includes appealing timepieces with mechanical movements. This commendable watch features an intriguing blocky case that is a combination of high-end design and quality manufacturing.
The distinct and unique square case measures 38 mm in width and 12.8 mm in thickness. It has an incredible and visually appealing dial with an exhibition window that displays its reliable Japanese mechanical automatic movement with 21 jewels. There are additional dot-shaped hour markers, as well as three screw details at 10, 6, and 2 o'clock. Its captivating dial is finished with leaf-shaped luminous hour and minute hands, as well as a sweeping second hand. Water-resistant to 50 meters, the Bulova Mechanical Precisionist Skeleton Dial Square Watch is made of stainless steel.
Bulova Crystal Men's Watch
The gleaming Bulova Crystal Men's Watch 98C103, boldly crafted, transforms any outfit into a daring fashion statement. This gleaming men's wristwatch from the Bulova Crystal collection features 178 individually hand-set gleaming Swarovski crystals. This Bulova Crystal Watch has three subdials on its stunning sparkly web-textured silver-white dial. The subdial at three o'clock shows the time in 24-hour format (military time), while a subdial at twelve o'clock displays the day of the month.
Another fantastic feature is a neat retrograde display for the days of the week, which is located between six and three o'clock. The case measures 43 mm in width and 11.4 mm in thickness. This timepiece from the Bulova Crystal line also has a stationary bezel made of black-tone stainless steel.
Each even number is represented by white Arabic numerals on the bezel, while the odds are represented by crystals. Such a fine Bulova watch is also water-resistant to a depth of 30 meters. A Japanese quartz movement powers the wristwatch and ensures accuracy inside its gleaming case. The silver bracelet with black accents on the watch fastens with a deployment buckle.
Takeaway
Bulova, as one of the world's largest and longest-running watch brands, has gained widespread recognition in its industry. Throughout its history, it has frequently set the standard and launched innovations that other watchmakers strive to match. Bulova has a spectacular reputation for producing timepieces that are accurate, stylish, and long-lasting.