Becoming parents is a new chapter in a couple's life when they are blessed with a new little cuddly member. No other joy in the universe can replace those teary eyes filled with happiness by seeing one's future who in the future will lead the family forward. If you are blessed with a baby boy, then it indeed becomes a reason to celebrate the baby shower party with close relatives and friends. Now other than the celebration comes the main important thing which is naming your baby boy. And browsing several names and narrowing down selected ones seems like a big task.
If you are searching for a name starting with K for your baby boy, then let us help you in streamlining the unique names with this alphabetical letter. There are many names that you can choose from the huge list of baby boy names. You might have been searching for a special name that does not sound common with others. If that is the case, then stay abreast with this article till the end. This given list will range names from classic to contemporary and other references.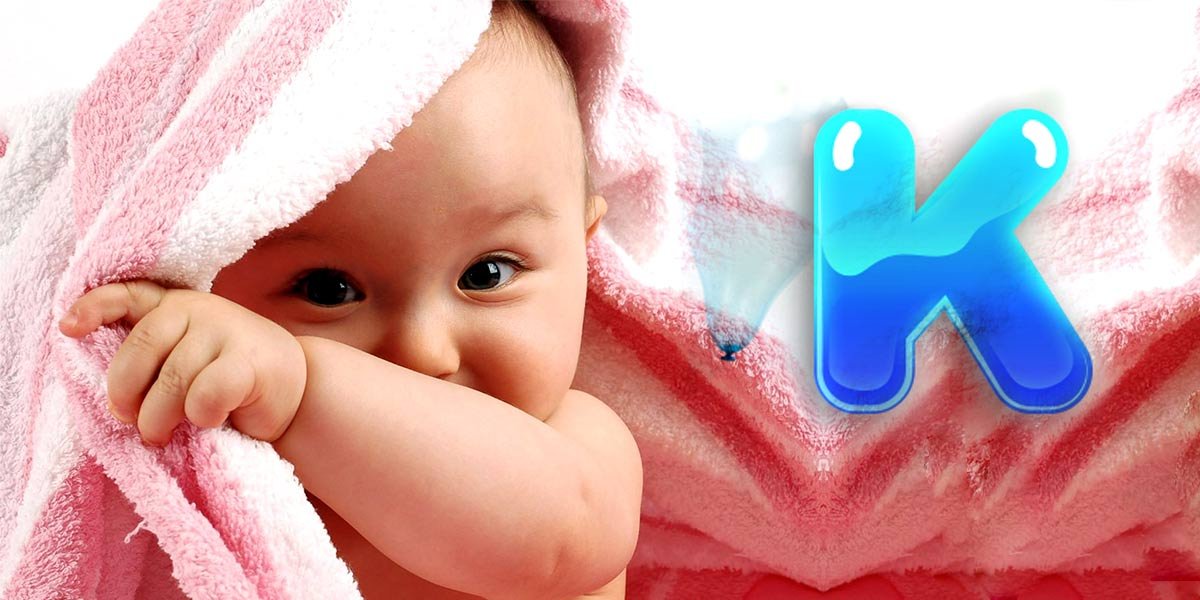 When it comes to naming your baby boy, then people have different preferences regarding it. Some might go for those names that no one has even imagined, whereas some may feel like naming their boys with a popular reference from classic to contemporary culture, an entity, celebrity, nature, religion, personal traits, and worldwide. Every parent would love to see their boys called with a special name by people around them. So let us begin our exploration. 
Kevin
If you are curious to name your baby boy with a wonderful name starting with K, then Kevin is one of the classic names you can refer to. It is an Irish name that means handsome. So if your baby boy appears too attractive with sharp features, then the name Kevin will suit him.
Keane
Another classic name that starts with the alphabet K is Keane. Other than Kevin this also sounds better for your baby boy name. It is an old English name that means brave and wise. This name is still very popular among boys. Parents still love preferring this name for their boys. 
Kai
Kai comes as the next chosen name for boys. This origin Hawaiian name means ocean. In Chinese, it has a different meaning which is victory. Other than that, Kai is the name of one of the Knights in the reign of King Arthur. So who would not like to have a kingly name for their boy?
Kingsley
Kingsley is an old English name that means King's meadow. It is the name of a popular novelist named Kingsley Amis. Besides this, there is also a fictional character in the Harry Potter series, called Kingsley Shacklebolt. Adding one more example is Ben Kingsley, an award-winning veteran actor from America who played the legendary role of Mahatma Gandhi in the movie Gandhi. Even though his name starts with Ben, you can refer to the surname as the first name of your baby boy. 
Keanu
Doesn't this name sound familiar? This Hawaiian name is of a very tall handsome actor from Hollywood cinema. You must have seen him in movies like Matrix, John Wick, Replicas, Sweet November, Hardball, and others. Yes, he is Keanu Reeves. As we all know people get fascinated with the lives of celebrities and their choices. So don't you think it would be a suitable name for your baby boy? Of course yes. 
Kendrick
After Keanu, Kendrick is also one of the popular names that begin with K. It is an old English origin name that means powerful ruler. And like we mentioned Keanu Reeves above, this name also resembles a famed American rapper, songwriter, and record producer Kendrick Lamar. 
The 34-year-old rapper made his debut with Good Kid, M.A.A.D City, and became one of the noted rappers among the young generation. In 2016, his name came in the Time magazine under the list of 100 most influential people in the world. So this comes as another best celebrity-famed name choice for your baby boy. 
Kent
Kent is another very catchy short name that will suit your baby boy's name. Well, this is also a very popular name of one of the heroes. Any guesses? If you are a DC comics fan, then you will understand. Yes, I am talking about Superman. Kent is the alter ego name of this popular red-caped blue superhero. Even though the full name of his spectacled character is Clark Kent, you can name your child Kent. 
Krishna
Coming on to the next is a lovely, crispy, and one of the most catchy divine names, Krishna. The name means all attractive, black, and dark. This auspicious Sanskrit-Hindu origin god name is inspired by the glorious eighth avatar of Lord Vishnu. The dark handsome god is not only popular in India but also in western countries. So you can make a better choice in naming your naughty little boy, Krishna. You can even crop it to Kris, to make it a more catchy name. 
Kane
If you are searching for more short catchy names for your baby boy, then it is Kane. The meaning of this name is battle. In Japanese culture, it has a different meaning which is golden. Now again this name would remind you of a popular figure in wrestling sports. Yes, he is the tall red masked WWE wrestler Kane, also popular with the name 'The Big Red Machine' in World Wrestling Entertainment. 
Conclusion
So these are all the top attractive names starting with K. You can refer to any of these names that would suit your baby boy. The names Keanu, Kingsley, Kane, Kendrick are some of the best choices you can make with K names. There are famous personalities with these names including Keannu Reeves, Ben Kingsley, Kendrick Lamar, and WWE champion Kane. Other than that you can refer to names like Krishna, origin from Sanskrit and Hindu mythology. Names like Kevin, Kai, and Keane are forever popular.