Other than usual television sitcoms, even animated sitcoms have been successful in gripping the interest of viewers. To name one big example is BoJack Horseman. It is the longest streaming situational comedy show on Netflix. The man who is behind the creation of the comedy-drama series Undone on Amazon is the creator of the BoJack Horseman sitcom. He is Raphael Waksberg. 
Raphael has been the executive producer of Tuca & Bertie, an adult, dark comedy series that aired for a short time. The horse character BoJack is known to be the mainstream character of it. He is shown as self-loathing and self-concerned. He is also much into drinking alcohol most of the time. 
Well, if you think all the animated sitcoms are meant for kids viewing, then rethink it. BoJack Horseman is that example. The reason why I am saying this is because it is an adult animated series that covers a realistic portrayal of adult elements like sex, depression, alcoholism, trauma, self-harming, and the condition of a human. So parental guidance is a must here.  
BoJack Horseman has been the greatest animated sitcom of all time. Now after the end of season 6, viewers are inquisitive in expecting the release of season 7 of this American sitcom. So let us find out in this article whether the new installment is going to take place or is canceled by its makers.
Show Details
| | |
| --- | --- |
| TV Series: | BoJack Horseman |
| Genre: | Adult animation, Animated sitcom, Tragicomedy, Black comedy, Surreal humor, Comedy-drama & Satire |
| Created by:  | Raphael Bob-Waksberg |
| Voice overs: | Will Arnett, Amy Sedaris, Alison Brie, Paul F. Tompkins & Aaron Paul |
| Place Of Origin: | United States |
| Composer: | Jesse Novak |
| Original language: | English |
| Number of seasons: | 6 |
| Number of episodes: | 77 |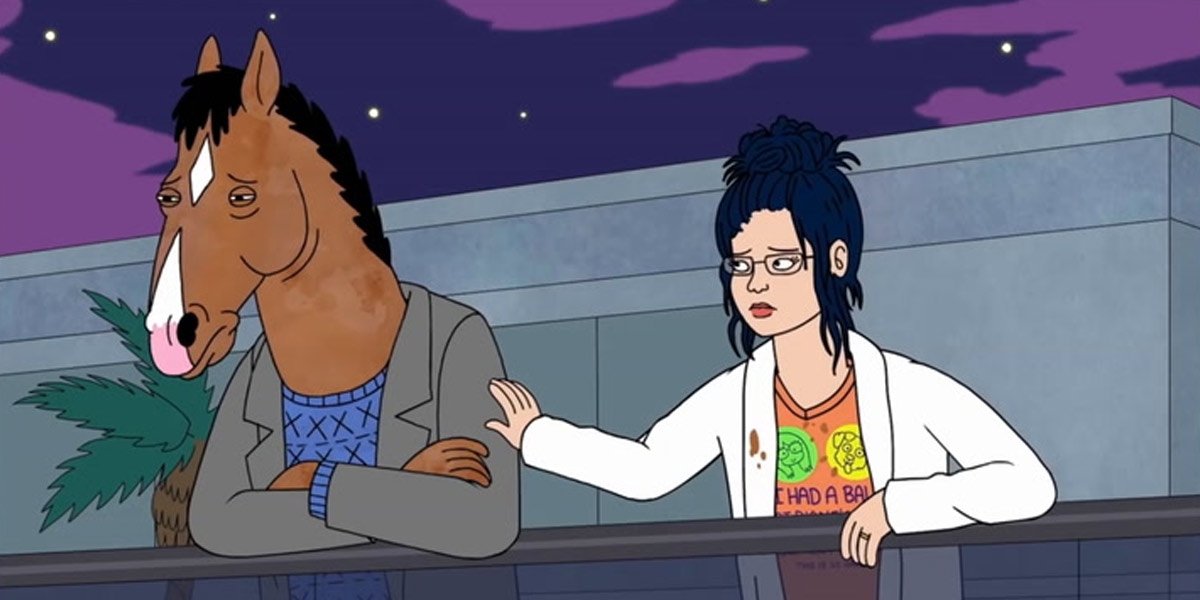 Story plot
BoJack Horseman is an animated sitcom that comes with an interesting storyline. It shows a world where both humans and anthropomorphic species live together in Hollywood Hills. The story centers around a young unmarried horse who raises three human orphans. BoJack had been a star in Horsin Around during the 90s. 
Now to get more fame, BoJack wishes to have an autobiography written on him. He also has to adhere to the chain of demands of Princess Carolyn, who is his agent and girlfriend also. Todd Chavez is his freeloader roommate. Whereas, he has a friend cum rival in the form of Mr. Peanutbutter, a yellow Labrador Retriever. 
If you have watched this animated sitcom with great interest, then you might have watched its darkest fifth season, which highlights the struggle of BoJack horseman in bringing improvement to his self-harming nature. But life seems very cruel in foiling his progress. 
About some main characters
BoJack Horseman comes with an engaging storyline that binds viewers very well. And this defines the success of this animated sitcom. Now let us get to know some mainstream characters of it beginning with the leading one:
BoJack Horseman
BoJack is a self-loathing and self-centered drunkard horse who at present is in his 50s. He had been a star during the 90s when he starred in the Horsin Around sitcom. His acting career peaked during that time. But his days of fame turned bitter after that. 
He started living a depressed life and consumed excess alcohol. His insecurities and loneliness have played a major factor in pushing him towards a self-destructive attitude. Also, his selfish actions affect the others around him. 
Mr. Peanutbutter
A story becomes more interesting when there is a rival to the main character. Like Mr. Peanutbutter to the BoJack Horseman. He is a chill-out yellow labrador who had been a sitcom rival of BoJack. Like the latter was a star in his 'Horsin Around', Mr. Peanutbutter was the same in 'Mr. Peanutbutter House'. 
According to BoJack, he rose to popularity because he took the idea from his 90s sitcom. Even though both lock horns with each other, still, Mr. Peanutbutter does praise his rival BoJack's opinion, and praises his performance in his 90s sitcom 'Horsin Around'.
Princess Carolyn
Princess Carolyn is a Persian cat who plays the role of the agent of BoJack. She had been with him as her former girlfriend for 3 seasons. Like BoJack, Carolyn is also seen struggling with her personal life. She is caring towards the horseman and her friends also. 
No matter how hectic and fast her life is, Carolyn knows how to enjoy it. Her life is not very pleasant as she had been through multiple miscarriages. In the fifth season, she finally gets success in adopting a porcupine after previous failed attempts. In the sixth season, Carolyn gets married to her loyal assistant, Judah. 
Recapping the sixth season of BoJack Horseman
After the post-90s fame of BoJack horseman, since he became a great star in 'Horsin Around', life became miserable for him. He started living in depression, leading a stressful life, self-destruction. After the near-death experience of Gina, his co-star, he finally takes the onus of his actions and gets himself admitted to the rehab center. 
And here the sixth season continues from there. The rehab in which he gets admitted with a hefty fee of $1,00,000. There he experiences several therapies and sessions on routine. And being foul-mouthed, BoJack does resist all these treatments. But we do see some positive changes to his personality. 
BoJack Horseman proved in becoming a critically acclaimed sitcom show garnering many responses from the viewers since the second half of season 1. The series is a satire of the entertainment world. It covers major health issues like depression, sexism, alcohol addiction, and self-harming and human behavior. All of these elements added more quality to the series that made it a huge success. 
7th season of BoJack Horseman: Is it coming or canceled?
The sixth season of BoJack Horseman came two years ago on 25th October. So will it once again make a comeback for its seventh season or not is the main question among the fans. Well, sorry for giving you bad news, the seventh season is not going to happen because it is officially canceled by Netflix, not its makers. According to the network, the sixth season was the final season of the animated sitcom that reached its end perfectly.