Birdman was born as Bryan Christopher Williams. He is an American rapper, songwriter, record executive, and entrepreneur. He is also known as Baby, B-32, Baby with The 32 Golds, Stunna, Beatrice, Bubba, and Atrice. 
Personal Details
Stage Name: Birdman
Full Name: Bryan Christopher Williams
Gender: Male
Birthday: February 15, 1969
Place of Origin: Louisiana, United States
Age: 51 Years Old
Height: 5'10"
Nationality: American
Sexual Orientation: Straight Male
Status: Married
Spouse: Toni Braxton
Profession: Rap Artist, Musician, Entrepreneur, and Record Producer
Total Net Worth: $100 million US Dollars
Personal Life
Bryan Christopher Williams was born on the 15th of February 1969 at New Orleans, Louisiana, U.S., to Johnnie Williams and Gladys Brooks.
Birdman's father owned small businesses in New Orleans. Johnnie died in a car accident in 1996. Birdman's mother, Gladys Brooks, died when Birdman was just 5 years old due to illness. 
Birdman has three siblings- Kim, Ronald, and Ray. After the death of their mother Gladys, Birdman and his siblings went to live in Prince George, British Columbia, Canada with their uncle for a few years.
They moved back to New Orleans in which they had to be in foster care. Their father, Johnnie, after learning of the whereabouts of his children launched a lawsuit to fight for custody to get them.
In the mid 1970s, Johnnie and his wife Patricia won full custody of the children after a long legal battle. Birdman and his siblings went to live with his father and stepmother in Magnolia Projects, New Orleans. 
Birdman has a total of 10 brothers and 12 sisters. He was close with his step-brother, Eldrick Wise. It was in Magnolia Projects, when Birdman moved in with his father  and stepmother, where he got close with his stepbrother.
As teenagers, Birdman and Wise got in trouble while living in Magnolia, such as committing robberies and selling heroin.
At 16 years old, both teenagers were arrested. They were arrested again at 18 for drug possession and were sentenced to three years in a correctional center. Birdman served for 18 months and then eventually was acquitted of all charges. 
Eldrick Wise died in an unsolved murder in 1991. One of Birdman's sisters, Tamara, whom he raised and referred to as his daughter when their mother died, was killed in a car accident in 2006.
Birdman has two children. Bryan Jr., who was born in 1997 and Bria in 1998. Birdman got engaged to R&B singer Toni Braxton in 2020.
Career
Music
After Birdman's release from prison, he and his brother "Slim" noticed the merging bounce sub-genre of hip-hop, a sound that quickly became popular in all nightclubs in New Orleans.
It was in 1992 that Birdman came up with the idea of forming their own label and named "Cash Money Records". Both brothers would go from nightclubs to nightclubs in search for artists to sign with their label.
The first artist they signed was the rapper Kilo G. The rapper's horrorcore album entitled 'The Sleepwalker' was the label's first project and was released in 1992.
Birdman and Slim went on to recruit more artists and Birdman eventually convinced his friend, DJ Mannie Fresh, to be the in-house producer for Cash Money Records".
In the mid 1990's, Cash Money Record became one the most popular independent record labels in the south. Birdman was introduced to Dwayne Carter, a local 12 year old boy better known as Lil'Wayne.
Despite the popularity of the label, it has encountered setbacks due to financial issues and the deaths of the artists Kilo G, Pimp Daddy, and Yella Boy in the 1990.
Cash Flow then recruited Turk and Juvenile. Lil'Wayne and B.G (Christopher Dorsey) together with Turk and Juvenile were placed together to form a new group called the Hot Boys.
Then, in 1998, with the Hot Boys taking the label to new heights, Cash Money was able to sign a $30 million US Dollars deal with Universal Records.
1998 was also the year Birdman got in rapping. He formed a group with his friend DJ Mannie Fresh called the Big Tymers.
After the departure of B.G. and Juvenile, Birdman turned to his solo work. In November 2002, Birdman released his major-label debut entitled 'Simply Birdman' which peaked on the Billboard 200 at #24.
In 2005, Birdman released his second album entitled 'Fast Money' and debuted on the Billboard 200 at #9. Lil'Wayne was the label's biggest artist. In 2004, Lil'Wayne released Tha Carter and was successful critically and commercially.
In the history of Hip hop music, Cash Money is the most successful label with 50 million records sold.
Clothing Line
On April 27, 2016, Birdman launched his merchandise line, called 'Respek'. The line features a catchphrase from where he did an outburst during his interview in The Breakfast Club radio show.
Oil Business
Birdman and his brother Ronald "Slim" launched an oil and energy venture, Bronald Oil and Gas, LLC. The name Bronald is a combination of both the brothers' names. The goal of the business is to explore and develop oil resources. Yet, it is unclear if it was successful.
Awards and Nominations
He was nominated in 2003 for Best Male Hip-Hop Artist by BET Awards, 2007 for Viewer's Choice by BET Awards, 2007 for Best Collabo, Duo Or Group by BET Hip Hop Award, 2007 for People's Champ by BET Hip Hop Award, 2008 for Best Collabo, Duo, Or Group by BET Hip Hop Award, and 2008 for Best Hip Hop Video by BET Hip Hop Award.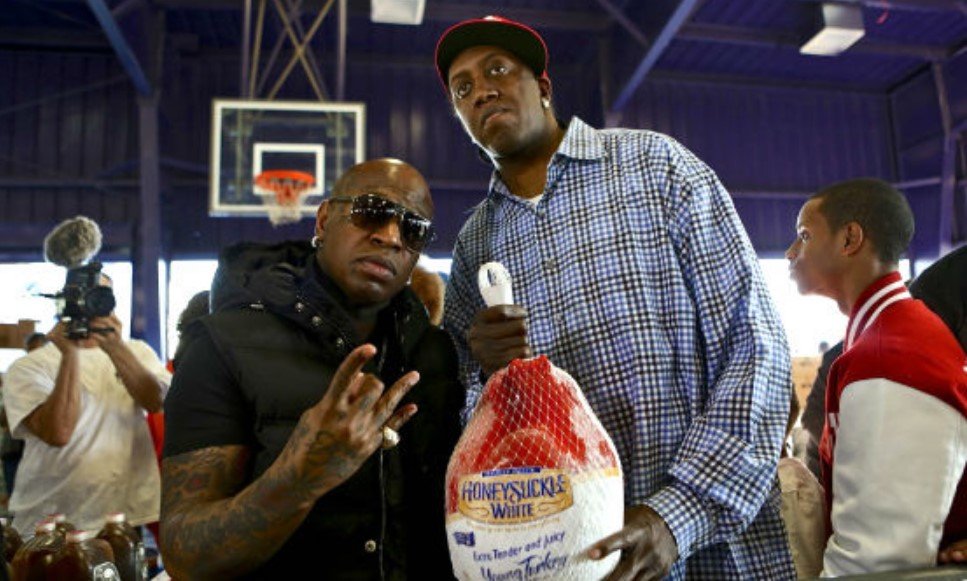 He received recognition and won awards in 2008 Best Collabo, Duo, Or Group by BET Hip Hop Award, 2007 People's Champ by BET Hip Hop Award, and 2007 Viewer's Choice by BET Award. 
Birdman total net worth
Birdman is one of the most influential figures in the history of rap since the late '90s. He has become one of the biggest known rappers, producer, and entrepreneur in his generation. He has an estimated net worth of $100 million.