Animated series have been many favorites among kids and teens. There are so many to name. Well, there are animated shows that truly appeal to adults. One such is Big Mouth on Netflix. It covers the elements of puberty issues, sex, mental health, and frankness about the human body. 
All thanks to its creators Mark Levin, Jennifer Flackett, Nick Kroll, and Andrew Goldberg who curated the content of this adult animated series so nicely. Let us tell you Big Mouth is an award-winning show that revolves around characters including Nick, Andrew, and their friends in school. 
They all have their share of high and low moments in life in their grown-up stage. And it all becomes possible with their Hormone Monsters. Ever since the release of Big Mouth in 2017 on 29th September, the new age series has been applauded for its flawless portrayal of issues including mental health and sexuality. 
In the last fifth season, the animated series touches on other themes like love and hate correlated with relationships and individual personality. Now after the end of season 5, fans are becoming impatient to expect the speedy release of Big Mouth's sixth season. So is it going to come early or do we have to wait for more years? Let's find out in this article. 
Show Details
| | |
| --- | --- |
| TV Series: | Big Mouth |
| Genre: | Coming-of-age, Animated sitcom, Blue comedy, Musical, Surreal comedy |
| Created by:  | Andrew Goldberg,  Nick Kroll, Mark Levin, &  Jennifer Flackett |
| Distributor: | Netflix |
| Place Of Origin: | United States |
| Composer: | Mark Rivers |
| Original language: | English |
| Number of seasons: | 5 |
| Number of episodes: | 51 |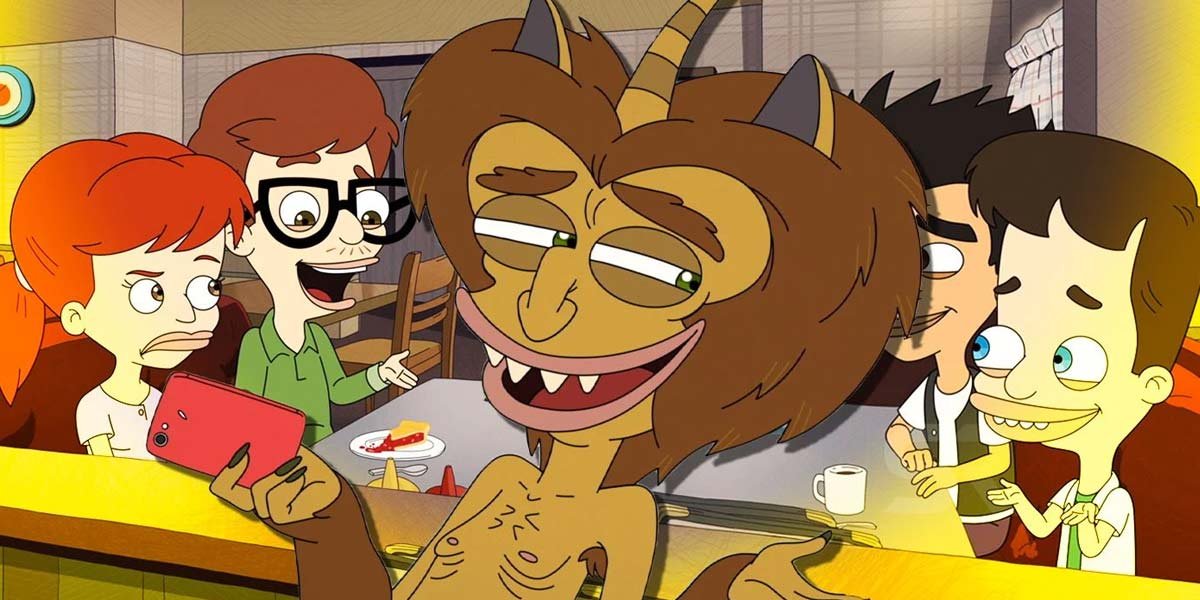 Story plot
The story of Big Mouth revolves around a group of teenage friends including Nick and Andrew living in the suburbs of NYC. They deal with the issues related to puberty and sexual health like masturbation and arousal of sexual desires. What is interesting to see in Big Mouth is the male and female hormone characters – Maurice and Connie. Both of them pester upon Nick, Andrew, Matthew, Missy, Mona, and Jessi.
These kids communicate with objects and people who guide them by providing help but at the same time, they give them misleading advice by referring to the Duke Ellington ghost, a pillow that can help in getting pregnant, Adderall bar, and even their own vulva of Jessi. All the kids struggle to seek their destiny but their puberty demolishes them mentally and physically. 
Some main characters of Big Mouth
Nick
Nick is one of the prominent characters in the adult animated sitcom Big Mouth. The adolescent boy lives with his parents. They shower ample love on him. But at the same time, they are also overprotective. Nick is not the only son of his parents. He has older siblings Judd and Leah (brother and sister). 
Throughout the series, Nick is seen struggling with his masculinity, security, and complete growth, as in comparison to his friends, his talent and potential are unseen to others. There are times when he becomes familiar with his emotions and also his physical health all because of the support he gets from his dear ones and some other figures. The voice of this character is done by Nick Kroll.
Andrew
Andrew is the next main character in Big Mouth adult animated sitcom series. He is shown as the best friend of Nick. Well, he has one weird habit of doing the handjob activity secretly. Andrew belongs to a dysfunctional Jewish family which is the annoying part for him. 
But Maurice the hormone monster helps him in his Puberty. In the fourth season of Big Mouth, he is shown bullying Nick due to which he got the name of 'soup'. Well, he might not seem bisexual, but if you see the first season, then he often gets attracted to male figures like Mr. Keating. 
Jay
Next is Jay. He is also into his teens and is shown as having an obsession with sex and magic also. He even made a pillow as a sex toy after having sex with it. In the second season, it shows Jay's mother allowing Coach Steve to experience a one-night stand with her. Like Nick, Jay is also younger than his two older siblings. The only difference is Nick has one elder sister, and Jay has both elder brothers who constantly bully him. 
In the second season of Big Mouth, it is shown that Jay plants a kiss on Matthew in a game of Smooch or Share. The sexual orientation of Matthew as gay is openly known by everyone. And now after a kissing session two times, Jay raises questions on his sexual orientation. It continues in the third season also, when at the end he discovers his bisexuality. 
Hormone Monster – Maurice
In the adult animated sitcom Big Mouth, hormone monster Maurice plays a big role in the lives of especially in the life of Andrew. He is the one who provokes him for his sexual desires occurring in unsuitable moments. Maurice is capable of communicating with other boys also. Other than Andrew, he is also a monster of Matthew, who is gay. 
Other Hormone Monsters – Rick & Connie
There are two other hormone monsters in Big Mouth. One is Connie who targets Nick, Jessy, and Messi. And another is Rick. He is an old hormone monster who even though not so functional still pesters Coach Steve and afterward he flocks on to Nick. When Steve's virginity gets lost, he becomes the hormone master Nick after his parting with Connie. 
When to expect the 6th season of Big Mouth?
The premiere of the fifth season of Big Mouth took place in the present year (2021) on 5th November on the network Netflix. It aired with 10 episodes running at 26-33 minutes. Now after its end, fans must be over-excited about the early release of the sixth season. 
Well, here comes the reason to cheer, there has been an announcement by Netflix regarding the renewal of the show's new season. From the first to the fifth season, Big Mouth has become a globally watched show. Its sixth season is likely to stream in 2022. The team is working on the story of season 6.