Are you one of the people who kill at a gaming arcade but get outsmarted by even the loser players at home? Has it ever happened that you killed your opponent in a gruesome battle in Fortnight but the score tells that you had gotten killed instead? If yes, then you, my friend, are plagued by continuous lag. Every gamer knows that the victory or defeat is determined by those critical split-second decisions and if your internet lags then that is it for you, as a gamer. The first recommendation for you is to replace your current internet service provider with a gaming-supported ISP like Spectrum, AT&T or Windstream. With a good ISP, your connection would be stabilized and the only thing you would then need is a good gaming router.
Having one of the best gaming routers is an unsaid promise to having a smooth and lag-free gaming experience. Great gaming routers reduce the amount of lag to a bare minimum even if the internet is being consumed by other devices in your home.
This article focuses on the best gaming routers of 2021 so that you can make a well-informed decision to better your online gaming sessions.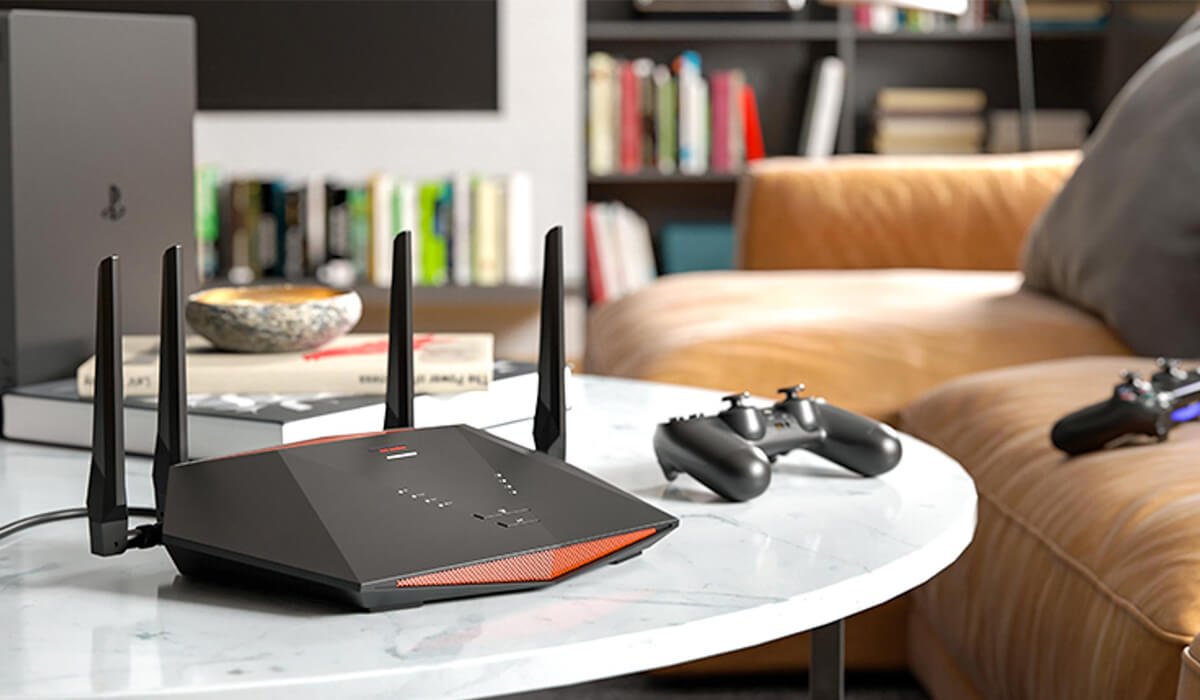 At A Glance
Asus RT-AC86U
TP-Link Archer AX6000
Asus RT-AC5300
D-Link DIR-867
D-link DIR-885L/R
Netgear Nighthawk Pro Gaming XR500
Linksys WRT32X
Asus ROG Rapture GT-AC2900
Asus RT-AC86U
Asus RT-AC86U can easily be declared the best gaming router of 2021. This wireless gaming router comes with a 1.8 gigahertz dual-core processor offering top-of-the-world performance and is currently being sold at only 180 USD. Asus RT-AC86U is accompanied by amazing application software and an easy to set up web control interface, alongside other very helpful features for connection optimization. The design of the device is in accordance with the gamers' preference.
Asus has now released its upgraded new version as well that supports faster Wi-Fi 6 speeds at only 250 USD.
TP-Link Archer AX6000
This Wi-Fi-equipped router is the fastest router we have across in 2021. Though it is not your conventional gaming router, as such, it drives with the lowest latency and works just as great as its gaming counterpart TP-Link Archer C5400X. Going with this router would also enable you to find help through the various worthwhile aspects of TP-Link's Tether application.
This device, although cost 300 USD but is a better fit if you want your gaming router to at least work for the next few years without having to replace it. It has great future-oriented features and is still better in price compared to the Wi-Fi 6 gaming routers that cost 400 USD or more.
Asus RT-AC5300
The Asus Rt-AC5300 is an amazing gaming router with high-end features. It has a powerful but easy to use interface as well as wide-ranging QoS settings. Asus RT-AC5300 comes with the right antennae giving it an excellent range that helps to direct the reach of your Wi-Fi signal throughout the home.
The device also features MU – MIMO support, traffic analyzer, link aggregation, and WPS. The only downside that we can think of, for this one-of-a-kind device is its single USB 3.0 port.
D-Link DIR-867
If you are working on a budget, D-Link DIR-867 is the device for you. It is one of the most inexpensive gaming routers making the list with a price lesser than 120 USD. For a price this less, it works surprisingly well and boasts great average speeds on the 2.4 gigahertz band. It beats some of the pricier routers on speed, it even holds ground on 5 gigahertz bands.
DIR-867 includes a quality of service engine that allows you to prioritize your gaming traffic above other types of network generated traffic. This is the best option for all those who don't want to burn a hole in their pockets and are happy with the basic functioning and great speeds.
D-link DIR-885L/R
This gaming router can be termed as the best all-rounder router. DIR-885L/R possesses the best mid-ranging features and has great speed and range to its credit. It performs very well and comes with a sufficient range of ports and a very well designed interface. Flaunting DD-WRT open-source firmware, this router is also resourceful as it is powerful.
Its best features include SmartConnect, advanced wireless AC beamforming, and MU-MIMO.
Netgear Nighthawk Pro Gaming XR500
The XR500 was designed for optimal gaming on a wireless network by Netgear. The AC2600 router can support up to 800 Mbps of speeds on the 2.4 gigahertz band and up to 1733 Mbps on the 5 gigahertz band. It includes 4 GB Ethernet ports and embeds a 1.7 gigahertz processor. The XR500 enhances connections for a low-ping gaming experience and allows its users to connect with secure gaming VPNs.
It lets connection monitoring and direction customization as well and you are allowed to choose your servers too. Its application allows monitoring of ping levels and network status for all connected devices. All these great features come with a hefty amount and this great router is useful for those with a good amount of money in hand.
Linksys WRT32X
Contrary to the XR500, this wireless router comes at a low price. With Linksys WRT32X, you get great wireless performance and a wide range of features. Linksys has outperformed its previous tech pieces with the addition of WRT32X; it comes with a 1.8 gigahertz processor and is able to prioritize network traffic. It also possesses beamforming abilities and has an attractive design.
The downside to this device is that it provides very little room for customization and has a simple interface that can be great who does not want to complicate things.
Asus ROG Rapture GT-AC2900
The dual-band router, Asus ROG Rapture GT-AC2900 is one of the best when it comes to range, latency, and average download speeds. At a pocket-friendly cost of only 180 USD, the GT-AC2900 offers an admirable suite of gaming features that other routers of the same brand offer, including game-and-platform-specific open NAT post-forwarding rules, RGB light effects, and quality of service engine.