Kids need to dress comfortably to be able to do what kids do: play, run, get dirty, and enjoy it. But as parents, we also want their outfits to be versatile, durable, and, in the case of footwear, supportive. Since kids don't change their footwear as much as they do their clothes, having a pair of shoes that goes with everything and that is sturdy enough to keep up with their limitless energy and excitement is crucial. A pair of Ariat boots can be the perfect option.
The durable construction, comfortable fit, and stylish designs of children's Ariat boots make them the perfect footwear for young adventurers. Similar in style to the brand's adult boots, the child version features a lower heel and a round or square toe to ensure improved comfort. Although made for walking, these boots are also suitable for running, jumping, and, of course, horseback riding. Their versatility means they can be used for everyday wear as well as for special occasions.
Let's take a look at the unique features that make childrens Ariat boots the perfect choice for your little one.
Thoughtful Design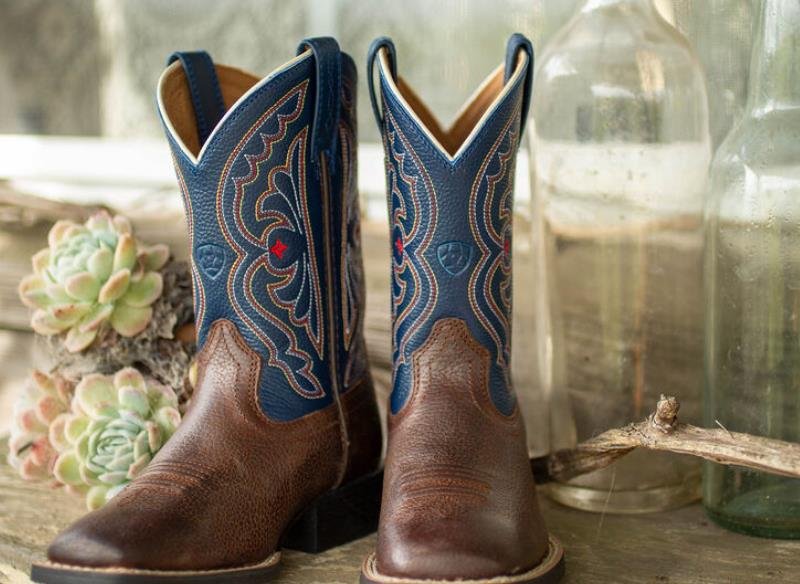 The upper, the midfoot, and the heel of each pair of Ariat kids boots are painstakingly crafted with the utmost attention to detail in order to provide young feet with the comfort, support, and protection that are necessary for their normal growth. They are crafted out of high-quality materials such as full-grain leather or faux leather, both of which offer superior breathability and wicking properties, respectively.
These boots, which are finished with synthetic lining fabrics and an EVA-moulded cushioned insole for additional impact protection, will provide your child with long-lasting comfort no matter where they go, from the farm to school and beyond.
Increased Durability
The durability of Ariat kid's boots makes them an excellent choice for parents looking for a long-lasting shoe. As you know, children can be hard on their shoes, so it's important to choose a pair that can handle the wear and tear that comes with being a kid.
The high-quality material used to make these boots can withstand scratches, scuffs, and all kinds of rough treatment. The rubber sole is also extremely durable and offers good traction, making it ideal for outdoor activities. And to ensure the boots won't come apart at the seams, reinforced stitching and seams are used.
Easy to Put On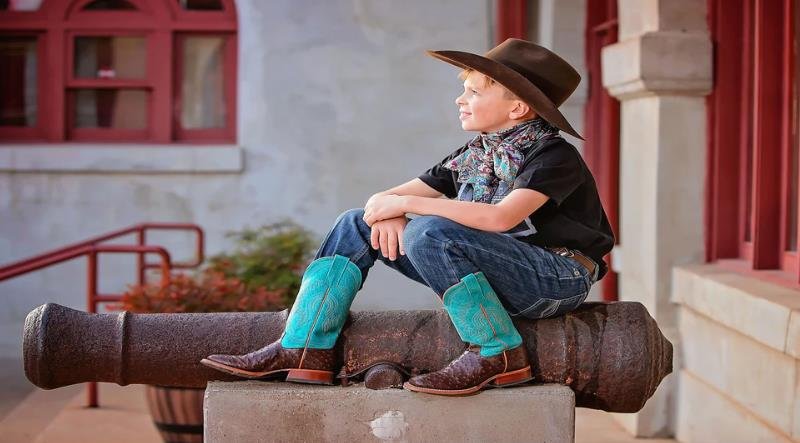 Ariat boots for kids make life easy for both parents and children. Another great thing about these boots is that kids find them quite easy to put on and take off. This is due to their pull-on style, which eliminates the need for complicated fasteners or laces, which can be difficult for children to deal with.
Instead, these shoes have side pull tabs that make them easy to put on and take off. These pull tabs are composed of durable materials that will not readily break or split apart, so you can be confident that they will endure a long time.
Ariat Kids Boot Suggestions
Here are some comfortable classic options that will get your child ready for school, the playground, and everything in between.
Child Anthem Western Boot
Your child will love wearing these boots. This classic style features the brand's Easy Fit system that moulds to your child's foot and a curved side zipper that makes it easier to put on and take off the boot. Furthermore, these kid-friendly boots are made with the same premium full-grain leather as their adult counterparts, as well as the same robust, slip-resistant DuratreadTM sole construction.
Youth Sorting Pen Western Boot
A smaller version of Dad's performance boot. Your child will love the boot's design, and you'll appreciate the toughness and size-expanding insole, which allows them to wear the boot for longer.  These boots also come with the same DuratreadTM sole design as the adult versions and a 4LRTM lightweight stabilising shank for support.
Work VentTEK Boot
The ideal option for the growing kid who is always on the run. These boots come with trademark mesh panels that allow feet to breathe and Wiggle RoomTM insoles that can be removed to make a little more room for growing feet.
Amos Western Boot
This vintage cowboy boot is a favourite thanks to its comfort, fun and timeless design. It also comes with a lightweight stabilising shank and a robust, flexible TPR sole for support.
Cattle Cate Western Boot
This floral-inspired cowgirl boot has a colourful pattern, charming stitching, and a strong yet flexible sole. This boot is designed to ride and play in style with extra room for developing feet.
Fatbaby Cowgirls Western Boot
Featuring a chunky silhouette and a pull-on shape, this boot is ideal for little feet. It'll be the first pair your girl grabs when she has to dash out the door. This footwear is even authorised for riding, making it ideal for both school and after-school activities.
How to Choose the Right Boot Fit
There are a few specific areas to look for to guarantee a comfortable, supportive fit. After measuring your child's feet, compare them to the brand's size chart and choose accordingly. When trying on the new boots, your child should wear their boot socks to guarantee a suitable fit. Then, look for comfort and fit in the following areas:
Heel Cup: The heels of your kid should fit inside the heel cups, but there should be some heel slip. As the cups develop a good fit, the slippage will diminish.
Instep: The top of the boot should have a close fit across the top of the foot, with the vamp or the instep exerting only a slight amount of pressure on the wearer's foot. When the balls of the feet land too far forward, this is an indication that the boot is probably too small for the foot.
Toe Box: Your child's toes should be able to move in the toe box. If they can't move freely, the toe box is either too narrow or a larger size may be needed.
Width: If the toes fit comfortably within the toe box and heels in the heel cup, but your child finds the boots too tight around the sides of their feet, a wide option may be needed. In this case, look for boots with square toes or a broader style. When wider styles aren't available, going up the size can help enhance fit.
Shaft: A shaft that is too tight or not flexible enough, won't allow your child to be comfortable while riding or playing. For little ones, soft-sided boots made of forgiving materials are good options.