Diesel is one of the leading fashion watch brands with an interesting history. Its founder did not have proper education and training regarding watchmaking. He used to stitch jeans at an early age using the sewing machine owned by his mother. He would either wear the clothes he designed and created or sell them to his friends.
When he reached legal age, he started working at Moltex which was a clothing manufacturer. When his father lent him money, he bought 40% shares in the company. Later on, he became the sole owner because he purchased the remaining interest in the company from Goldschmied.
Instead of retaining Moltex as the company name, he changed it into Diesel. In the 21st century, it is still expanding and evolving by partnering with equally popular brands. More lately, they have developed beautiful timepieces with precision and quality. In this article, we are going to take a closer look at Diesel watches.
Are Diesel watches worth buying?
The company creates and offers watches together with the Fossil brand. This partnership led to the production of high-quality timepieces for several popular designer brands like Adidas, DKNY, and Burberry. Despite using high-quality parts for their watches, they sell them at more affordable prices compared to their competitors. Diesel does not only share a huge capital for this business venture but it also supervises production operations to reduce financial losses and untoward incidents. 
Every Diesel watch has a case and dial design that can stand out in a crowd. If you are looking for edgy, eye-catching timepieces with a luxurious appearance, then the company can give you just that. It is one of the few fashion brands offering timekeeping tools that are good value for your money. They can remain functional for up to 10 years as long as you properly take care of them. 
4 of the most recommended Diesel watches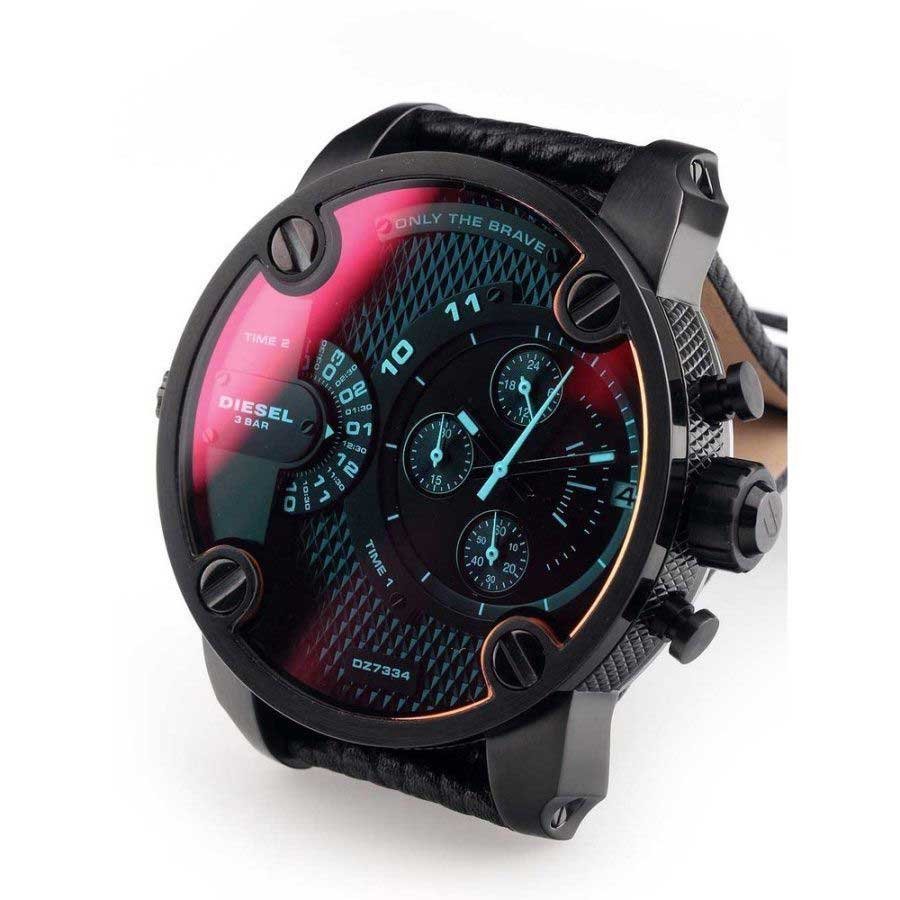 The DZ7334 is a perfect watch for men due to its captivating dial design and case materials. This model comes with four sub-dials enclosed in a gunmetal-plated stainless steel case to keep it safe from adverse conditions. It has the boldness and uniqueness that every masculine man is looking for.
It also features an analog clock with three integrated time-telling and date-telling hands. The Mr. Daddy DZ7334 is pretty lightweight allowing you to comfortably wear it whenever and wherever you are going.
In the 21st century, you might prefer having a watch with a lot of technological features to offer. So the company decided to manufacture their smartwatch that is capable of doing so much more than telling the time of the day. It has a smartphone notification which means that it will alert you for incoming calls and received text messages and emails.
It is also a perfect fitness companion because it will constantly inform you of your heart rates whenever you engage in physical activities. To make it more reflective of your personality, you may customize the color of the dial.
Diesel Mega Chief smartwatch DZT1011
Another smartwatch on the list is theDZT1011 with 6-month battery life. It operates without the need for chargers which is especially helpful for travelers who always misplace their belongings. One of the outstanding features of this model is its activity tracker. It will not just monitor your sleeping habits, but it will also count your steps and help you obtain your fitness goals.
If you love listening to music, then this is a great watch for you too as it ensures that your listening pleasure is in your wrists. It has a large storage space so you can download all your favorite songs and play them whenever and wherever you are. 
If you prefer timepieces made from stylish silicone materials, then the DZ1830 is for you. The captivating matte black dial with silver-tone accents can attract anyone's attention. It is lightweight and feels soft on the wrists so rest assured that you will not experience any issues with comfortability.
Additionally, it comes with a buckle closure on the bands reducing the risk of falling. It is a timepiece that can accompany you in everything you do as it has long-lasting battery life. Lastly, it is resistant to the water of up to 30m so minor spills will not affect its performance.
In a Nutshell 
After a brief intro on the four best Diesel watches for 2021, now is the time to choose the next timekeeping tool to purchase. They are all priced at affordable prices so you will not have to pay a fortune just to wear an elegant timepiece on your wrist. Make sure to order from WatchShopping.com to enjoy huge discounts. You can also find other Diesel watch models with the best prices that will perfectly suit your needs and style preference.